Post-traumatic stress disorder (PTSD) is a serious mental health condition that can develop in response to a traumatic event in your past. Although it is normal to feel sad, frightened, and/or depressed after a stressful event, you may have PTSD if these feelings do not fade over time, and you experience other side effects of the incident you went through.
PTSD therapists can help you alleviate the symptoms of PTSD, and overcome traumatic memories of previous events.
In this article, we've explained how to find a therapist who specializes in helping those with PTSD.
Want to skip right to the suggestions for PTSD therapists? Here are our 3 recommended therapy solutions:
PTSD therapists near me
Below, we've looked at two services that can connect you with a PTSD therapist.
Find-a-therapist readers get 15% off their first month of BetterHelp membership.
BetterHelp is an online platform that can connect you with a PTSD counselor over the internet.
When you sign up, you'll answer some questions related to your issue, and you'll have the opportunity to state your preferences in a therapist, such as their gender. Then, BetterHelp will match you with the best PTSD therapist for your specific needs.
BetterHelp allows you to participate in therapy sessions through audio or video calls with your therapist, or using live chat if this would be more comfortable – you can choose any of these therapy modes, and you can book in each therapy session at a time that works for you.
In between each PTSD therapy session, you can message your therapist as much as you'd like, using the BetterHelp app. If you experience any flashbacks or issues throughout the week, you can immediately get in touch with your therapist, which can be immensely helpful.
BetterHelp also provides access to licensed therapists at an affordable price, depending on your location, and what you can afford to pay. For veterans for example, you may be able to take advantage of the BetterHelp financial aid program, significantly reducing the amount you have to pay to get treatment each month.
ISTSS Therapist Directory
The International Society of Traumatic Stress Studies (ISTSS) has an online directory of PTSD therapists, allowing you easily locate a licensed counselor near you.
Using their website, you can input your location, and a list of qualified nearby PTSD therapists will be displayed. For each professional, their specialties and special interests are provided, allowing you to find a therapist who has experience in helping people with similar issues to you.
You can also use the filters available just below the search area to narrow down your search results. For instance, if you select the "counselor" filter, the website will only show the available counselors, rather than psychologists or psychiatrists. Similarly, you can also specify the counselor's areas of expertise, such as PTSD, grief, loss, or domestic violence.
Once you've found a trauma therapist who looks like a good fit, you can contact them to ask about their pricing, and possibly schedule a therapy session.
Using the ISTSS directory does take a bit of effort – you're not matched with a therapist automatically, like with BetterHelp. However, if you want to see a PTSD therapist in person, this directory can be a very helpful resource.
Which factors can make you more prone to developing PTSD?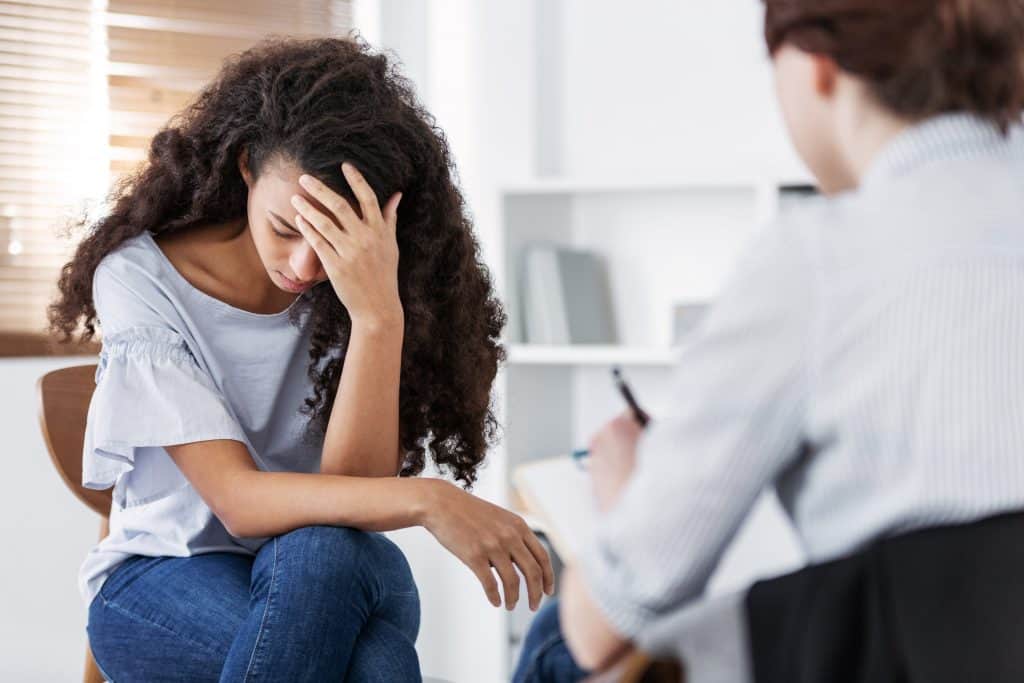 PTSD can develop at any age, but some risk factors increase the chance of developing PTSD.
Substance abuse problems such as drinking and drug usage.
Trauma experienced at an early age (known as childhood trauma).
The nature of your job, such as emergency workers and combat soldiers.
Mental health problems like depression and anxiety.
Inherited mental health disorders.
What affects the severity of PTSD symptoms?
Two people who experience the same traumatic event may present with different levels of PTSD symptoms. One person may be extremely affected by what they experienced, while another individual may be able to overcome the trauma relatively quickly.
There are a few different factors that can affect the severity of PTSD symptoms that you present with.
The temperament you inherited from your parents can cause the development of PTSD. Some people are naturally better at processing stressful and traumatic events than others.
The regulation of chemicals and hormones in the brain can affect our PTSD symptoms. Hormones and chemicals help in stress management, and a deficiency can reduce our ability to control stress.
Mental health problems inherited from parents can lead to PTSD, for example, a history of depression and anxiety in the family.
There is nothing wrong with experiencing PTSD, so matter how significant or otherwise you perceive the event(s) that led to your symptoms. With the right help, you can overcome previous trauma, and regain control of your thoughts and feelings.
PTSD symptoms
Development of PTSD signs and symptoms may vary from person to person, because the nervous system response and stress tolerance of every person is different. The symptoms may appear hours after a traumatic incident for some people, while it may take days or weeks to appear in others.
Although symptoms of PTSD present differently from person to person, they are divided into four main types.
1. Intrusive and disturbing memories
You may experience intrusive thoughts, such as:
Re-experiencing unwanted, stressful, and disturbing memories.
Flashbacks of the negative event make you feel like it is repeatedly happening.
Recalling moments of emotional or physical distress.
2. Avoidance and numbing
Numbing and avoidance include the following symptoms.
Avoiding thoughts related to past traumas.
Avoiding social activities and places that may trigger flashbacks of the incident.
Feeling emotionally detached and numb.
3. Mood changes and negative thoughts
PTSD may also affect your mood and regular thought patterns, resulting in:
Being overwhelmed by negative thoughts.
A failure to maintain close relationships.
A feeling of helplessness and loneliness.
4. Emotional and physical changes
Emotional and physical changes are also known as hyperarousal symptoms, and they may include the following:
Aggressive behavior
Sleep problems.
Difficulty concentrating on work or study.
Irritability, and feeling anguish.
Self-destructive behavior, such as alcoholism.
Getting frightened and anxious easily.
Traumatic events that can lead to PTSD
PTSD can develop in people who have experienced psychologically harmful events, such as:
Sexual violence.
Physical abuse at an early age.
Military combat.
Physical assault, or being threatened with a weapon or violence, such as during a robbery or home invasion.
Road accidents.
PTSD and the nervous system
During a stressful event, your nervous system activates your fight or flight response, resulting in tachycardia, hypertension, muscle stiffness, reduced reaction time, and increased strength. Following a stressful event, your nervous system normalizes your body by decreasing your heart rate and blood pressure.
In some cases, the sheer stress you've faced does not allow the nervous system to normalize your body again after experiencing a stressful event. The nervous system remains stuck in fight or flight mode, even after the event has passed, leading to PTSD.
Normalizing your nervous system after a stressful event can help you to overcome PTSD symptoms.
Common types of PTSD
There are a number of common types of PTSD that different therapists may specialize in helping you with.
PTSD in military personnel
Military personnel performing duties in war zones often experience PTSD, especially after returning home or retiring.
This is due to the abject stress and horror of war, which soldiers often find imprinted in their memory. PTSD is especially likely to be experienced by military personnel returning from active combat.
PTSD due to psychological trauma
You may experience a stressful event or sequence of events that leaves you emotionally numb and detached, and shatters your sense of safety. It can be very difficult to overcome such a psychologically traumatizing experience.
PTSD due to psychological trauma is often connected to childhood experiences, but it can occur at any age.
PTSD due to rape or sexual trauma
The unpleasant memories of being raped or sexually assaulted can result in fear, despair, a sense of shame, and loneliness. These memories often appear through flashbacks and nightmares, and it isn't easy to get them out of your head.
In this case, the most important thing is to realize that you were not responsible for what happened. Realizing you can reclaim your self-worth and self-respect, with help from a therapist, can alleviate the symptoms of PTSD.
PTSD due to racial trauma
PTSD may develop due to continuous racial abuse, injustice, and prejudice within our culture and society. In response, you may feel worthless, helpless, or hopeless.
Racial trauma may also lead to negative thoughts, intrusive memories, hypervigilance, and mood changes.
Therapies used in PTSD treatment
There are a range of types of treatment used to help with PTSD, depending on the experience you've been through, the symptoms you present with, and the specialties/qualifications of the therapist you connect with.
Cognitive-Behavioral Therapy (Trauma-Focused)
Trauma-focused CBT is one of the most effective ways to treat PTSD. In this type of therapy, the therapist identifies and modifies your attitudes towards the traumatic incident you experienced.
Using CBT, the therapist modifies your beliefs and behavior, targeting unhealthy thought patterns that have arisen as a result of the trauma you've experienced. They may help you to overcome feelings of shame or helplessness, for example.
EMDR Therapy (Eye Movement Desensitization and Reprocessing Therapy)
The information processing system of your brain may be severely affected by PTSD, and EMDR can help to overcome this issue.
This type of therapy involves the use of eye movements and other stimulation to help adjust your attitudes and beliefs about yourself and things you have experienced. EMDR helps desensitize you to the traumatic memories you have, helping you to overcome PTSD.
Exposure therapy
With this type of therapy, therapists ask you to recall past trauma and fear-inducing memories by speaking or writing about them. Continuous exposure to memories can help you confront these events, and eventually overcome them. Your therapist can help to guide you through this process, and prevent over-exposing yourself to past memories, to avoid doing further psychological harm.
Family therapy
Family counseling allows you to discuss matters with loved ones, to help you with your relationship problems. You may want to bring along your partner to therapy for support, or to help your therapist gain further insight into the effect that PTSD is having on you and your relationships.
Conclusion
PTSD should be taken seriously and often needs to be treated by a professional counselor or therapist, as it can seriously affect your ability to function on a day-to-day basis.
BetterHelp is a renowned online platform that helps you alleviate PTSD symptoms with the help of licensed PTSD professionals. Similarly, the ISTSS provides an online directory that displays PTSD therapists available near you.
If you're still not sure how to find the right PTSD counselor for you, feel free to leave a comment below, and we'll respond as soon as we can.