In the quest for optimal well-being and mental health, many individuals seek a comprehensive and holistic approach that acknowledges the interconnectedness of the mind, body, and spirit.
Integrative therapy, a dynamic and innovative field, serves as a guide to such holistic healing techniques.
It combines diverse therapeutic modalities and practices to create a tailored and all-encompassing strategy for improving one's overall health and wellness.
Understanding Integrative Therapy
Integrative therapy is an approach to psychotherapy that combines different therapeutic tools and methodologies to fit the needs of each individual client.
It is highly flexible and adaptable, allowing therapists to tailor their approach by integrating elements from various therapeutic traditions such as behavioral, cognitive, and other psychotherapy approaches.
Customized Treatment Plan
One key aspect of integrative therapy is its acknowledgment that each person is unique, and therefore, a single therapeutic approach may not be sufficient for every individual.
By incorporating elements from a range of therapeutic modalities, integrative therapists can create a customized treatment plan that addresses the specific needs and goals of each client.
This tailored approach often leads to more effective interventions and better outcomes.
Integrative psychotherapy takes into account the whole person, as it addresses different dimensions of human functioning.
This includes cognitive, emotional, behavioral, physiological, social, and spiritual aspects. Integrative therapy aims to promote overall well-being and personal growth by considering all these dimensions.
Therapeutic Relationship
A key component of integrative therapy is the therapeutic relationship between the client and therapist.
This relationship is built on trust, respect, and empathy, allowing the client to feel heard, understood, and supported.
The therapist and client collaborate to identify the most effective strategies to address the client's needs according to their unique personality and circumstances.
In summary, integrative therapy is a holistic and flexible approach to psychotherapy that combines elements from different therapeutic modalities to provide a comprehensive and personalized treatment plan tailored to the individual client's needs and goals.
This approach fosters a strong therapeutic relationship and considers the various dimensions of human functioning, ultimately promoting overall well-being and personal growth.
Theoretical Aspects of Integrative Therapy
Integrative therapy combines multiple therapeutic approaches and models to address the complex and diverse needs of clients.
This holistic approach can be better understood by examining its four main theoretical aspects: theoretical integration, technical eclecticism, assimilative integration, and common factors.
Theoretical Integration
Theoretical integration involves combining different therapeutic theories into a single, cohesive framework.
This approach allows therapists to draw from various theoretical models, such as cognitive-behavioral, psychodynamic, and humanistic, and apply them in a unified manner.
Integrating multiple theoretical orientations enables therapists to address a client's diverse needs more effectively by utilizing different aspects of each theory to form a comprehensive understanding of their client's issues.
Technical Eclecticism
Technical eclecticism focuses on selecting the most appropriate therapeutic techniques from various therapy models based on the client's unique needs and goals.
This approach emphasizes practicality and utility over adherence to a particular theoretical orientation.
Therapists may choose to use specific techniques from cognitive-behavioral therapy, psychodynamic therapy, or other approaches, depending on what they believe will be most helpful for the client, while not necessarily adhering to one overarching theory.
Assimilative Integration
Assimilative integration is when therapists select and incorporate techniques and theoretical elements from different therapeutic orientations into an existing primary theoretical model.
This means therapists might have a primary theoretical orientation, such as psychodynamic therapy, and selectively apply ideas or techniques from other models based on their relevance and potential effectiveness in a particular client's situation.
Common Factors
The common factors approach emphasizes the shared elements between different therapeutic methods that contribute to their overall effectiveness.
These factors can include the therapeutic relationship, empathy, goal setting, and other aspects that lie at the core of most therapy models.
By focusing on these common elements, therapists can implement essential and universally applicable concepts regardless of their theoretical orientation.
Techniques in Integrative Therapy
Integrative therapy combines various specific therapeutic techniques to tailor a personalized and flexible approach for each individual.
This holistic approach considers the individual's emotional, physical, and mental well-being to create a more comprehensive and effective treatment.
One of the strengths of integrative therapy is its adaptability to each individual's needs. The therapist can create a unique treatment plan specific to each client by utilizing multiple techniques from different therapeutic modalities.
For instance, some common methods used in integrative therapy include Cognitive Behavioral Therapy (CBT), Gestalt therapy, and object relations therapy.
| Cognitive Behavioral Therapy (CBT) | Gestalt Therapy | Object Relations Therapy |
| --- | --- | --- |
| An evidence-based approach that focuses on identifying and changing negative thought patterns or beliefs. | An approach that emphasizes the importance of personal growth through self-awareness. | An approach that deals with the client's interpersonal relationships and attachment patterns. |
When applying these various therapeutic techniques, the integrative therapist remains sensitive to the client's unique needs, adapting their approach as necessary.
This flexibility allows for a more comprehensive and personalized treatment plan, increasing the client's chances of experiencing positive outcomes.
In addition to combining multiple techniques, integrative therapy also involves an active collaboration between the therapist and the client.
The therapist actively engages with the client in a supportive manner, encouraging them to share their thoughts, feelings, and experiences.
This collaborative approach fosters a deeper understanding of the client's needs while also providing them with a safe space to express themselves and explore new ways of thinking.
Integrative Therapy for Different Mental Health Conditions
Integrative therapy combines various therapeutic approaches to address the individual needs of a person with mental health issues.
It has been shown to be effective in treating a range of conditions, including anxiety, stress, trauma, depression, low self-esteem, personality disorders, dissociation, and bereavement.
This section provides an overview of how integrative therapy can be used to help individuals with different mental health conditions.
Anxiety and Stress
Anxiety and stress are common mental health concerns that can disrupt daily functioning.
Integrative therapy can use techniques from cognitive-behavioral therapy, mindfulness-based therapies, and relaxation training to help manage these conditions.
Trauma
Trauma can result from a variety of life experiences and often requires comprehensive interventions.
Integrative therapy may incorporate elements from trauma-focused cognitive-behavioral therapy, eye movement desensitization and reprocessing (EMDR), and body-based practices to address the psychological and physical effects of trauma.
Depression
Depression is a pervasive mental health condition that can significantly impact an individual's well-being.
Integrative therapy can target depression through various approaches, such as mindfulness-based cognitive therapy, interpersonal therapy, and behavioral activation.
Combining these therapeutic tools allows for a tailored approach to alleviate depressive symptoms.
Low self-esteem
Low self-esteem often underlies many mental health conditions and can be addressed through integrative therapy.
Techniques stemming from cognitive-behavioral therapy, psychodynamic therapy, and acceptance and commitment therapy can help individuals build a healthier self-image and improve self-esteem.
Personality disorders
Personality disorders encompass a diverse range of mental health issues, including borderline personality disorder, narcissistic personality disorder, and avoidant personality disorder.
Integrative therapy often incorporates dialectical behavior therapy, schema therapy, and psychodynamic approaches to address the specific challenges related to each disorder.
Dissociation
Dissociation is a psychological phenomenon where an individual disconnects from the present moment and their sense of self.
Integrative therapy can involve trauma-focused interventions, body-based practices, and mindfulness techniques to help reduce dissociative symptoms and improve mental health.
Bereavement
Bereavement describes the emotional and psychological distress that occurs following the loss of a loved one.
Integrative therapy can draw from grief counseling, cognitive-behavioral therapy, and attachment-based therapy to help individuals process and cope with their loss.
Integrating Other Therapies
Integrating different therapeutic approaches in the field of psychotherapy has become increasingly prevalent due to the desire to provide the most effective treatment for clients presenting with a wide range of issues.
A growing number of psychotherapists find that tailoring the therapy to individual client needs is more effective than adhering to one specific modality.
Consequently, integrating other therapies has become key to effectively addressing the complex needs of clients.
Cognitive Behavioral Therapy (CBT)
Cognitive Behavioral Therapy (CBT), for example, is widely known for its practical and solution-focused approach.
It helps clients understand the relationship between thoughts, emotions, and behaviors, enabling them to modify these patterns for better coping.
When integrated with other therapies, it can potentially amplify the benefits of an overall treatment plan.
Interpersonal Psychotherapy (IPT)
Another therapy worth integrating is Interpersonal Psychotherapy (IPT), which specifically addresses interpersonal issues that contribute to psychological distress.
Combining IPT with other therapies can enhance the understanding and resolution of relational issues, offering comprehensive support for interpersonal problems within various settings.
Schema Therapy
Schema Therapy is another modality that combines elements of CBT, Gestalt, and psychodynamic approaches to treat entrenched patterns of emotional and relational difficulties.
This integrative nature of Schema Therapy allows it to address the multifaceted nature of clients' issues, making it a beneficial addition to a psychotherapist's toolkit.
Psychodynamic Therapy
For a more in-depth understanding of the unconscious mind and the influence of past experiences, Psychodynamic Therapy offers valuable insights that can complement other therapeutic approaches.
Including psychodynamic concepts in a treatment plan provides a comprehensive understanding of the underlying issues behind recurring patterns and troubling symptoms.
Humanistic Therapy
Humanistic Therapy, on the other hand, emphasizes clients' inherent potential for growth and self-actualization.
By incorporating humanistic elements, psychotherapists can help clients harness their internal resources and innate capacity for change, thus enhancing other therapeutic methods employed during treatment.
Family Systems Therapy
Considering family dynamics, Family Systems Therapy is essential for understanding and addressing issues that stem from family and relationship patterns.
Adding this therapeutic approach to the integration process can lead to more effective and long-lasting results, especially when addressing issues related to clients' family interactions and roles.
Gestalt Therapy
Lastly, Gestalt Therapy focuses on the here-and-now experience, emphasizing clients' awareness of thoughts, emotions, and bodily sensations.
The inclusion of Gestalt techniques can aid therapists in facilitating their clients' self-awareness and assist in building a strong therapeutic alliance, enhancing the overall effectiveness of the treatment process.
Benefits and Risks of Integrative Therapy
Integrative therapy combines multiple therapeutic approaches to provide a more comprehensive and personalized treatment plan for clients.
By addressing physical, emotional, and mental health issues, this approach aims to improve overall well-being. However, it's crucial to consider both the benefits and risks associated with integrative therapy.
Benefits
Effectiveness
Enhance the Support System
Positive Impact on Health
One significant advantage of integrative therapy is its effectiveness in addressing various issues by combining different therapeutic techniques.

Individuals receive tailored care that caters to their specific needs, leading to better outcomes.
Integrative therapy also fosters a strong therapeutic alliance between the client and the therapist.

This collaboration creates a robust support system that can enhance the therapy process.
By taking a holistic approach, individuals receive guidance on improving their lifestyle, diet, and exercise routines, all of which can positively impact their health.
Risks
However, there are potential risks to consider. Even with the best intentions, any treatment can present unforeseen challenges or adverse effects.
Clients and therapists must discuss the possible risks and side effects associated with the variety of therapies that may be applied during the integrative process.
While integrative therapy holds promise for many individuals, its effectiveness significantly depends on the unique needs and preferences of the client.
It is essential to work with experienced professionals who are knowledgeable about various therapeutic modalities and can assess the potential safety and benefits in each case.
By doing so, clients can make informed decisions about the best intervention strategies for their specific situation and enjoy the advantages while minimizing the risks associated with integrative therapy.
Role of Psychotherapists and Psychiatrists in Integrative Therapy
Psychotherapists and psychiatrists play a crucial role in the field of integrative therapy.
Integrative psychotherapists are professionals who combine various therapeutic approaches to create a personalized treatment plan for their clients.
The American Psychological Association defines integrative therapy as the deliberate combination of elements from different therapeutic orientations.
This approach acknowledges that each client may have unique needs that cannot be addressed by adhering to a single therapeutic approach.
Integrative therapy takes into consideration the biological, psychological, and social aspects of a client's situation, offering a comprehensive and tailored treatment plan.
Psychotherapists and psychiatrists are often involved in integrative approaches to psychotherapy, as they have the skills and expertise to navigate various therapeutic methods.
Their role is to assess the client's needs, identify suitable therapeutic interventions, and apply them in a cohesive manner.
This often involves maintaining strong communication and collaboration between the professionals involved in the client's treatment.
Society for the Exploration of Psychotherapy Integration
The Society for the Exploration of Psychotherapy Integration is an organization dedicated to fostering dialogue and collaboration among professionals striving for an integrative psychotherapy approach.
This society supports the exchange of ideas and research findings to promote the development of more effective therapeutic methods.
Psychotherapists and psychiatrists who are members of this society actively contribute to the advancement of integrative therapy by sharing their expertise, experiences, and research findings.
Treatment Modalities in Integrative Therapy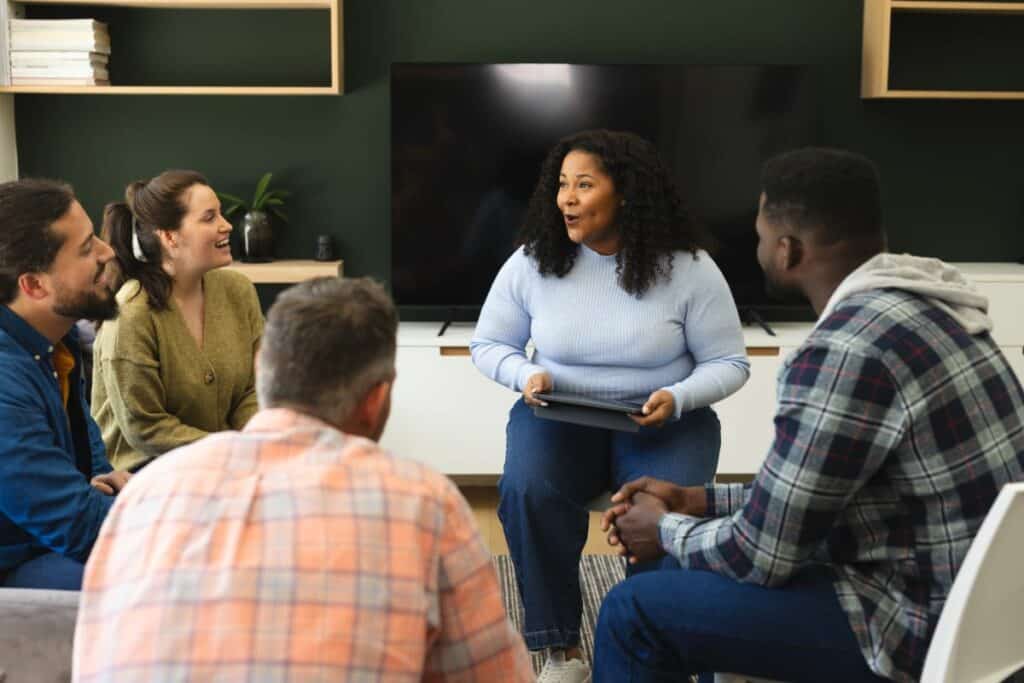 Integrative therapy is a comprehensive approach to mental health treatment, combining various therapeutic techniques and theories to create a tailored plan for each individual, family, or group.
Integrative therapists utilize a range of treatment modalities to address the unique needs and goals of their clients, ultimately promoting holistic healing and personal growth.
Individual Therapy
One modality commonly used in integrative therapy is individual therapy. Here, therapists work one-on-one with individuals to help them understand and navigate their emotions, thoughts, and behaviors.
This private setting allows for a strong therapeutic alliance and personalized attention, thus facilitating deep exploration of personal issues and the development of effective coping strategies.
Family Therapy
In family therapy, the focus shifts to the dynamics within a family unit.
Integrative therapists often use techniques drawn from systemic therapy, which acknowledges the interconnectedness of family members and how their individual behaviors impact the entire unit.
By helping families communicate more effectively and resolve conflicts in healthier ways, therapists aim to improve the overall emotional well-being of each member.
Group Therapy
Group therapy is another modality that can be incorporated into integrative practice.
In this format, a therapist leads a group of individuals who share similar issues or experiences, fostering an environment of support, understanding, and learning.
Many integrative therapists find that group therapy can provide an additional layer of healing as participants learn from one another's insights and gain new perspectives on their own experiences.
Frequently Asked Questions
What are the common types of integrative therapy?
There are several common types of integrative therapy, which combine elements from different therapeutic approaches to create a more personalized treatment plan.
Some of these include:
Integrative psychotherapy: This approach brings together various psychological theories and techniques to address a person's specific needs.
Integrative cognitive-behavioral therapy (CBT): It combines traditional CBT with other therapeutic techniques, such as mindfulness and acceptance-based practices.
Integrative psychodynamic therapy: This type integrates psychodynamic principles with other therapeutic approaches, allowing the therapist to draw from a wider range of tools.
Integrative humanistic therapy: This method combines humanistic theories with other therapeutic approaches to create a more comprehensive treatment plan.
What is the difference between integrative psychotherapy and eclectic therapy?
While both integrative psychotherapy and eclectic therapy involve drawing from multiple therapeutic approaches, there are key differences between the two.
Integrative therapy involves a deliberate blending of different theories and techniques into a cohesive and unified treatment plan for the client.
The therapist actively works to create a framework that integrates these various methods to benefit the client's specific needs.
On the other hand, eclectic therapy refers to a more unplanned, flexible approach in which the therapist selects individual techniques from various theoretical backgrounds without necessarily forming a unified framework.
The primary focus in eclectic therapy is on what works best for the client in the current situation rather than following a predetermined, integrated plan.
Is cognitive-behavioral therapy considered an integrative therapy?
Cognitive-behavioral therapy (CBT) is a widely practiced therapeutic approach that can be considered integrative, depending on how it is applied.
Traditionally, CBT focuses on helping clients identify and modify maladaptive thoughts and behaviors.
However, many therapists have begun to incorporate elements from other therapeutic approaches, such as mindfulness and acceptance-based practices, to create a more comprehensive and flexible treatment plan.
In this way, CBT can become an integrative therapy when it is combined with other techniques and theories to address the specific needs of the client.
However, it is essential to note that not all forms of CBT are necessarily integrative.
Some CBT practitioners may adhere strictly to the traditional model, while others may choose to incorporate additional methods, making it an integrative therapy.