Couples in long-distance relationships sometimes face issues relating to misunderstandings and communication breakdowns. Moreover, physical separation and busy schedules can make it difficult for you and your partner to resolve relationship conflicts while in a long-distance relationship.
Online long-distance relationship (LDR) counseling can rebuild trust and maintain a stronger emotional connection between you and your partner. Online therapists can help you understand the causes of conflicts in your relationship, and guide you through different ways to resolve these issues.
Want to skip right to the suggestions for online couples counseling for long-distance relationships? Here are our 2 recommended therapy solutions:
Online couples counseling for long-distance relationships
There are a few different online platforms that give you access to experienced relationship counselors, which we've looked at below.
Tailored for individuals and couples navigating relationship or marital issues – ReGain is your online relationship therapy solution. Starting at $60/week, you can schedule one weekly live session and message your therapist anytime. Start your path to healthier connections with ReGain – fill out their online assessment form.
Note: We collaborate with top-tier mental health companies and receive compensation for marketing efforts on behalf of ReGain.
ReGain is an online platform that provides access to relationship counselors with specific expertise in couples counseling.
Counselors on this platform are all licensed, qualified relationship counselors, with extensive experience in the field. On visiting the ReGain website, you are asked different questions about yourself, your partner, and the problems you're experiencing. Based on this information and your preferences in a therapist, you are matched to an available counselor with relevant experience and expertise.
When signing up to ReGain, you can invite your partner to the platform as well. Or, you can invite your partner after you have matched with a therapist, by clicking the "Invite Partner" option later on in the process. To invite your partner, you will need to share their email address, so that ReGain can send them an invitation link.
ReGain offers different modes of communication to help you and your partner correspond with your couples counselor. You can get counseling via phone/video calls, text messaging, or live chat.
With each of these communication modes, your partner can join the counseling sessions from their own device using the ReGain website or mobile app, making this service a great choice for long-distance couples.
Included with a ReGain subscription you get one live therapy session each week, as well as the ability to message your counselor, including in a group chat with your partner if you'd prefer.
Tailored to individuals, couples, teens, and offering psychiatry services, Talkspace plans kick off at a wallet-friendly $69 per week. What's more, many health insurances also cover their services, enhancing accessibility and affordability. Complete a questionnaire and get matched with the right therapist for you.
Find-a-therapist readers get $100-OFF with a code SPACE.
Talkspace is another platform that can connect you with a licensed counselor to help you resolve relationship issues. The therapists on Talkspace can identify the causes of your relationship problems, and help you and your partner forge a stronger bond.
You can sign up for couples counseling with Talkspace after going through a brief assessment on the website. During this intake process, you may need to answer some questions about yourself, your partner, and your preferences in a counselor. Rather than filling out an online questionnaire like on ReGain, this process involves a live conversation with a matching agent, making for a more personal onboarding experience.
After answering some questions, your matching agent will provide a few different counselors to choose from. Talkspace allows you to select a therapist from this list, rather than assigning you a specific counselor like ReGain does, and you can change counselor for any reason at any time in the future.
Talkspace also allows different modes of communication to help you connect with their relationship counselors. This includes text chat, live chat, audio calling, and video sessions. You and your partner can also join the video/phone call sessions together using different devices, unlike on ReGain, allowing you to easily speak to your counselor with your partner in the same room.
After you're matched, you can also switch your therapist at any time if you're not completely satisfied with them. You can change your counselor for any reason, at no additional cost.
The downside to Talkspace is it's a bit expensive, especially when compared to ReGain. However, it is covered under some employee assistance programs (EAPs) in the US, which may help to offset some of the cost if your employer offers these types of benefits.
Causes of relationship issues for long-distance couples
Couples in long-distance relationships face certain conditions that may increase their risk of relationship problems. Some of these issues are discussed below.
Communication gaps
If you have a busy routine, it isn't always easy to maintain regular communication with your loved one, because you are physically distant from each other. When you cannot maintain a daily conversation with your significant other, this may cause a gap to form between you.
This could be why you might feel it difficult to have a healthy conversation after a period of intermittent communication. This communication gap is one of the main causes of LDR issues.
Lack of physical intimacy
When you are in a romantic relationship, you desire physical intimacy, which strengthens your relationship. However, if you and your partner live in different states or countries, there's a lack of physical intimacy, which may result in frustration or dissatisfaction in the relationship for one or both parties.
Misunderstandings
When your partner is busy with work or study and doesn't respond to your messages quickly, this may cause you to feel frustrated or neglected, which can lead to misunderstandings.
In some situations, you cannot properly express your thoughts or feelings to your partner due to the distance between you, which may lead to misconceptions and incorrect assumptions being made about your partner's attitudes and feelings towards you.
Fear of being replaced
You may experience a fear of being replaced by someone else when you are in a long-distance relationship. This fear usually arises due to a lack of trust, but it can be exacerbated if a partner has been cheated on before in a previous relationship.
Fear of being replaced results in reduced self-esteem and anxiety, which can lead to relationship issues.
Lack of emotional bond
When you are facing stress at work or have had a bad day, you need someone who consoles and understands you. You need someone who makes time for you despite their busy schedule to calm and comfort you.
But in long-distance relationships, you cannot always completely understand your partner's emotional needs because you live in different parts of the world. This may lead to your emotional bond and attachment declining over time.
Benefits of online LDR counseling
Online counseling makes it easy to connect with your therapist and attend counseling sessions with your partner, even if physically separated.
Some of the other benefits of online counseling for LDRs are explained below.
Time savings
Online counseling makes it easy for you and your partner to attend counseling sessions over the internet without traveling to a counselor's office. You can get the help you need without having to travel for hours, helping you to save time and money, even if it's just you attending counseling sessions without your partner, to begin with.
Affordability
Compared to in-person relationship counseling, online LDR counseling is often cheaper, even without factoring in the reduced travel costs involved for long-distance couples. This makes it easier to afford counseling sessions for you and your partner.
The only downside is, online therapy is not typically covered by health insurance providers. However, for couples counseling, the same is true of in-person therapy – typically, there needs to be a diagnosable mental health condition for your health provider to cover some of the cost of treatment.
Easy accessibility
The easy accessibility of online counseling makes it more convenient for LDR couples to attend counseling sessions. You and your partner can easily join therapy sessions using any modern smartphone, laptop, or tablet, from the comfort of your own home.
This means that if you or your partner cannot leave home due to a physical disability or childcare care responsibilities, or for any other reason, you can still get help with your long-distance relationship.
Lesser social stigma
Some couples avoid going to mental health professionals to resolve relationship issues because of the social stigma attached. Fear of being judged by your family, friends, and the community may be a hurdle for some people in resolving relationship issues.
Online counseling allows you to get help with your relationship issues without fear of being judged.
Psychological techniques used for LDR counseling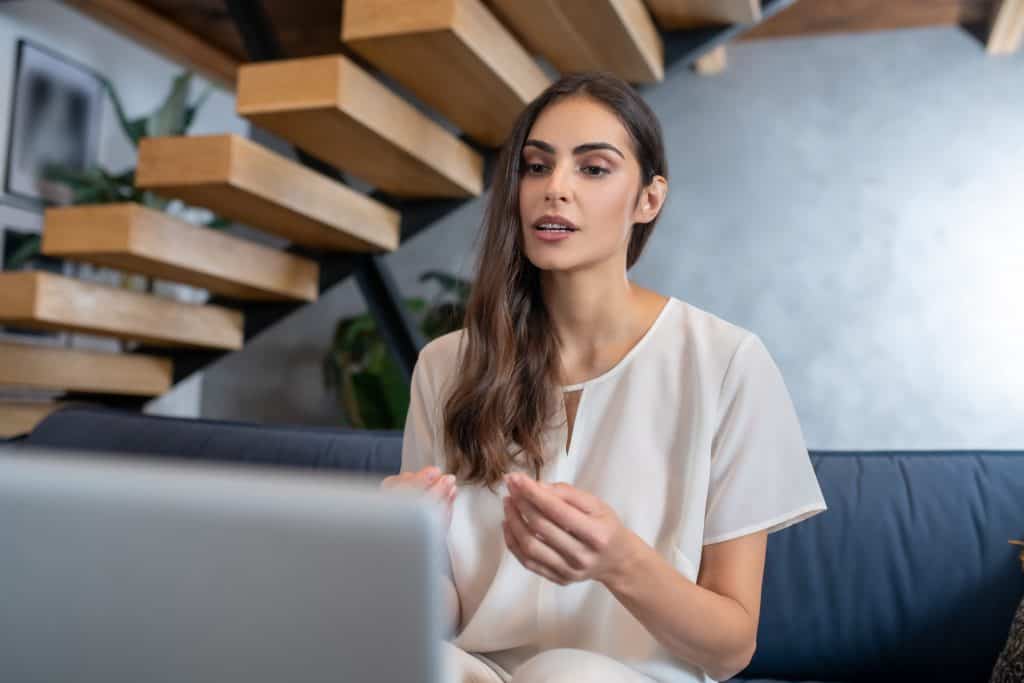 There are many techniques used to counsel individuals in long-distance relationships. Some of the main psychotherapeutic techniques your couples counselor might use include the following.
Cognitive Behavioral Therapy (CBT)
In CBT, a counselor collects certain information from you and your partner in the initial stages. They will assess the types of conflicts or disagreements you're facing, and each party's attitudes and responses to these issues. Next, the counselor interprets this information to identify the root cause(s) of the relationship problems you're facing.
After identifying these root causes, the counselor uses counseling sessions to bridge the communication gap between you and your partner. Your counselor may also make you aware of your negative behaviors and attitudes so that you can replace them with more positive ones, if this is one of the issues identified during the initial analysis.
Rational Emotive Behavioral Therapy (REBT)
REBT is grounded in three main stages, known as the ABC model.
A: Activation of circumstances when something occurs around you.
B: Belief that explains your assumptions about the incident.
C: Consequences – that is, your emotional reaction.
In REBT, a therapist tries to identify your negative emotions or behaviors in different scenarios. The therapist usually reaches the root cause of your negative behaviors using this information. Typically, irrational beliefs embedded in the conscious or subconscious mind are the main causes of these attitudes and responses.
The therapist may question your irrational beliefs so that you can be more aware of your irrational behaviors. After acknowledging your negative and irrational beliefs, a counselor will also help you replace these beliefs with more rational thoughts or beliefs.
This ABC model works to help you in identifying your weak points, such as expectations from others that may hurt your feelings, and how being dependent on others for your happiness can cause distress. This type of therapy helps you to overcome some of the wrong beliefs or behaviors that can cause issues in your relationship.
Psychodynamic couples therapy
Sometimes it can be difficult to understand your feelings and actions in response to a given situation. Psychodynamic therapy might help you understand your emotions and feelings about certain things a bit better.
This is a simple and easy type of therapy where you have to say what you feel in front of your therapist and then try to change your specific patterns and responses to your partner in a relationship.
Essentially, during psychodynamic therapy, you can talk about your thoughts, and come to a conclusion where you understand yourself and your emotional responses much better. This technique can help you and your partner resolve a long-term conflict, and develop a stronger relationship over the long term.
Other techniques that can also help you maintain a healthy long-distance relationship

Recognize and label your and your partner's emotions
It's good to recognize and label your feelings and the feelings of your partner as well. When there are disagreements, you should respect the privacy of your partner, and hear what they have to say. It's important to allow your partner to express themselves and listen to them, instead of trying to influence your partner's thoughts, feelings, or behaviors.
Understanding your partner's emotions is also very important to help you maintain a healthy relationship with each other. For some people, understanding the emotions of others can prove difficult – a counselor can help you to develop your skills in this area.
Identify external factors
It can be valuable to identify the external aggravating factors that contribute towards conflicts in your relationship, for instance, an increased workload on you or your partner that is not letting you spend more time with each other.
This helps you to avoid blaming each other for issues that are beyond your direct control, and can help you and your significant other to develop strategies to overcome these external issues if at all possible.
Focus on the solution, rather than the problem
No matter the type of relationship conflict you're dealing with, your main aim must be to reach a solution that will allow you to build a strong and healthy relationship between you and your partner.
To avoid either person feeling singled out, and to avoid conflict escalating further, it can be beneficial to focus on solutions to problems, rather than the problems themselves (either perceived or real). This can give you and your partner something to strive towards, while avoiding blaming them for issues that have arisen in the relationship.
Conclusion
If you and your partner are in a long-distance relationship, you might face issues due to miscommunications, a lack of intimacy, and potentially a fear of being replaced. Platforms such as ReGain and Talkspace offer online couple counseling that can help you and your partner resolve relationship issues.
The certified counselors at these platforms use psychotherapeutic techniques such as CBT, REBT, and psychodynamic therapies to identify the root causes of relationship issues, and explore the possible solutions to your problem.
If you're not sure which online therapy platform to choose, feel free to leave a comment below and we'll respond as soon as we can.