If you have health insurance, you may have the opportunity to get free or heavily discounted therapy sessions. However, you might find it hard to afford therapy services if you are not enrolled in an insurance plan, or if your insurance plan doesn't provide coverage for the type of therapy you need.
In this article, we'll discuss two different ways to get access to affordable therapy without insurance coverage.
Want to skip right to the suggestions for affordable therapy without insurance? Here are our 2 recommended therapy solutions:
Affordable therapy for those without insurance
Below are two platforms that provide therapy sessions from qualified therapists for those on a budget.
You can also get access to special discounts if you use one of the provided coupon codes when joining these therapy platforms.
Explore emotional well-being with BetterHelp – your partner in affordable online therapy. With 30,000+ licensed therapists and plans starting from only $60 per week, BetterHelp makes self-care accessible to all. Complete the questionnaire to match with the right therapist.
Find-a-therapist readers get 15% off their first month of BetterHelp membership.
Note: We collaborate with top-tier mental health companies and receive compensation for marketing efforts on behalf of BetterHelp.
BetterHelp is an online platform that provides therapy for many different mental health conditions at an affordable cost.
The experienced, licensed therapists on this platform can help you manage conditions such as depression, anxiety, post-traumatic stress, borderline personality disorder (BPD), and eating disorders, amongst other issues. Moreover, BetterHelp also provides relationship counseling through their sister service, ReGain.
BetterHelp costs $60-$90 per week, depending on where you live, and your preferences in a therapist. For this price, you get one therapy session each week, as well as the ability to message your therapist as much as you'd like.
To reduce your cost even further, you can use the discount code "find-a-therapist" to get 15% off your first month with BetterHelp. Also, there is a financial aid program, allowing you to get an even lower price if you're a veteran, disabled, or otherwise struggling with finances at the moment.
To apply for financial aid, you'll need to select this option when you sign up for BetterHelp. You'll have the opportunity to explain more about your situation, and BetterHelp will let you know if you qualify for support.
BetterHelp provides different means of communication to connect you with your therapist. You can get therapy sessions via text messages, live chat, audio calls, or video calls. These video calls are the most common option, but you can choose to use live chat for a given session, if you'd prefer, through the BetterHelp website or mobile app.
Discover transformative online therapy with Online-therapy.com. Through cognitive behavioral therapy (CBT), Online-therapy.com offer individual and couples support starting at $45/week. Engage in sessions via video, voice, or text for maximum flexibility. Fill out their online questionnaire to get started.
Online-therapy.com is another platform that provides online therapy services, allowing those without insurance to get counseling for an affordable price.
For a relatively low subscription fee, you can connect with your therapist and access daily journals, free yoga and meditation lessons, and easy-to-understand structured information about your specific mental health condition.
Like BetterHelp, Online-therapy.com also offers an affordable weekly subscription plan. You can subscribe to one of four subscription tiers, namely Basic, Standard, Premium, and Couple. These plans offer different features; for instance, you can get two live sessions each week with your therapist with a Premium subscription, while the Standard plan offers only one live session per week.
To save the most money, you can choose the Basic plan, which doesn't include any live sessions – instead you get unlimited messaging with your therapist. However, you might like to choose the Standard plan to access a weekly live therapy session, as this subscription tier is still very reasonably priced.
When signing up, Online-therapy.com will ask you some questions about you and your condition. Based on your answers, they'll match you with a qualified licensed therapist available on the platform. However, you can change your therapist at any time without any additional fees if you are not completely satisfied with them.
After joining Online-therapy.com, you can connect with your therapist using live sessions (audio, video, or text), text messaging, and using worksheets. Your therapist may observe and inform you about your progress after evaluating these worksheets, helping you to improve your mental health more quickly.
Moreover, you can also get a special discount of 20% off your first month if you click through to Online-therapy.com using one of our links. However, there is no financial aid program on this website, unlike with BetterHelp.
How to find an affordable therapist if you don't have insurance
On average, online psychotherapy sessions cost less than face-to-face therapy sessions. However, no matter which type of therapy you choose, the exact amount you'll pay will depend on where you live, and your therapist's expertise and experience.
Here are some practical ways to find an affordable therapist, either online or in-person, if you don't have health insurance.
In-person therapy
To connect with an affordable face-to-face therapist, you can use our website to find a directory of therapists who specialize in treating your specific condition. If you scroll to the top of this page and hover over "Therapy Categories", then click on the type of therapy you're looking for, you should be able to find an article that includes an in-person therapist directory.
After finding a directory, you can choose three to four therapists who seem like a good fit, to create a shortlist. If you're looking for affordable options, search for therapists that offer "sliding scale" pricing. This means that the amount they charge depends on what you can afford to pay.
Next, you may call or text each therapist using their contact number, or e-mail them to learn more about their pricing and availability. Eventually, you should have a list of a few therapists and what their services will cost.
It's important to remember, in-person therapists normally charge per session, rather than per week. This means that to save money, you might like to see a therapist every two weeks, rather than every week.
Online therapy services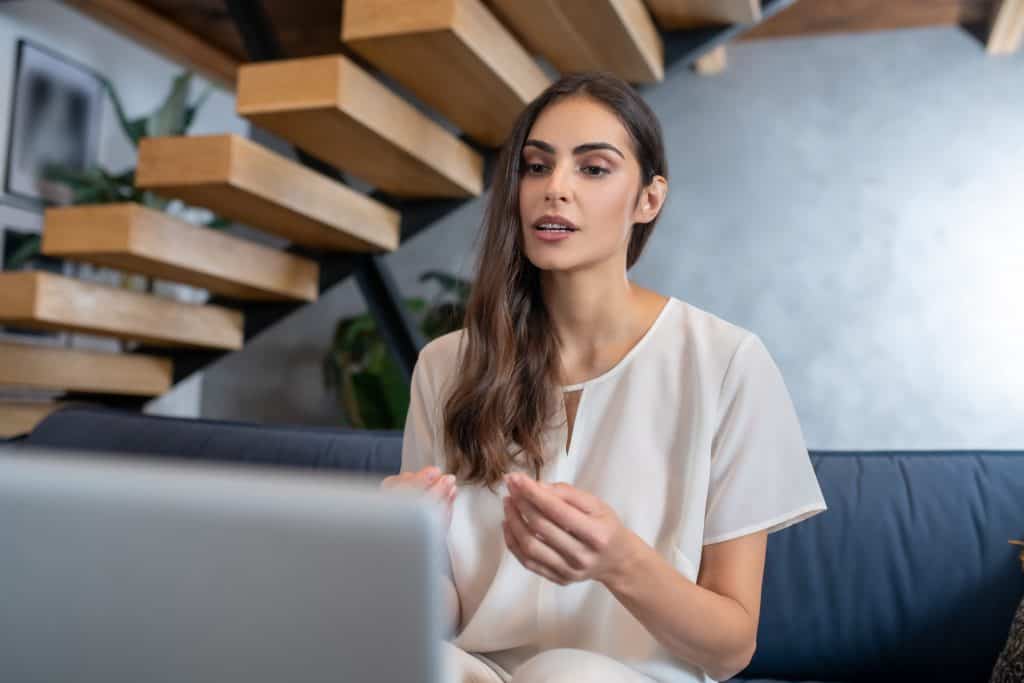 Online therapy services provide you with an opportunity to get mental health support through a website or mobile app. Using these platforms, you can get access to therapy services from licensed therapists at a lower price than in-person therapy.
As mentioned above, you can use different platforms to connect with a therapist over the internet, such as BetterHelp and Online-therapy.com. Most of these platforms offer subscription-based pricing, meaning you have to pay a weekly fee for a subscription, rather than paying per therapy session.
After you subscribe, you get access to qualified therapists who can help you using different psychotherapeutic techniques. You'll normally also get the ability to message your therapist in between each scheduled session, to get additional support – a service that most in-person therapists don't normally provide.
To save money, look for coupon codes, such as the ones we supply, when signing up with an online therapy platform. Also, look for platforms that offer financial support programs, such as BetterHelp, if you're struggling financially at the moment.
Helplines/hotlines
Many helplines or hotlines offer free emergency mental health support services. You can connect with a hotline operator by using their toll-free number.
However, most operators on these helplines are not experienced mental health professionals, nor do they normally possess the required credentials to provide you with quality therapy services. These operators are usually only trained to resolve emergencies relevant to mental health conditions.
Since 2004, National Alliance for Mental Illness (NAMI) has established the National Suicide Prevention Lifeline, which can be accessed 24/7 in an emergency by dialing 1800-273-8255.
The benefits of getting therapy without going through an insurance company
You don't necessarily need insurance to preserve and improve your mental health. It can actually be easier to get therapy without going through an insurance company, as you can get help according to your needs rather than the insurance company's criteria.
An insurance company usually starts its coverage after you get diagnosed with a mental health condition. On the other hand, you can get therapy from an affordable therapist without any diagnosis. For instance, most insurance companies won't cover you for relationship issues, but outside of your insurance, you can get therapy from licensed family therapists if you can afford it.
Similarly, an insurance plan might not offer you the ability to choose a therapist on your own. You may have to get help from a therapist on their board. On the other hand, if you're not going through an insurance company, you can choose a therapist from a wide range of professionals available online or near your location.
How much does therapy cost without insurance?
The cost of therapy without insurance depends upon many factors, especially where you live, and the type of therapy you're looking for.
In this section, we've explained how much therapy costs, for both online and in-person sessions, assuming you don't have health insurance.
Cost of online therapy
Online platforms usually offer weekly or monthly subscription plans. The plan's cost varies according to the benefits of that tier.
For instance, Online-therapy.com offers four main plans: Basic, Standard, Premium, and Couple. The basic plan is the cheapest, however it doesn't offer live sessions, nor do you get express messaging with your therapist.
Most online therapy platforms share their discount coupons on different websites from time-to-time. You might be able to get a reduction in your subscription cost, at least for the first month, if you use a special discount code when subscribing to these online platforms. As mentioned above, you can get a 15% discount on BetterHelp and 20% off Online-therapy.com's subscription if you use one of our coupon codes.
Although online therapy costs vary on different platforms, the average monthly subscription fee for most services is about $60-$100.
Cost of in-person therapy
Most in-person therapists usually charge you a fee per session. According to a study we performed earlier this year, the average cost of a therapy session in the United States is $139.43.
However, the price varies according to the therapist's experience, qualification, availability, and location. A highly trained therapist with a lot of experience will normally charge more than most other therapists, because there is a higher demand for their services. Similarly, a therapist located in a metropolitan area may charge you more fees, because they have to manage higher overhead costs, such as office rent.
This is why in most cases, it's a good idea to explore online therapy if you're looking for counseling without insurance. Using these online therapy services, you can typically access the support you need for a lower cost per therapy session.
Conclusion
You may feel reluctant to get therapy due to affordability concerns, especially if your insurance does not cover mental health support.
BetterHelp and Online-therapy.com provide access to qualified therapists over the internet at an affordable price, even without insurance coverage. Using different psychotherapeutic techniques, the affordable therapists available on these platforms can help you manage mental health conditions such as anxiety, depression, stress, relationship issues, BPD, and much more.
Still not sure how best to find an affordable therapist? Feel free to leave a comment below, and we'll respond as soon as we can.