If you're searching for a psychologist, you might prefer to speak to someone with the same racial heritage as you.
A black therapist will often better understand the psychological traumas, emotional issues, and mental health problems faced by African Americans.
In this guide, we've explained how to find a black therapist or counselor near you or online.
Want to skip right to the suggestions for black therapists? Here are our 2 recommended therapy solutions:
How to find a black therapist near me
Many online portals can help you connect with black psychologists.
We've looked at two of these websites below, and also provided the relevant information you need to find a therapist on these platforms, and begin the therapy sessions.
Explore emotional well-being with BetterHelp – your partner in affordable online therapy. With 30,000+ licensed therapists and plans starting from only $60 per week, BetterHelp makes self-care accessible to all. Complete the questionnaire to match with the right therapist.
Find-a-therapist readers get 15% off their first month of BetterHelp membership.
Note: We collaborate with top-tier mental health companies and receive compensation for marketing efforts on behalf of BetterHelp.
BetterHelp is an online portal that gives you access to affordable therapy sessions from the comfort of your own home. You only need a mobile phone, laptop, or tablet to connect with a therapist, and there are thousands of black therapists available on the platform.
Almost 29,000 licensed counselors and therapists are available on BetterHelp, who provide advice, counseling, and therapy to individuals, couples, and teens.
When signing up, you can mention what you're looking for in a psychologist, like a therapist of color or black therapist, and the problems you are going through, and BetterHelp will match you with the right mental health professional.
You can change therapists at any time in the future for any reason at all, using the online interface. Moreover, you can select the mode of communication that works best for you. Messages, phone calls, and video sessions are available – typically, you'll have one therapy session each week over a phone or video call, and text your therapist throughout the week, if you want to.
BetterHelp is user-friendly and provides financial aid in special cases, such as for unemployed people, veterans, and students. To access this support, be sure to check the box to request financial aid when signing up.
Inclusive Therapists serves as a valuable directory for individuals seeking culturally responsive, LGBTQ+ affirming, and social justice-oriented therapists. The platform offers the convenience of matching users with therapists in their local area, ensuring accessible support.
Inclusive Therapists provide a safe and simple way to find a therapist you can feel safe and comfortable with during your sessions. Their mission is to provide clients with therapists that strive to embody principles such as anti-discrimination, anti-oppression, anti-stigma, anti-racism, and anti-ableism.
On the Inclusive Therapists directory, they have a range of qualified therapists from different cultural and racial backgrounds, including a huge number of black therapists.
To search for a therapist, you can browse by location and select your area. A list of therapists will be provided along with their personal information, contact details, and special interests. Inclusive Therapists also allow you to search for therapists according to various different categories, such as identity, language, focus areas, insurance, and therapeutic approaches.
In addition, rather than using the therapist directory on the website, you can also get matched with a counselor by submitting your preferences and having the Inclusive Therapists team find someone for you. However, this process can take up to five office days, so it should not be done when you are in need of immediate help.
Why seek out a black psychologist?
Black therapists can sometimes provide better quality mental health support for African Americans, as our culture and ethnicity influence our experience of trauma and mental illness. Your background can also affect how you interpret what you've been through.
Historically, mental health has been stigmatized in the black community – this is a problem that can be addressed and overcome by black psychologists.
Here are some more reasons why you might like to seek out an African American therapist specifically.
To enhance trust
Black people sometimes find it difficult to trust the mental health care system for fear of experiencing racism or discrimination, and this affects the quality of care received.
If this is a problem for you, you may trust and connect more easily with a black therapist.
To improve comfort during the mental health care process
Being comfortable with your therapist is vital for the success of the therapy process. Black therapists will better understand your social and cultural dynamics, helping you feel more at ease opening up and explaining the issues you're experiencing.
Having a therapist from the same background as you, who understands the cultural context in which your problems arise, is an act of healing in itself.
To help overcome the stigma surrounding mental health in the black community
There is a significant stigma associated with mental health treatment in the black community, which can prevent you from getting the help you need. A black therapist can help you to overcome this, and they can also make you feel more comfortable to come forward and get help.
In a perfect world, a white or Latino therapist would be able to provide the same level of support with this stigma; however, in reality, this isn't always the case.
How can a therapist understand the nature of a client's problems if they can't see the issues that come with their racial heritage and culture? Understanding precedes compassion, and compassion precedes healing.
All cultural groups deserve mental health treatment that pays attention to the sociocultural aspects of their behavior and shows empathy toward their situation.
Why is it difficult to find a black therapist?
The scarcity of African American counselors in the United States makes it more difficult to find an experienced black therapist near you. Only about 4.1 % of therapists and 4.7% of psychologists in the US are black.
Also, the need for black therapists is increasing day by day. According to the American Psychological Association, the national demand for black therapists is expected to increase 11% by 2030.
However, despite shortages in available professionals, platforms like BetterHelp and Inclusive Therapists make it easy for you to find an experienced black therapist within your budget.
Mental health problems faced by black Americans
The National Alliance on Mental Illness has considered racism a public health crisis since May 2020. Racism and stigmatization make black people prone to various psychological issues.
Some mental health problems common in black Americans are discussed below.
Racial trauma
Racial biases, cultural discrimination, and hate crimes faced by the black community make African American individuals prone to race-based stress and trauma.
Racial traumas can result in low self-esteem, panic attacks, feelings of powerlessness, mistrust of others, and an increased risk of depression and stress-related disorders.
Depression
Depression is also a serious issue experienced by people facing racism and ethnic discrimination.
Black people are sometimes reluctant to seek mental health therapy because of the stigma associated with doing so. As a result, racism-related stress or anxiety can lead to severe depression if left untreated. Martin Luther King himself was a victim of severe depression.
Anxiety
Black people may also develop anxiety, stress, and panic disorders due to increased exposure to racial discrimination.
If you suffer from an anxiety disorder, you may worry about racism and discrimination non-stop, and be unable to control these feelings.
Social anxiety is another type of anxiety, where you may have fears of being judged based on your skin tone or ethnic origin.
Post-Traumatic Stress Disorder (PTSD)
Racial traumas can lead to post-traumatic stress disorder (PTSD) if not managed in the early stages.
PTSD is characterized by disturbing thoughts, an inability to concentrate, aggressive behavior, feelings of guilt or shame, and sleeping difficulties. Often, people may also have flashbacks about the incidents they have experienced in the past when suffering from PTSD.
Substance Use Disorder (SUD)
Substance Use Disorder (SUD) or substance abuse is a mental health condition in which you may become physically dependent on substances such as alcohol, opioids, cocaine, or methamphetamines. SUD is common in many different racial groups in America, but some of the issues described above, such as depression and anxiety, can contribute to substance abuse disorders.
Eating Disorders
Eating disorders are characterized by abnormal eating behaviors, often followed by guilt and an urge to vomit. These disorders can negatively impact an individual's mental and physical well-being.
According to the National Eating Disorder Association, black female teenagers are about fifty percent more likely to express bulimia nervosa than white female teenagers.
Types of black therapists you might like to seek out
There are different types of black therapists who can deal with specific issues related to your mental well-being.
Some of the more specific types of black therapists you might like to seek out are described below.
Black female counselors
Black women may experience certain sociocultural issues related to their gender, such as domestic violence, gender discrimination, and financial abuse/coercive control. These issues can significantly impact your mental health.
Being a woman, a female counselor can better understand the challenges you face. If you're a black woman with mental health concerns, you may feel more comfortable discussing those issues with a black female counselor.
Black couples counselors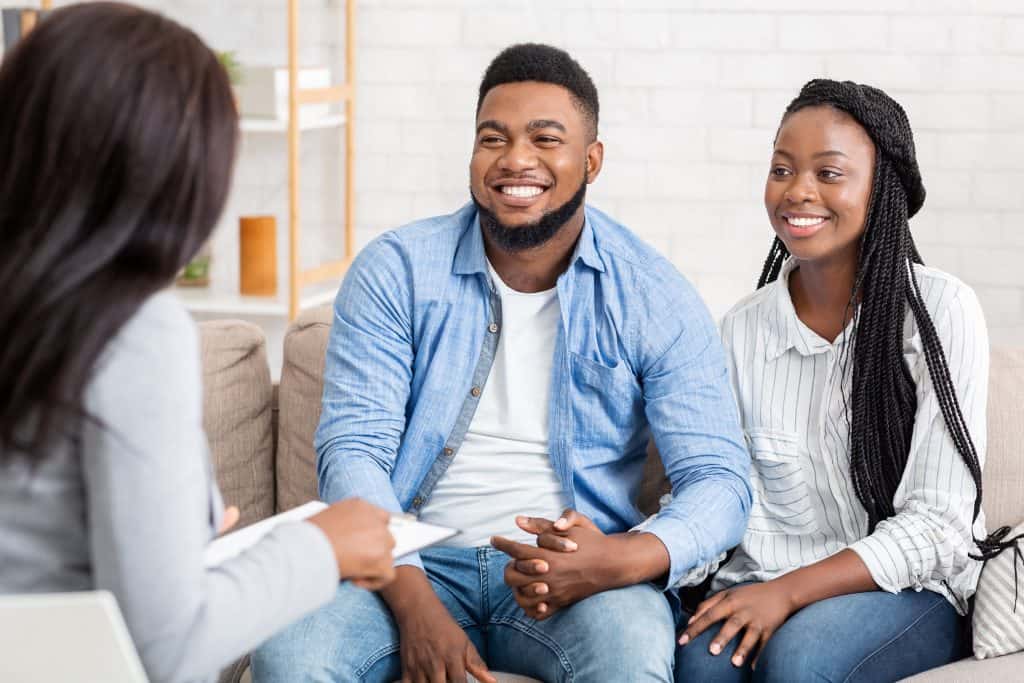 Black couples counselors can help with relationship issues and conflicts black couples face. In most cases, they use talk therapy to reach the root causes of relationship conflicts, and then employ psychotherapeutic techniques to resolve these issues.
A black couples counselor can more effectively understand the sociocultural factors that affect your relationship, and how these may play into the issues you are experiencing.
Cognitive behavior therapist
Cognitive Behavioral Therapists use Cognitive Behavioral Therapy (CBT) to manage the symptoms of depression, anxiety, post-traumatic stress disorder (PTSD), panic disorders, and sleep disorders. In CBT, a black therapist usually identifies the specific mental health problems or challenges that you face, and provides practical solutions to these issues.
CBT is also used by black therapists to address and manage the emotional challenges experienced by members of the black community. In addition, CBT is the first-line treatment for eating disorders. Hence, a CBT therapist can help to treat binge-eating disorder and bulimia nervosa in black people, such as teenage girls.
Dialectical behavior therapist
Dialectical behavior therapists use DBT (Dialectical Behavior Therapy) to help black people live in the present rather than worrying too much about past traumas or upcoming endeavors.
DBT is a subtype of behavior therapy that can help you develop skills to cope with emotional and mental stress. Moreover, a black DBT therapist may also use group therapy to resolve substance use disorders and self-destructive behaviors.
Black Christian counselor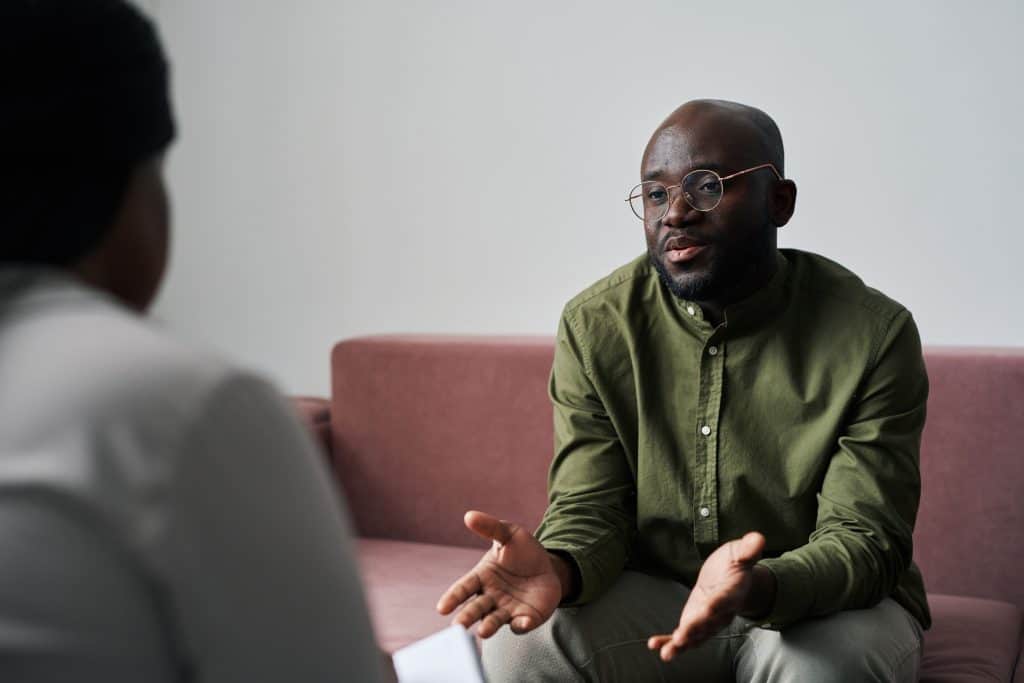 Black Christian counselors integrate biblical principles with scientific psychology techniques to provide viable solutions to mental health issues.
Through counseling sessions, a black Christian counselor may strengthen your faith in Jesus Christ and provide useful solutions to the difficulties you're facing. Furthermore, as the name indicates, a black Christian counselor usually uses a holistic approach to restore the connection between your body, mind, and spirit.
Black child therapist
Sometimes black children get bullied or experience trauma in school or at home. Childhood traumas can, unfortunately, turn into generalized anxiety disorder (GAD), depression, and PTSD in adulthood. They can also affect an individual's education, self-esteem, and career.
Using trauma-focused cognitive behavioral therapies, a black therapist who specializes in working with children can identify and resolve mental health issues that are affecting your child's quality of life.
Conclusion
It's perfectly acceptable to want to find a therapist who shares the same racial heritage as you. Having a black psychologist can help to provide the comfort, trust, and openness that is essential for therapy sessions to be effective.
Moreover, it is sometimes easier for people of the same ethnicity to understand each other better, making the diagnosis more accurate, and helping mental health professionals to provide better treatment.
If you have any questions about finding a black therapist, please feel free to leave a comment below.