Hypnotherapy has increasingly become a popular therapeutic method for addressing trauma-related issues.
By utilizing the power of the subconscious mind, individuals struggling with the after-effects of traumatic experiences can find relief and healing through this alternative approach.
Hypnotherapy for trauma is not a one-size-fits-all approach, as every individual's experience of trauma is unique.
Therefore, working with a skilled and experienced hypnotherapist who can tailor the treatment to meet each patient's specific needs is crucial.
The Role of Hypnotherapy
Hypnotherapy for trauma aims to help patients by providing a safe and supportive environment where they can confront, process, and ultimately overcome their traumatic experiences, leading to improved mental health and emotional well-being.
Effectiveness of Hypnotherapy for Trauma
Hypnotherapy is an effective therapeutic approach for addressing the psychological and emotional impact of traumatic experiences.
This form of therapy involves using hypnosis to access the subconscious mind, which plays a key role in the healing process.
By unlocking the subconscious mind, therapists can help patients explore repressed memories, process past events, and release negative emotions associated with their trauma.
Hypnotherapy can particularly benefit individuals with post-traumatic stress disorder (PTSD) and other trauma-related conditions.
Hypnosis can help reduce anxiety, improve emotional regulation, and enhance overall mental well-being.
Hypnotherapy has been found to facilitate the safer processing of traumatic materials, which is crucial for the healing process.
Key Professionals Involved in the Treatment
Several professionals specialize in the application of hypnotherapy for trauma.
These include:
Psychologists: Clinical psychologists with training in hypnosis may incorporate the technique into their trauma-focused therapy sessions, utilizing both traditional and Ericksonian hypnotherapy for enhanced results.
Hypnotherapists: Certified hypnotherapists who have undergone specialized training in trauma treatment can also help patients address issues related to past traumatic experiences.
Psychiatrists: Some psychiatrists may use hypnosis as an adjunctive treatment when working with patients dealing with trauma, particularly those suffering from anxiety disorders and trauma-related conditions.
It's important for those seeking treatment for trauma to carefully consider the professional they choose to work with, as the effectiveness of the therapy may depend on the skill and experience of the therapist.
Overall, hypnotherapy can play a significant role in the healing process for those affected by traumatic experiences, offering an alternative or complementary approach to traditional trauma treatments.
Hypnotherapy Treatment Approaches
Hypnotherapy is a valuable approach to addressing trauma-related conditions, as it's known for its potential to access the subconscious mind.
Various treatment methods within hypnotherapy aim to help trauma survivors resolve their traumatic experiences, reduce anxiety, and enhance their well-being.
Cognitive Hypnotherapy
One popular approach is cognitive hypnotherapy, which combines the power of hypnosis with elements of cognitive-behavioral therapy (CBT).
Cognitive hypnotherapy helps individuals reframe their thought patterns and develop healthy coping mechanisms.
This approach can be beneficial to trauma survivors, as it encourages them to examine their feelings and beliefs about the traumatic event, ultimately helping them process their experience and decrease symptoms of post-traumatic stress disorder (PTSD).
Mindfulness and Acceptance-based Treatment
Another innovative method in trauma-focused hypnotherapy is mindfulness and acceptance-based treatment.
This approach encourages individuals to reach a state of mental awareness that allows them to accept and observe their feelings, thoughts, and sensations without judgment.
Mindfulness-based techniques can be integrated into a hypnotherapy session, promoting relaxation, self-compassion, and a greater sense of control for the trauma survivor.
Comparison with Other Therapies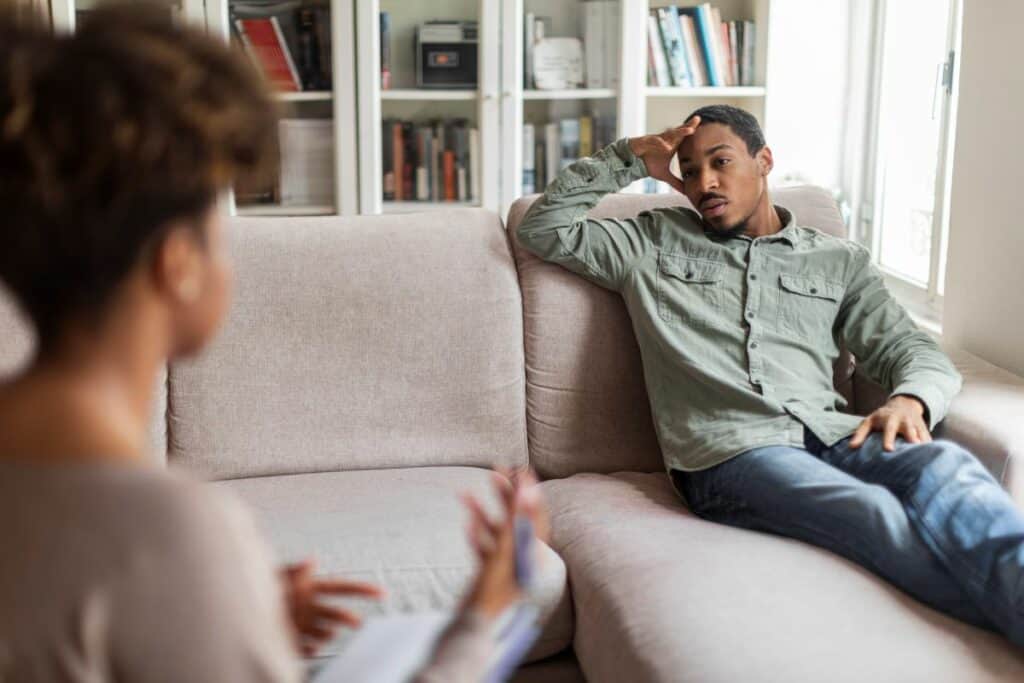 When considering hypnotherapy as a treatment for trauma, it is important to compare its efficacy with other established therapies.
Some common therapies for trauma include cognitive-behavioral therapy (CBT), eye movement desensitization and reprocessing (EMDR), cognitive processing therapy (CPT), prolonged exposure (PE), and trauma-focused cognitive-behavioral therapy (TF-CBT).
Therapy Approach
Description
Cognitive-Behavioral Therapy (CBT)
This form of therapy focuses on helping patients identify and change maladaptive thoughts and behaviors related to their trauma.

Compared to hypnotherapy, CBT is a more structured, widely established, and extensively researched therapy.
Eye Movement Desensitization and Reprocessing (EMDR)
This therapy uses bilateral stimulation, such as eye movements or tapping, to help patients process and desensitize traumatic memories.

Although EMDR is less well-known than CBT, it has been found to be effective in treating post-traumatic stress disorder (PTSD).
Cognitive Processing Therapy (CPT)
This therapy aims to help patients reframe and reprocess their traumatic experiences by challenging and modifying negative thoughts surrounding their trauma.

CPT is particularly effective for survivors of sexual trauma.
Prolonged Exposure (PE)
This exposure-based therapy involves gradual, repeated exposure to trauma-related memories and situations in order to decrease their emotional intensity.

PE has been found to be effective in reducing PTSD symptoms across a variety of trauma types.
Trauma-focused Cognitive-behavioral Therapy (TF-CBT)
This approach is a specific type of CBT designed to address the unique needs of children and adolescents who have experienced trauma.

It combines elements of CBT with other therapeutic techniques, such as relaxation skills, to help the young person process their experiences and develop healthy coping strategies.
While it may be tempting to say that one therapy is definitively better than another, it is crucial to recognize that different individuals may respond differently to various treatment options.
Therefore, it is crucial to consider individual needs and preferences when selecting a treatment approach.
In some cases, hypnotherapy may be a beneficial adjunct to other forms of therapy, offering unique benefits such as increased relaxation and access to subconscious memories.
Risks and Benefits
Hypnotherapy can offer various benefits when used in the treatment of trauma, including reduced anxiety, emotional regulation, and improved self-esteem.
By using techniques such as relaxation and visualization, individuals suffering from trauma may find relief, gain new insights, and develop healthy coping mechanisms.
However, hypnotherapy does come with some potential risks. It is essential to carefully consider them before deciding if this approach is right for you.
Potential Risk
Description
Distress or emotional discomfort
For some individuals, the process of hypnotherapy can lead to the re-experiencing of traumatic events, possibly causing distress or emotional discomfort.

This can be especially concerning for those who have not yet developed adequate coping skills to handle traumatic flashbacks or memories.
May not be suitable for everyone
Individuals with serious mental health conditions, such as schizophrenia or severe depression, may not be appropriate candidates for this treatment method.

It is also essential to ensure that the hypnotherapist is well-trained and experienced in working with trauma to minimize potential risks.
As with any mental health treatment, weighing the potential benefits against the risks is crucial.
When hypnotherapy is used in conjunction with evidence-based treatments such as cognitive-behavioral therapy (CBT) or mindfulness, it may provide valuable support in treating trauma.
Overall, hypnotherapy could be a helpful addition to a comprehensive mental health treatment plan when approached with caution and consideration of potential risks.
Frequently Asked Questions
How effective is hypnotherapy for treating PTSD?
Hypnotherapy has been found to be helpful in treating PTSD and other trauma-related conditions.
It can be a useful tool in managing a range of disorders and symptoms, although each person's experience may vary.
Can hypnosis help in reducing trauma symptoms?
Yes, hypnosis can be helpful in reducing trauma symptoms.
It is a therapeutic technique that helps individuals access and process difficult emotions, enabling them to manage their symptoms more effectively.
By tapping into the subconscious mind, hypnotherapy can address the root causes of an individual's trauma and provide relief.
How does a hypnosis session for trauma work?
During a hypnosis session for trauma, the therapist guides the individual into a relaxed, focused state, also known as a hypnotic trance.
The individual is then more open to suggestions and can access suppressed memories and emotions.
The therapist helps the person process these emotions, visualize positive outcomes, and develop healthy coping mechanisms to resolve or manage trauma symptoms.
Are there any risks or side effects of using hypnotherapy for trauma?
Hypnotherapy usually carries minimal risks and side effects when performed by a trained, qualified professional.
However, some individuals may experience feelings of anxiety, dizziness, or discomfort during or after the session.
It is essential to discuss any concerns with the therapist before starting the treatment to ensure a safe and comfortable experience.
How do I find a qualified hypnotherapist for trauma treatment?
Finding a qualified hypnotherapist for trauma treatment involves researching reputable professional associations and checking if the therapist holds appropriate credentials and certifications.
Look for a therapist experienced with trauma cases, read reviews, and consider asking for recommendations from healthcare professionals or friends who have successfully undergone hypnotherapy for trauma.
Ultimately, choosing a qualified hypnotherapist with whom you feel comfortable and trust is essential for successful treatment.