Korean therapists play a vital role in addressing the unique mental health needs of individuals from Korean backgrounds.
They possess a deep understanding of cultural nuances and communication styles, enabling them to provide culturally sensitive care for clients who may feel more comfortable discussing their issues with someone who shares their cultural background.
Short Summary
Korean therapists can deliver effective mental health care while respecting cultural values.
Maintaining a confident, knowledgeable, and clear tone while being sensitive to unique cultural differences is crucial for Korean therapists.
A Korean therapist shares a cultural understanding and provides a safe and nurturing space to explore the complexities of identity, language, and cross-cultural experiences.
Korean Therapists: An Overview
Korean therapists are mental health professionals who provide counseling, therapy, and support to clients, particularly those from Korean cultural backgrounds, both in Korea and abroad.
These therapists are often knowledgeable about the unique cultural, societal, and familial factors that can impact the mental health of Korean individuals and families.
The need for Korean therapists has been growing in the United States as the Korean-American population continues to increase. These therapists are vital in addressing mental health concerns within Korean communities by providing culturally-sensitive therapy tailored to their clients' specific needs.
Qualifications
Many Korean therapists possess advanced degrees in psychology, counseling, or social work and have been trained in various therapeutic modalities. However, it is essential to note that they may face challenges when applying Western theoretical orientations to the Korean cultural context.
Some Korean therapists have adapted Western therapeutic approaches better to suit their clients' cultural and language needs, fostering more effective communication and understanding during therapy sessions.
Therapy Approaches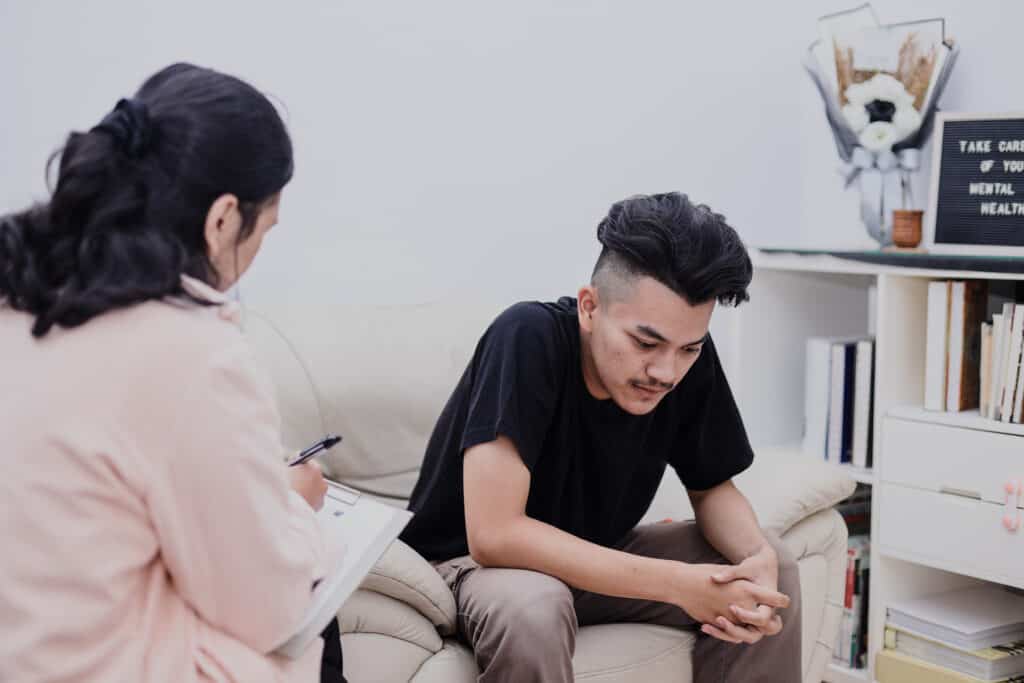 The therapeutic approaches offered by Korean therapists encompass a wide range of methodologies, each tailored to address specific mental health concerns and promote overall well-being.
Family Therapy
One area where Korean therapists demonstrate considerable expertise is family therapy. Recognizing the importance of family dynamics and relationships in Korean culture, they utilize family therapy techniques to address mental health issues within the family system.
Family therapy in South Korea predominantly integrates systemic, cognitive-behavioral, and psychodynamic approaches in addressing clients' problems, empowering families to improve communication and resolve conflicts.
Filial Therapy
One essential aspect of a Korean therapist's work is their familiarity with filial therapy, which has proven effective for Korean parents in Korea and abroad. This intervention strengthens the parent-child relationship by promoting empathy, understanding, and communication.
Some benefits of filial therapy include improved parenting skills, increased emotional connection, and enhanced family harmony. For immigrant parents, in particular, filial therapy can offer valuable support in navigating the challenges of raising children in a different cultural environment.
Working with Cultural Differences
In an increasingly interconnected world, Korean therapists are vital in providing mental health support to individuals from diverse cultural backgrounds.
Working with cultural differences presents unique challenges and opportunities for these practitioners as they navigate the complexities of cultural norms, values, and belief systems.
In this exploration of Korean therapists' approach to cultural diversity, we will uncover the culturally sensitive and inclusive practices they employ to ensure effective and empathetic therapeutic outcomes.
Shame and Stigma
Korean culture heavily values saving face, which could make it challenging for individuals to discuss their mental health issues openly. Shame and stigma are deeply rooted in Korean society, making it difficult for those who require mental health support to seek professional help.
Therapists need to understand this cultural context when working with Korean clients, offering sensitive and nonjudgmental support.
Encouraging open dialogue while being respectful of cultural boundaries can help break through barriers and facilitate effective therapy sessions. Building trust and rapport with clients may help them feel more comfortable discussing their mental health challenges.
Understanding Cultural Nuances
Working with Korean clients requires an appreciation of the cultural nuances that may impact the therapeutic process. Korean culture tends to value group harmony and collective identity over individualism, sometimes leading to reluctance to express personal thoughts and emotions.
Additionally, Korean culture emphasizes respect for authority, which may impact the therapeutic relationship. Therapists need to be aware of this dynamic and create a more egalitarian environment to help clients freely express themselves.
Incorporating culturally relevant counseling theories and techniques can be beneficial when working with Korean clients. This includes using language, stories, and examples that resonate with their unique cultural experiences.
Furthermore, being knowledgeable about the challenges faced by Korean immigrants, such as language barriers or adapting to a different job market, can provide greater context for understanding their mental health.
Language Considerations
In the field of therapy, effective communication is paramount to building strong therapeutic relationships and achieving positive outcomes.
For Korean therapists, language considerations hold a crucial significance in their practice, particularly when working with clients who may not be fluent in Korean or share the same cultural background.
English And Korean Fluency
When working with a Korean therapist, language fluency is crucial to ensure effective communication and understanding. Therapists fluent in English and Korean can provide more precise guidance and accurately assess their clients' needs.
Being proficient in both languages not only bridges the language barrier but also aids in understanding cultural nuances that may impact therapy sessions.
Multilingual Therapists
In addition to English and Korean, it is beneficial for therapists to have knowledge of other languages, such as Mandarin or Spanish, to cater to a diverse client base. This ensures inclusivity and accessibility to more individuals who may require therapy services.
For example, Mandarin-speaking therapists may support the Korean-Chinese population, as they often face language barriers and cultural differences when seeking mental health services in Korea.
By being multilingual, therapists can address clients' individual needs more effectively and comprehensively, providing therapy services in their preferred language and considering their cultural background.
Finding a Korean Therapist
Finding a suitable therapist is a pivotal step in one's journey towards improved mental health and emotional well-being. For those seeking therapy within the Korean community or individuals of Korean descent, connecting with a Korean therapist can offer unique advantages.
Private Practice And Online Options
Finding a Korean therapist that meets your needs can be done through private practice or online options. Many therapists have their own offices or clinics where they see clients.
You can find a Korean therapist in your local area by searching therapist directories, asking for referrals from friends, or contacting local mental health organizations.
In addition to private practice, there are increasingly more online options for therapy. Many therapists offer video or telephone consultations, making it easier for clients who cannot travel to an office or clinic.
This can be especially useful for those looking for a Korean therapist when there are limited options in their locale. Some reputable online therapy platforms that connect clients with therapists of various backgrounds, including Korean therapists, can be helpful in this search process.
Final Thoughts
From embracing cross-cultural communication to integrating cultural competence into their interventions, Korean therapists exemplify a commitment to understanding and respecting the unique perspectives of each client.
By recognizing the impact of cultural backgrounds on mental health, they create a safe and welcoming space where clients can explore their thoughts, emotions, and experiences without judgment.
Frequently Asked Questions
How can I find a Korean therapist near me?
There are several methods to find a Korean therapist in your locality. You can start by consulting your primary care physician who can provide recommendations.
Additionally, you can explore online databases and directories of mental health professionals or inquire within your local Korean community centers for referrals.
Are there specific therapy centers for Korean Americans?
Yes, some therapy centers specialize in providing services to Korean Americans and other Asian populations. These centers typically employ therapists who understand their clients' cultural nuances and language requirements.
However, it is essential to note that the availability of such centers may depend on your location and the size of the Korean American community in your area.
What is the cost of therapy with a Korean counselor?
The cost of therapy with a Korean counselor may vary depending on their location, expertise, and whether they provide services through a specialized center or on a private basis. It is essential to contact the therapist directly to discuss fees and payment options.
Some therapists may offer a sliding scale or accept various insurance plans as a payment means, making therapy more accessible.
How do Korean cultural norms impact therapy?
Korean cultural norms can significantly impact the approach and dynamics of therapy. A counselor who understands Korean qualities and values can better address emotional, family, and social challenges within the context of the client's cultural background.
The therapist will likely be aware of the importance of respect for elders, the significance of family relationships, and the potential influence of collectivist values in the therapeutic process.
Are there online platforms for finding Korean therapists?
Yes, several online platforms can help you find Korean therapists, whether you require in-person or virtual sessions.
Websites such as BetterHelp offer extensive databases of therapists, including those who speak Korean and understand Korean culture. While these platforms allow users to select their therapist preferences based on the language it is still not guaranteed that you will be matched with a Korean-speaking therapist.