Art therapy is a form of expressive therapy that uses the creative process to help individuals express and communicate emotions, thoughts, and feelings.
It incorporates various forms of visual art activities, such as painting, drawing, and sculpting, as an essential part of the therapeutic process.
As a versatile and adaptable approach, art therapy has been proven to be effective in addressing a wide range of mental health and emotional issues, offering a non-verbal and alternative method for communication and self-expression.
The Basics of Art Therapy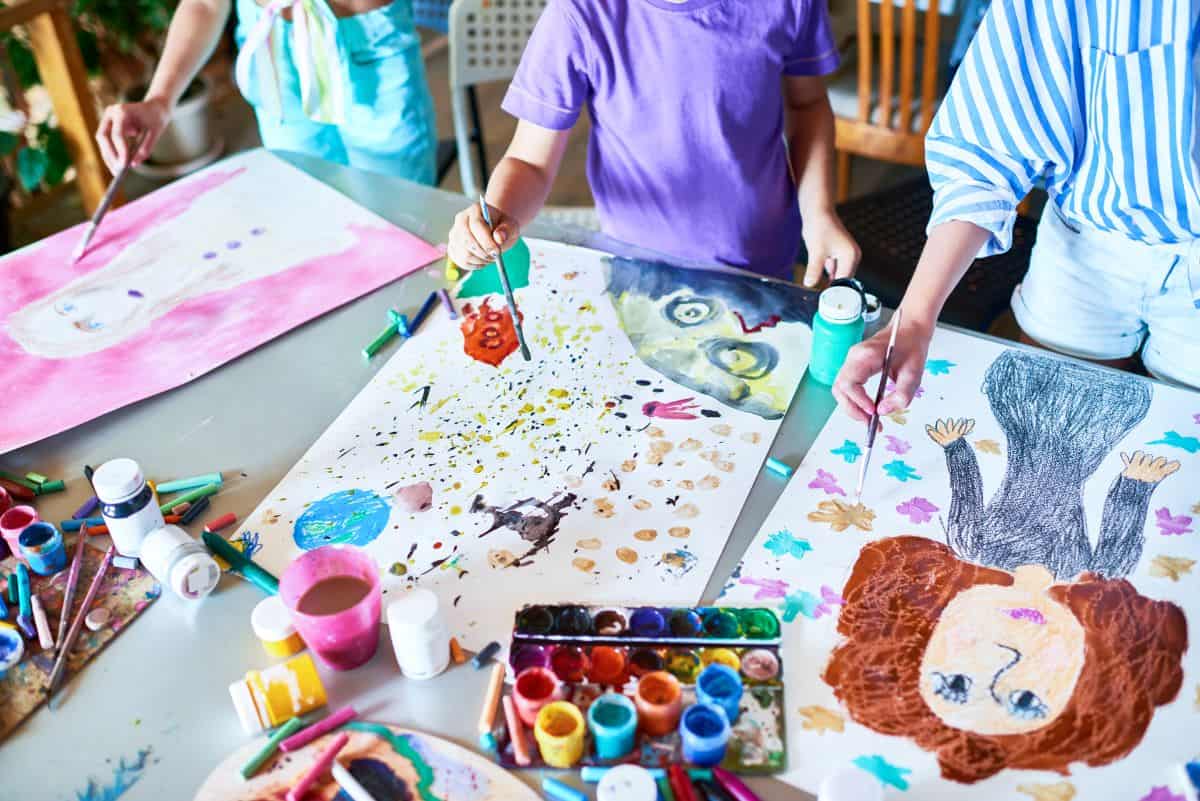 Art therapy is a form of expressive therapy that uses the creative process of making art to improve a person's physical, mental, and emotional well-being.
It combines the elements of art and psychotherapy to facilitate self-expression, self-awareness, and healing.
In an art therapy session, individuals are encouraged to explore their feelings, emotions, and thoughts through various art activities.
By doing so, they can better understand their emotions and uncover underlying issues they may be struggling with.
The process of creating art can also be therapeutic in itself, providing a sense of accomplishment and an outlet for self-expression.
Art therapy allows individuals to explore their emotional states and inner experiences artistically, fostering the development of self-awareness, personal growth, and problem-solving skills.
The power of art therapy lies in its ability to bypass language constraints and tap into the more profound emotional layers, offering a unique form of therapy that is both therapeutic and enriching.
Art therapy activities can vary depending on the therapeutic goals and the individual's preferences. Some common techniques include drawing, painting, collage-making, or working with clay.
The Role of Art Therapy in Mental Health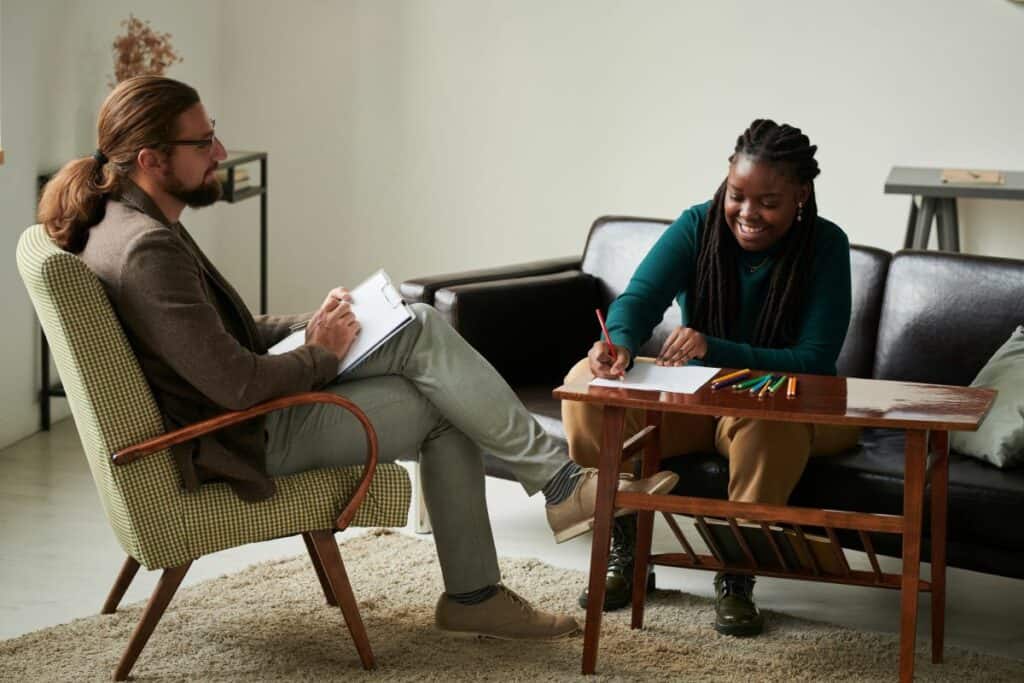 Art therapy is a valuable tool in promoting mental health, as it combines creativity and self-expression with psychotherapy.
Engaging patients in art therapy activities allows them to explore and communicate their emotions, often leading to positive effects on their mental well-being.
Individuals who may not feel comfortable discussing their emotions in conventional talk therapy often find solace in art therapy.
The non-judgmental and self-reflective nature of creative activities allows patients to explore their thoughts and feelings in a more organic way, leading to improved mental health.
Depression
In particular, art therapy has been found to be helpful in treating depression.
Engaging in creative activities allows patients to express their emotions, which can be difficult to communicate through traditional talk therapy.
Additionally, the process of creating art can foster a sense of achievement, providing a needed boost to self-esteem for individuals suffering from depression.
Anxiety and Stress
Moreover, the meditative and calming aspects of art therapy can be beneficial for those dealing with anxiety or stress.
By focusing on the tactile aspects of creating art, individuals can redirect their focus away from negative thoughts, ultimately reducing anxiety and promoting relaxation.
Art Therapy Techniques and Exercises
Art therapy is a form of therapy that utilizes various creative approaches to help individuals express their emotions, manage stress, and improve their overall well-being.
This section covers common art therapy techniques and exercises involving drawing, painting, sculpture, mandala, zentangle, collage, and line art.
Drawing
Drawing exercises are one of the most fundamental and accessible art therapy techniques.
They allow individuals to express their thoughts and feelings through simple or complex sketches.
Drawing can be done with pencils, charcoal, pastels, or markers, providing a range of options for individuals to explore their creative potential.
Painting
Painting offers individuals a chance to work with colors and textures while conveying their emotions.
This type of art therapy often involves using acrylic or watercolor paints on paper or canvas.
Different techniques like finger painting, brushwork, and even stenciling can be employed, making the activity suitable for individuals with varying artistic skills.
Sculpture
Sculpture in art therapy provides individuals with the opportunity to create three-dimensional representations of their emotions, thoughts, or memories.
This can be done using materials such as clay, paper mache, or even found objects.
Sculpture can help individuals develop their art-making skills and enable a more significant processing of their experiences.
Mandala
Creating a mandala is another popular art therapy technique.
A mandala is a circular, symmetrical design often used as a focus for meditation and self-reflection.
Individuals can draw or paint their mandalas by arranging different shapes, colors, and symbols that have personal meaning.
The process of creating a mandala can be therapeutic and relaxing.
Zentangle
Zentangle is an exercise that combines aspects of drawing and meditation.
It involves creating intricate patterns by repeating simple lines, shapes, and dots.
This practice, often done in small square tiles called "tangles," encourages relaxation, focus, and creativity, which can help reduce stress and anxiety.
Collage
Collage is a versatile art therapy technique that involves combining various materials, like magazine cutouts, photographs, and text, to create a new artwork.
Collage can help individuals explore themes and express emotions without the pressure of starting with a blank canvas.
This method is also particularly effective for those who might be hesitant about their drawing or painting skills.
Line Art
Line art exercises consist of creating images using only lines or continuous line drawings.
This technique encourages mindfulness and concentration while drawing and can help individuals process emotions, reduce stress, and gain insights.
Art Therapy Activities for Different Age Groups
Art therapy is a creative and versatile form of mental health support that incorporates different activities designed for individuals of all ages.
By using artistic expression, people can explore their thoughts and feelings, improve their self-awareness, and develop coping mechanisms for various challenges they may face.
This section highlights art therapy activities suitable for adults, teens, and children.
Adults
Adults often experience stress and anxiety related to work, financial issues, relationships, or personal growth.
Art therapy activities aimed at adults can assist in addressing these concerns by providing a safe and non-judgmental space for self-expression.
Some effective activities for adults include:
Painting or drawing to express emotions
Collage-making with images that represent personal goals or memories
Sculpture for tactile engagement and representation of personal experiences
Teens
Teens undergo significant physical, social, and emotional changes as they transition from childhood to adulthood.
Art therapy activities for this age group aim to help them navigate these changes, build self-esteem, and manage emotional challenges.
Engaging activities for teens can include:
Journaling through art or mixed media to record feelings, thoughts, or experiences
Photography projects that encourage the exploration of personal identity
Creating digital art to connect with modern technology and self-expression
Children
Children benefit from art therapy activities that foster self-expression, emotional regulation, and interpersonal skills.
These activities range from simple crafting tasks to more complex artistic projects designed for their age group.
Some suggested activities for children are:
Drawing or painting to work through emotions
Participating in group mural projects to promote social skills and teamwork
Engaging in sensory art experiences, such as clay molding or finger painting
Frequently Asked Questions
How can art therapy activities help with anxiety?
Art therapy activities can provide a safe and non-judgmental environment for individuals to process and express their emotions, helping to reduce anxiety.
Engaging in art therapy can promote emotional regulation, self-awareness, and mindfulness, allowing participants to cope with stress and anxiety more effectively.
It can also serve as a distraction from anxious thoughts and provide an outlet for relaxation and creative expression.
What are some group art therapy activities?
Group art therapy can foster communication, collaboration, and shared experiences between individuals.
Some group art therapy activities include cooperative mural painting, shared sculpture building, or group drawings.
These activities can encourage social interaction, emotional support, and promote a sense of belonging among participants while also providing an opportunity for creative self-expression.
How do mindfulness art therapy activities work?
Mindfulness art therapy activities combine the practice of mindfulness with creative expression, encouraging individuals to be present, non-judgmental, and self-aware.
Activities involve:
Drawing or painting while focusing on breathing.
Engaging in sensory-based art exploration.
Incorporating meditation practices with art-making.
These activities can aid in stress reduction, relaxation, and emotional regulation.
What are common art therapy activities for different age groups?
Art therapy activities can be tailored to different age groups, focusing on their specific needs and interests.
For children, activities might include drawing, painting, or collage-making to encourage self-expression.
For adolescents, activities could involve more in-depth self-exploration through journaling, sculpture, or digital art.
Adults might engage in activities such as painting, printmaking, or guided imagery to support emotional expression and personal growth.
Can you suggest any art therapy activity resources?
There are various resources available to learn more about art therapy activities.
Some resources include books such as A Practical Art Therapy and Art Therapy Techniques and Applications.
Additionally, online resources such as the American Art Therapy Association or Art Therapy Resources provide valuable information on techniques, applications, and professional support.