Interpersonal and Social Rhythm Therapy (IPSRT) is a therapeutic intervention designed for the treatment of mood disorders.
In this approach, emphasis is placed on addressing rhythm dysregulation in the lives of individuals with mood disorders.
By focusing on the intersection of interpersonal relationships and daily social rhythms, IPSRT aims to stabilize mood and improve overall functioning in patients.
Concept and Goals of IPSRT
The core principles of IPSRT involve helping patients recognize and regulate their social rhythms, which are daily patterns of behaviors like sleep, wakefulness, and mealtimes.
Disruptions in these rhythms have been found to impact mood in individuals with mood disorders negatively.
Individuals can achieve greater stability and improved mood outcomes by better managing interpersonal relationships and effectively structuring daily routines.
Rationale Behind IPSRT
Interpersonal and Social Rhythm Therapy (IPSRT) is an evidence-based treatment method designed to help individuals with mood disorders, such as bipolar disorder and major depressive disorder, by focusing on stabilizing their circadian rhythms and interpersonal relationships.
The rationale behind IPSRT is based on the understanding that disruptions in the circadian system play a significant role in mood disorders and that stabilizing daily routines can help improve mood stability and overall functioning.
Effects on Mood Disorders
IPSRT aims to provide support and skills to individuals who suffer from mood disorders.
Its primary goal is to stabilize the patient's mood, reduce manic symptoms, and prevent relapses by focusing on their biological and social rhythms.
IPSRT can be beneficial in managing symptoms of bipolar disorder and major depressive disorder, with positive effects on sleep, social interactions, and overall quality of life.
Stabilizing Biological and Social Rhythms
One of the key components of IPSRT is the focus on stabilizing biological and social rhythms.
Patients are encouraged to establish and maintain a regular daily routine, including consistent sleep-wake cycles, meal times, and social activities.
The idea is to use natural "zeitgebers" or time-givers, such as sunlight and social interactions, to help regulate the circadian rhythm and improve overall mood stability.
The focus is on consistency and regularity, which reduces disruptions in the circadian system.
Techniques used include the Social Rhythm Metric (SRM), which helps patients track their activities and routines.
Role of Therapist and Patient
In IPSRT, both the therapist and the patient play important roles in achieving the therapy's objectives.
The therapist provides guidance, education, and support while the patient takes responsibility for implementing and maintaining the desired changes in their daily routines and interpersonal relationships.
Together, they collaboratively work towards achieving social rhythm regularity and improved mood stability.
The IPSRT Model
Interpersonal and Social Rhythm Therapy (IPSRT) is a therapeutic approach developed by Ellen Frank and her colleagues at the University of Pittsburgh.
This therapy aims to help patients with bipolar disorder and other mood disorders achieve more stable social rhythms and improve their interpersonal relationships.
The IPSRT model combines elements of Interpersonal Psychotherapy, which focuses on addressing interpersonal issues related to mood disorders, and a behavioral approach called Social Rhythm Therapy.
The latter emphasizes the importance of regular daily routines, sleep patterns, and social interactions for managing mood stability.
Social Rhythm Metrics
A key aspect of IPSRT is the concept of social rhythm metrics. These metrics assist patients in tracking and regulating their daily routines, such as sleep, mealtimes, and social activities.
By maintaining consistent social rhythms, individuals can reduce the likelihood of mood disruptions caused by irregular patterns.
Interpersonal Relationships
In addition to addressing social rhythm stability, IPSRT also focuses on interpersonal relationships.
The therapy explores four main interpersonal problem areas that may contribute to mood instability:
Grief or loss: Helping patients process and cope with the loss of a loved one or significant life changes.
Role transitions: Assisting patients in adapting to new roles, such as parenthood or a career change.
Role disputes: Resolving conflicts and improving communication in relationships.
Social or interpersonal deficits: Enhancing patients' social skills and support networks.
Research has shown that IPSRT is effective in delaying the onset of new episodes of mania or depression in patients with bipolar disorder.
It has been particularly successful in helping patients maintain more stable social rhythms and improve their interpersonal relationships.
IPSRT can be useful as a stand-alone treatment as well as in combination with medications.
Therapeutic Process
Interpersonal and Social Rhythm Therapy, known as IPSRT, is a specialized and evidence-based approach to managing mood disorders, particularly bipolar disorder.
This therapeutic modality encompasses a comprehensive and structured process that targets not only mood stabilization but also the cultivation of interpersonal relationships and daily routines.
Initial Stage of Therapy
During the initial stage of interpersonal and social rhythm therapy (IPSRT), clinicians focus on gathering information about the patient's interpersonal relationships and their social rhythm patterns.
These patterns play a vital role in stabilizing mood and preventing the recurrence of depressive or manic episodes in bipolar disorder patients.
The therapist also conducts an interpersonal inventory to identify possible interpersonal problem areas that may contribute to mood symptoms and regularity issues.
In this stage, psychoeducation is provided to help the patient understand the importance of social rhythms and their connection to mental health.
The therapist introduces the Social Rhythm Metric (SRM) as a tool to track the patient's social rhythms and encourage stability in their daily routines.
Intermediate Stage of Therapy
During the intermediate stage of therapy, patients are encouraged to address interpersonal deficits and problems that may exacerbate their mood symptoms.
Emphasis is placed on the importance of maintaining a regular routine and improving social rhythm stability.
Alongside the in-session activities, patients are asked to continue tracking their SRM to aid the therapist in evaluating progress and identifying areas in need of improvement.
At this stage, patients may also be educated on different coping skills and strategies to manage stress, anxiety, and other mood symptoms triggered by interpersonal problems or irregular social rhythms.
Coping Skills and Strategies
Incorporating effective coping skills and strategies is essential for patients undergoing IPSRT.
These may include relaxation techniques, mindfulness practices, and communication skills to navigate interpersonal relationships better.
By developing a robust toolbox of coping mechanisms, patients can more effectively handle challenging situations that may arise in their daily lives and prevent mood episodes from worsening.
Tailoring the coping skills and strategies to each patient's needs and specific interpersonal problem areas is essential.
This personalized approach ensures that the methods taught will have a greater impact on the patient's overall well-being and mood stability.
Regular Evaluation and Adaptation
IPSRT requires regular evaluation and adaptation based on the patient's progress and changing needs.
The therapist should continually assess the patient's SRM to ensure ongoing regularity and make any necessary modifications to their routine.
The effectiveness of the coping skills and strategies taught should also be evaluated to ensure they are providing the patient with adequate support in managing daily stressors and preventing further mood episodes.
As each patient's situation and recovery process is unique, it is imperative that therapists remain flexible in their approach and continuously adapt the therapeutic process to maximize its effectiveness in addressing the patient's specific needs and goals.
Treating Specific Disorders Using IPSRT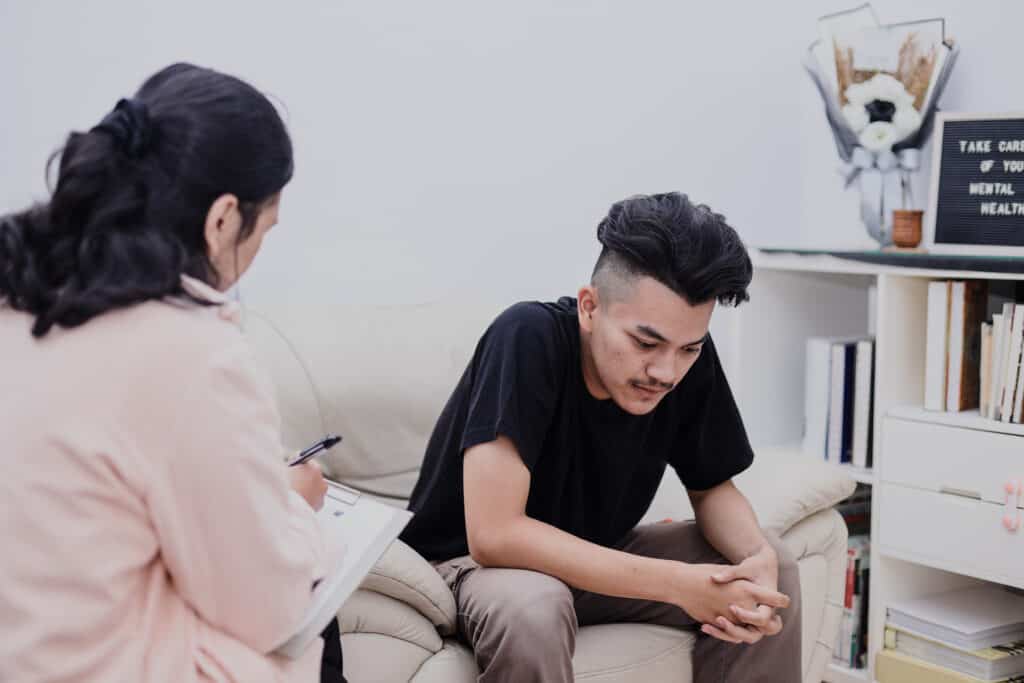 Interpersonal and Social Rhythm Therapy (IPSRT) is a versatile intervention addressing various mental health disorders.
It combines elements of cognitive-behavioral therapy with interpersonal psychotherapy (IPT) to target mood episodes and improve medication adherence in patients.
Treating Bipolar Disorders
IPSRT is effective in treating bipolar disorder by helping patients manage episodes of mania and depression.
This therapy focuses on stabilizing social rhythms and interpersonal relationships to indirectly regulate the biological rhythms that contribute to bipolar mood episodes.
Addressing Major Depressive Disorder
Although IPSRT was initially developed for bipolar disorder, it has been found useful in addressing major depressive disorder as well.
By assisting patients with coping strategies for sleep disruption and depressive symptoms, this therapy enhances their recovery from unipolar depression.
Use in Anxiety and Stress Disorders
Given its focus on interpersonal relationships and coping mechanisms, IPSRT is also valuable in treating anxiety and stress disorders.
Its techniques can help patients manage stressful life events and reduce anxiety symptoms.
Managing Social and Interpersonal Problems
IPSRT addresses various interpersonal relationship issues, including role disputes and relationship conflicts.
By working with patients to improve their communication skills and understanding of their own emotional patterns, they can better navigate personal relationships, ultimately improving their mental health outcomes.
Group Therapy and IPSRT
While IPSRT is often conducted in individual sessions, it can also be adapted to a group setting.
Group therapy provides additional support in terms of social connections, allowing patients to benefit from their peers' experiences and insights, further enhancing its effectiveness.
Frequently Asked Questions
What is the role of social rhythms in this therapy?
Interpersonal and Social Rhythm Therapy (IPSRT) is a treatment approach for individuals with bipolar and other mood disorders.
One key element of this therapy is focusing on social rhythms, the daily routines, and patterns that regulate an individual's biological rhythms.
When social rhythms are disrupted, it can trigger the onset of mood episodes in those with bipolar disorder.
Therefore, this therapy aims to help patients establish and maintain stable social rhythms, ultimately reducing the frequency and severity of mood episodes.
What type of training is required for therapists?
To deliver Interpersonal and Social Rhythm Therapy effectively, therapists must have a strong background in mental health and typically hold a master's or doctoral degree in a relevant field, such as psychology, social work, or counseling.
They should also have experience in interpersonal psychotherapy and receive specialized training in IPSRT.
This training includes learning about bipolar disorder, the principles of interpersonal therapy, and methods for identifying and managing social rhythm disruptions.
What is the evidence supporting its effectiveness?
There is a growing body of research that supports the effectiveness of Interpersonal and Social Rhythm Therapy for individuals with bipolar disorder.
Studies have shown that IPSRT can help reduce the severity and frequency of mood episodes, improve overall functioning, and increase adherence to medication regimens.
Moreover, findings suggest that this therapy can be beneficial for adolescents with bipolar disorder, making it a promising treatment option for this age group as well.
Are there any certifications for this therapy?
While there is no specific certification for Interpersonal and Social Rhythm Therapy, therapists who have received the necessary training and supervision can deliver this specialized treatment.
Mental health professionals interested in offering IPSRT should seek education and training opportunities to gain expertise in this therapeutic approach.
Additionally, it is essential for therapists to stay current on the latest research and developments in the field of bipolar disorder treatment, ensuring they can provide the most effective care for their patients.