Therapy for men is essential to mental health care, as it provides a safe and supportive environment to address various emotional and psychological concerns.
Like all individuals, men can benefit from therapy to help them navigate through different stages of life, cope with stressors, and improve their overall well-being.
Short Summary
With a focus on men's health, therapists can delve into specific issues that males might encounter, such as masculinity-related challenges, societal expectations, fatherhood, and relationships.
Addressing the unique challenges faced by men, recognizing symptoms, and seeking support can significantly improve men's lives.
When searching for a therapy option, men should actively seek out a qualified and experienced therapist.
Understanding Male Mental Health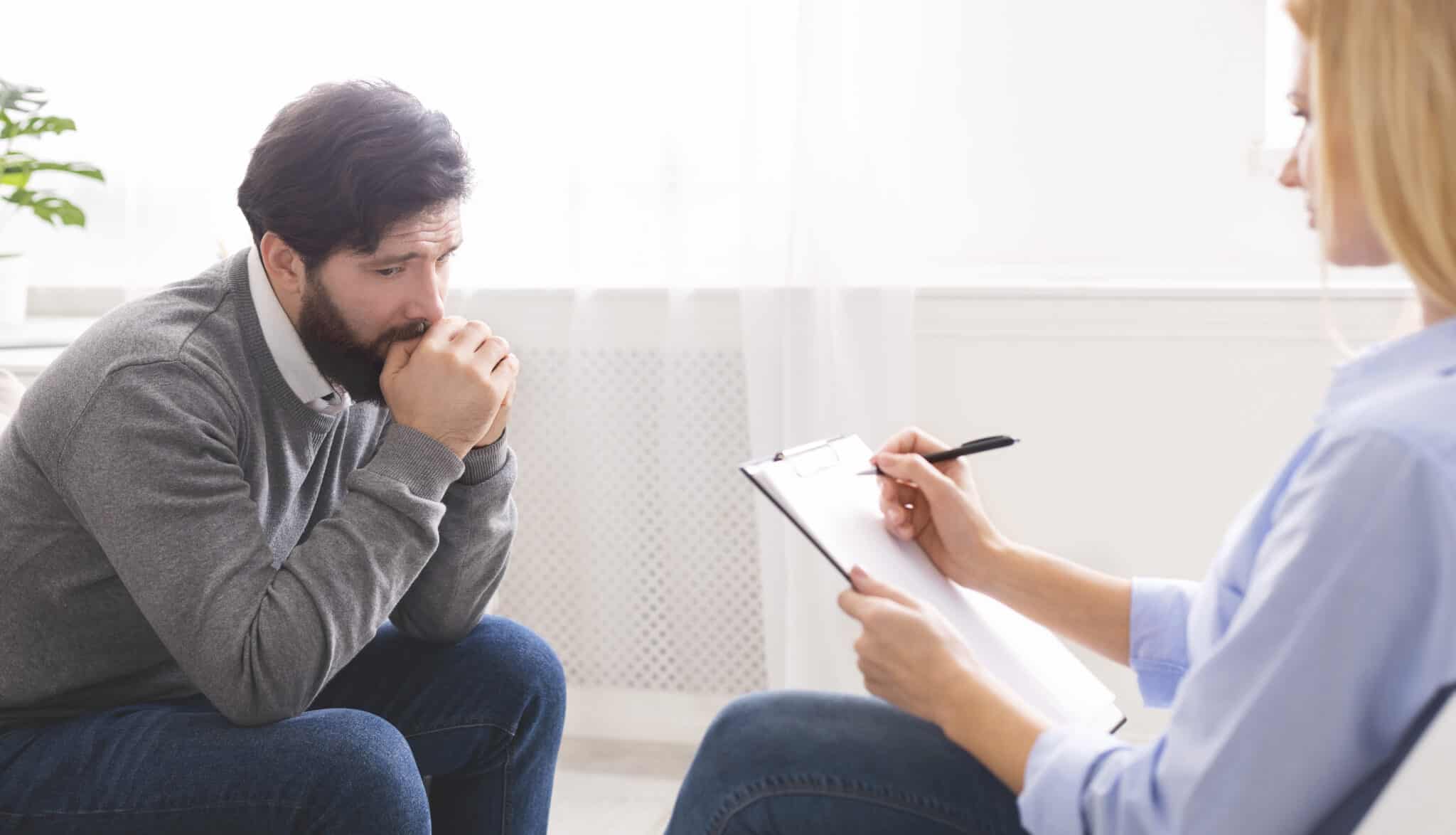 In recent years, there has been a growing recognition of the need for tailored therapy approaches for men.
The men's mental health field has expanded, and various therapeutic modalities have been developed to cater to their unique needs.
Cognitive Behavioral Therapy (CBT) has proven to be an effective intervention for men struggling with anger management or aggression issues.
Other therapy forms, such as traditional talk therapy, group counseling, or online therapy, can also effectively address men's mental health concerns.
Stigma and Masculinity
The stigma surrounding mental health issues discourages men from seeking help.
Societal expectations of masculinity and the belief that men should be strong and self-reliant can lead to feelings of shame and inadequacy when facing mental health challenges.
In many cases, men may avoid therapy due to the concern of being perceived as weak or less competent in the eyes of their peers.
This reluctance to seek help can exacerbate existing mental health issues and delay appropriate treatment.
Common Issues Faced by Men in Therapy
Men experience a range of mental health conditions, including depression, anxiety, bipolar disorder, and Post-Traumatic Stress Disorder (PTSD).
| Mental Health Condition | Signs & Symptoms |
| --- | --- |
| Depression | Persistent sadness, irritability, and suicidal thoughts. |
| Anxiety | Excessive worry, restlessness, and difficulty with concentration. |
| Bipolar Disorder | Dramatic shifts in mood, from depressive lows to manic highs. |
| Post-Traumatic Stress Disorder (PTSD) | May result from exposure to traumatic events such as accidents, physical or sexual assault, or combat experiences. |
Male Suicide
An alarming aspect of male mental health is the high incidence of male suicide.
Men are more likely to attempt and die by suicide compared to women. This underscores the importance of raising awareness about mental health treatment and encouraging open dialogue about these issues among men.
Therapy for men has emerged as a vital component in promoting overall well-being.
By addressing the specific challenges and issues men face, tailored therapies can contribute to a more balanced, engaged, and healthy life for men of all ages.
The Need for Therapy for Men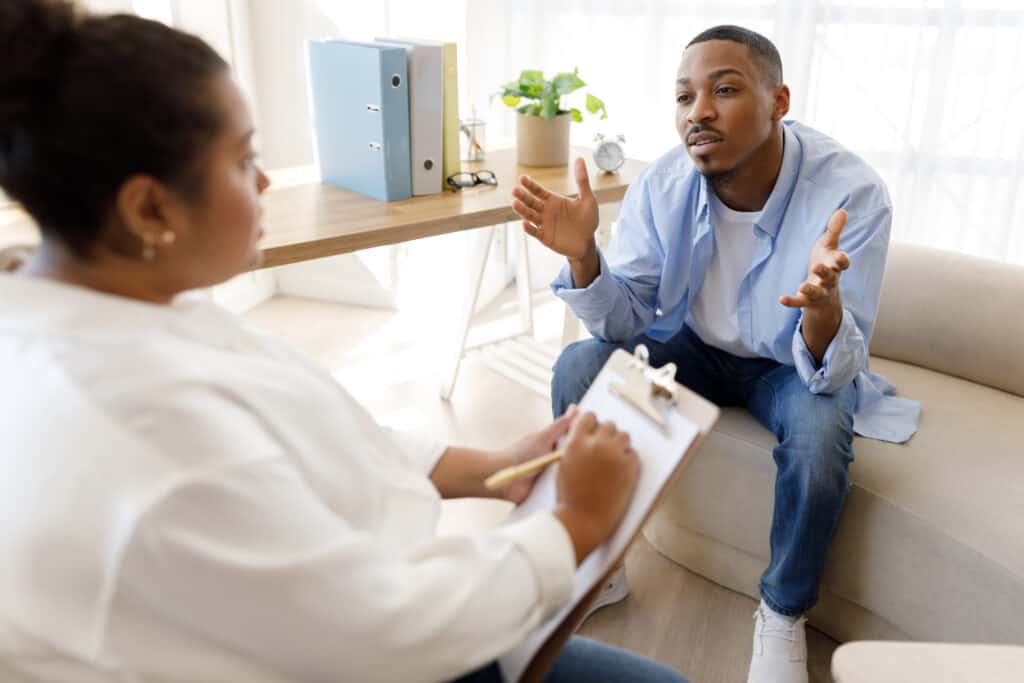 Therapy for men is essential as it addresses unique challenges and experiences men face when dealing with mental health conditions.
Recognizing symptoms and seeking help early can play a vital role in improving overall well-being.
Men's mental health issues often manifest as anger and aggression.
Developing adaptive coping strategies for managing these emotions is crucial, and therapy can provide a supportive environment to explore and address these challenges.
One significant barrier men often face is the societal expectation of strength. This expectation can lead to feelings of shame and failure for not meeting traditional masculine norms.
As a result, men may suppress their vulnerability and not seek help for mental health struggles.
This reluctance to access therapy can exacerbate mental health conditions and negatively impact overall wellness.
Different Therapeutic Techniques
Effective therapeutic techniques provide males with valuable support and guidance to address various mental health challenges they face.
Rooted in evidence-based practices and guided by skilled therapists, these therapeutic modalities offer a diverse array of approaches to foster healing, personal growth, and emotional well-being.
Counseling
Counseling for men acknowledges their unique challenges and offers individualized support and guidance. Therapists may use various techniques to address work-life balance difficulties and improve psychological help-seeking in men.
Some professionals may also provide group counseling tailored to men, allowing them to connect and share their experiences while developing essential skills and coping strategies.
Couples Counseling
Couples counseling can help men navigate relationship challenges and improve their communication skills with their partners. It aims to address conflicts and misunderstandings that may arise from gender roles and expectations.
Couples counseling provides a safe space for both partners to express their feelings and work towards building a healthier, more satisfying relationship.
Psychotherapy
Psychotherapy for men considers the unique social, emotional, and psychological issues they may face.
This type of therapy may employ different approaches, such as Cognitive-Behavioral Therapy (CBT), psychodynamic therapy, or humanistic therapy, depending on the individual's needs and problems.
In psychotherapy, men can explore their emotions and challenges, developing coping mechanisms and strategies to overcome mental health difficulties.
Pros & Cons of Therapy for Men
Therapy for men can offer numerous benefits, but it is essential to be aware of potential downsides.
However, by seeking guidance from a competent therapist, men can more effectively engage in therapy and optimize their outcomes.
| Pros | Cons |
| --- | --- |
| Can boost men's confidence and facilitate personal growth | Some individuals may not find the therapy as effective as they had hoped |
| Helps men better understand and cope with difficult situations | Some individuals may experience negative emotions or discomfort |
| Improves men's communication skills | Therapy may not be suitable for everyone |
Being a Proactive Participant in Therapy
Being proactive in therapy involves taking steps to educate oneself and become aware of the issues that are affecting one's life.
By understanding the root causes and challenges, men can better implement self-care strategies and manage their health.
Opening
One way to become a more active participant in therapy is to engage in open discussions with the therapist about current health topics and concerns.
This can include discussing relationships, intimacy, love, loss, and other relevant issues.
A clear and neutral tone is crucial to ensure that the conversation remains focused and productive, requiring a knowledgeable and non-judgmental approach from the therapist and the client.
Daily Routines
Incorporating health tips into daily routines can also benefit men in therapy.
This might involve adopting stress-reduction techniques such as mindfulness exercises, deep breathing, or regular physical activities.
Maintaining sensitivity to one's feelings and emotions is essential, as this can facilitate a greater understanding of the underlying issues that must be addressed.
Taking Responsability
Being a proactive participant in therapy means taking responsibility for one's mental well-being and working together with the therapist to address challenges and concerns.
Strengthening communication skills and fostering open discussions can lead to more effective and fulfilling therapy sessions, paving the way for improved mental health and well-being.
Online Therapy for Men
Online therapy is a form of mental health support that is delivered through the internet, using various modes of communication such as text, audio, video, or chat.
There are many online platforms that offer therapy for men, each with its own features, benefits, and drawbacks.
BetterHelp is the world's largest therapy service, and it's 100% online.
This platform offers the same professionalism and quality you expect from in-office therapy but with access to a huge network of therapists, more scheduling flexibility, and a more affordable price.
Therapists on BetterHelp are licensed and accredited psychologists (PhD/PsyD), licensed marriage and family therapists (LMFT), licensed clinical social workers (LCSW/LMSW), or licensed professional therapists (LPC); All of them have a Master's Degree or a Doctorate Degree in their field
Explore emotional well-being with BetterHelp – your partner in affordable online therapy. With 30,000+ licensed therapists and plans starting from only $60 per week, BetterHelp makes self-care accessible to all. Complete the questionnaire to match with the right therapist.
Find-a-therapist readers get 15% off their first month of BetterHelp membership.
Online-therapy.com is a website that offers online therapy for various mental health issues, such as anxiety, depression, anger, and insomnia.
The website claims to provide cognitive behavioral therapy (CBT), which is a type of psychotherapy that helps people change their negative thoughts and behaviors.
Read our Online-Therapy.com review here.
Discover transformative online therapy with Online-therapy.com. Through cognitive behavioral therapy (CBT), Online-therapy.com offer individual and couples support starting at $45/week. Engage in sessions via video, voice, or text for maximum flexibility. Fill out their online questionnaire to get started.
Final Thoughts
Therapy for men can be an essential tool for addressing various mental health issues.
Specific treatments like Cognitive Behavioral Therapy (CBT) have shown the potential to help men facing different issues.
Moreover, therapy for men can have various applications and outcomes depending on the specific issue being addressed.
Healthcare providers must remain current on the latest research and findings to offer their patients the most effective therapeutic solutions.
Frequently Asked Questions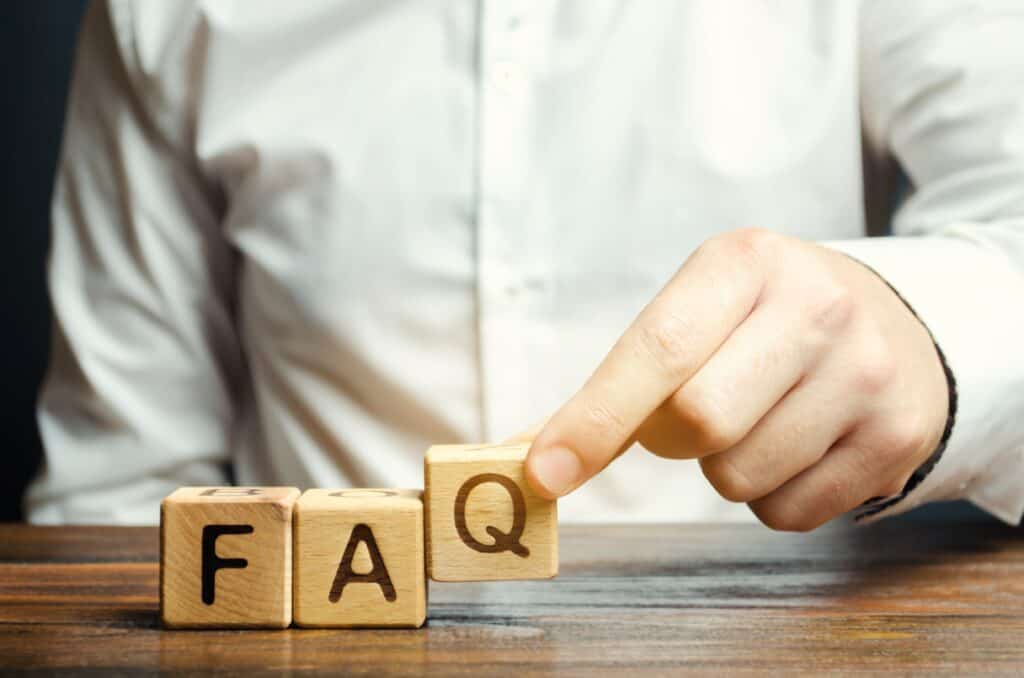 How can therapy benefit men's mental health?
Therapy can provide men with a safe and supportive environment to address various mental health concerns, such as depression, anxiety, and stress.
It can also help them develop healthier coping mechanisms, improve interpersonal relationships, and enhance their well-being.
Furthermore, therapy can assist men in understanding the societal expectations and pressures related to masculinity, which can contribute to their mental health issues.
Is it better for men to see male therapists?
There is no definitive answer to this question, as the essential factor in choosing a therapist is the individual's comfort and sense of connection with the therapist.
Some men may feel more at ease with a male therapist, while others may prefer a female therapist.
Sometimes, a therapist's gender may be less significant than their expertise in treating specific mental health issues or their understanding of the men's unique experiences.
What types of therapy are most effective for men?
Depending on their specific mental health concerns and individual preferences, various therapy approaches can be effective for men.
For instance, cognitive Behavioral Therapy (CBT) and psychodynamic therapy are well-established treatment modalities for issues such as depression and anxiety.
Some men may benefit from group therapy, particularly all-male group therapy, which can provide camaraderie and a sense of shared experience.
Ultimately, working with a mental health professional to determine the most suitable therapy approach for each individual is essential.
How can men be encouraged to attend therapy?
To encourage men to attend therapy, addressing the stigma surrounding mental health and help-seeking behaviors is crucial, especially for males.
One way to do this is by promoting mental health awareness and encouraging open conversations about therapy and its benefits.
Additionally, influential figures in men's lives, such as family members, friends, and even celebrities, can play a role in motivating men to seek help.
Finally, making therapy more accessible, whether through financial support, flexible scheduling, or offering remote sessions, can also help encourage men to attend therapy.
What are common issues faced by men in therapy?
When men do seek mental health support, they often encounter unique challenges during therapy.
Frustration and anger may be more commonly expressed as a way to cope with emotional pain.
Relationship issues, stress, and communication difficulties are common themes in sessions, potentially tied to societal expectations placed on men.
By addressing these concerns and building trust, therapists can assist men in overcoming barriers to treatment and improving their overall mental health outcomes.