Having a social anxiety disorder can be crippling. As social animals, we need to mingle with others, but for a variety of reasons – trauma, autism, and abuse among them – many of us feel serious anxiety in social situations.
It is possible to be trained on how to face social anxiety, and make social situations more tolerable for you. In this article, we will look at three of the best websites to find social anxiety counseling and psychotherapy, to help you find the best online or in-person provider for your specific needs.
Want to skip right to the suggestions for social anxiety therapists? Here are our 3 recommended therapy solutions:
Social anxiety therapists near me/online
Below, we've looked at three different platforms to help you find a social anxiety therapist.
The first two websites can help you connect with a counselor online, while the third website will help you find a social anxiety therapist in-person.
Explore emotional well-being with BetterHelp – your partner in affordable online therapy. With 30,000+ licensed therapists and plans starting from only $60 per week, BetterHelp makes self-care accessible to all. Complete the questionnaire to match with the right therapist.
Find-a-therapist readers get 15% off their first month of BetterHelp membership.
Note: We collaborate with top-tier mental health companies and receive compensation for marketing efforts on behalf of BetterHelp.
BetterHelp is an online therapy provider with a large number of therapists specializing in helping people overcome social anxiety.
The platform offers two forms of treatment for social anxiety – cognitive behavioral therapy (CBT), and group therapy. These two types of treatment are recognized as some of the most effective means of tackling social anxiety and depression, and we will discuss how they work in more detail later on.
The initial sign-up process at BetterHelp is simple and straightforward. You complete an online questionnaire that asks about your mental health, and the specific issues you would like to address. Once the form is completed, BetterHelp will assign you a social anxiety therapist who has experience helping others with similar disorders or problems to what you have described.
After you've been assigned a social anxiety counselor, you can schedule a weekly session with them over video or phone calls, or by text message if you'd prefer. Between each meeting, you can also message your counselor, allowing you to immediately relay anything you'd like to share, without having to wait for the next scheduled session.
One of the other advantages of using BetterHelp compared to in-person therapy is that it can be significantly cheaper. If you fit within one of five different socioeconomic categories (such as students, unemployed persons, and veterans), or you are facing financial hardship, you may be offered financial aid. Financial aid is an automatic reduction in the fee you will pay every month with BetterHelp, and if you qualify, it can help you get access to counseling for a very reasonable price.
Discover transformative online therapy with Online-therapy.com. Through cognitive behavioral therapy (CBT), Online-therapy.com offer individual and couples support starting at $45/week. Engage in sessions via video, voice, or text for maximum flexibility. Fill out their online questionnaire to get started.
online-therapy.com is another specialist online counseling platform that can help connect you with a qualified therapist or psychologist, who has experience helping those who suffer with social anxiety.
Unlike BetterHelp, online-therapy.com only offers Cognitive-Behavioral Therapy (CBT) for those with a social anxiety disorder. CBT is a treatment where you discuss your social anxiety symptoms with a therapist, and are taught how to challenge these fears and behaviors in real life. Much of what you learn is achieved by remembering what the counselor taught you, and practicing their teachings in real-world situations.
As well as the online therapy sessions, online-therapy.com offers a free meditation and yoga course as part of the subscription. Learning these advanced physical and mental relaxation techniques can help you be less anxious throughout the day, reducing the impact of the social situations that trigger your social anxiety.
As with BetterHelp, you access this service after filling out a questionnaire. The platform will offer you a therapist according to criteria such as the psychological difficulty you face, your schedule, and any personal preferences in a therapist. It is also easy to change your therapist for another one at a later date if you ever choose to do so.
Unlike BetterHelp and online-therapy.com, the Anxiety and Depression Association of America offers a therapist directory – you work directly with the therapist, rather than through a specific online platform.
The ADAA is the professional association for anxiety and depression counselors in the United States, so you can be assured that their counselors have a good professional standing and the required qualifications to help with your difficulty.
One advantage of looking for a therapist through the ADAA is that you have the choice of either in-person social anxiety therapy, or an online anxiety therapist. In-person therapy can be a little more expensive than online therapy, but these types of traditional services are more likely to be covered by your health insurance provider.
Where it comes to online therapy, however (known as "Telehealth" on the website), one major advantage is that you may be able to get a better social anxiety therapist who lives in another state, but is licensed to practice in yours. This means you don't have to travel to find the best possible professional for your specific needs.
Like BetterHelp, you can access group therapy as well as CBT through this platform, giving you a range of options to deal with the social anxiety issues you suffer. Some professionals use other approaches, such as eye movement desensitizing and reprocessing (EMDR) therapy, which is particularly good at helping with trauma – a common cause of social anxiety symptoms.
You access the directory through a search process on the ADAA website. We found this a little difficult to master – it doesn't explain what specific fields to fill in to generate a list of suitable professionals. Typically, more general searches work better – this will allow you to generate a list of specialist social anxiety counselors and therapists to help you with your needs. From here, you can work out which professional is best for you.
You don't have to pay a fee to make contact with the professionals, but you will pay them directly once you have decided to work with them. This requires more work on your part to assess the quality of the counselor or psychologist, and figure out what they cost, when compared to a solution like BetterHelp. But the big benefit of the ADAA service is being able to find an in-person therapist, which can be especially helpful if looking for treatments such as local group therapy in your town or city.
When should I see a therapist for social anxiety?
Social anxiety can be innate due to another condition such as autism or ADD, or it can come about as a result of abuse, family conflict/dysfunction, or trauma. Social anxiety is the third most common mental health problem in the US.
You should seek support for social anxiety when you feel that the time is right – not when guided by some imaginary measuring post that has a red line drawn on it by someone you do not know. When social anxiety negatively affects your life, then it's time to start thinking about getting help.
For many people, the trigger for seeking help with social anxiety is often when things are so far advanced that they need a lot of support and treatment to get their life back on track. This results in the development of a serious social anxiety disorder, which can mean complete avoidance of social situations, resulting in relationship and family issues. In these types of circumstances, it may have been a better idea to seek help a little earlier.
However, it's also important to note, social anxiety affects everyone to some extent. A little anxiety can help you perform well – like the nerves before a job interview that for some people, helps them perform better. But when the anxiety gets to the point that it impacts your social and family life, then it might be time to look for help from a mental health professional.
Signs that your social anxiety is a problem
Here are some signs that your social anxiety is becoming a serious problem, and it may be worth seeking help:
Physical symptoms such as blushing, sweating, and a racing heart
Constant anxiety over social situations
Feeling panicked in public places that you cannot leave easily (this is known as agoraphobia)
Consistent worry over negative feedback, such as at work
Intense fear of meeting others
Being less easy to talk to, as you are defensive/overtly anxious
Low self-esteem
These are signs that rather than a bit of stage fright before a show, you may have a serious mental health concern that could amount to social anxiety disorder.
One important thing to remember is that your social anxiety therapist must always treat what they hear from you as confidential. This ensures that your personal reputation is not at risk, in turn reducing any potential embarrassment in getting the help you need. Some people choose online mental health therapy because it can be done anonymously, under a pseudonym.
By getting treatment before your social anxiety becomes too disabling, you can avoid it becoming an issue that seriously affects your relationships, career, and life in general.
What treatments exist for social anxiety disorders?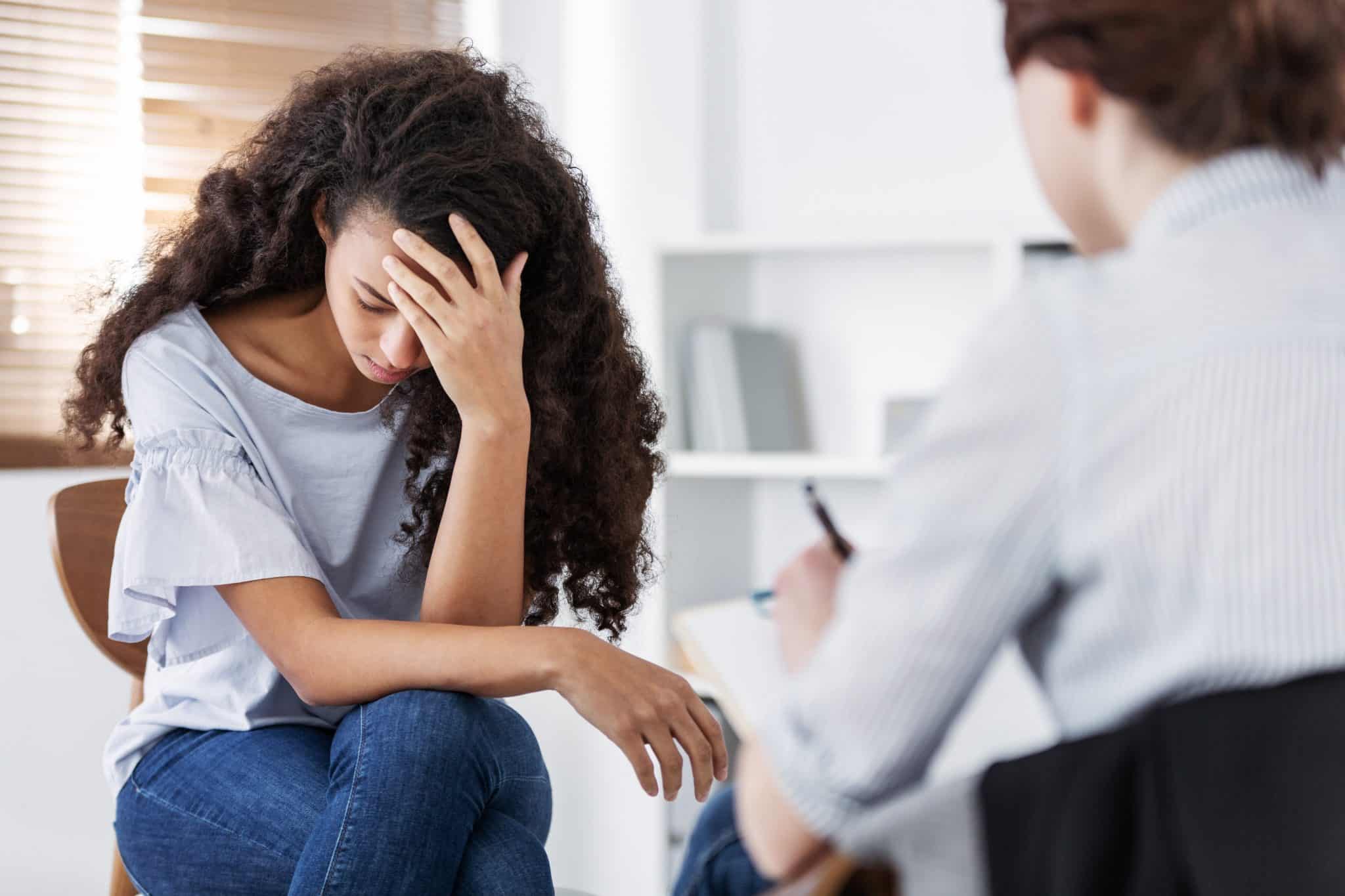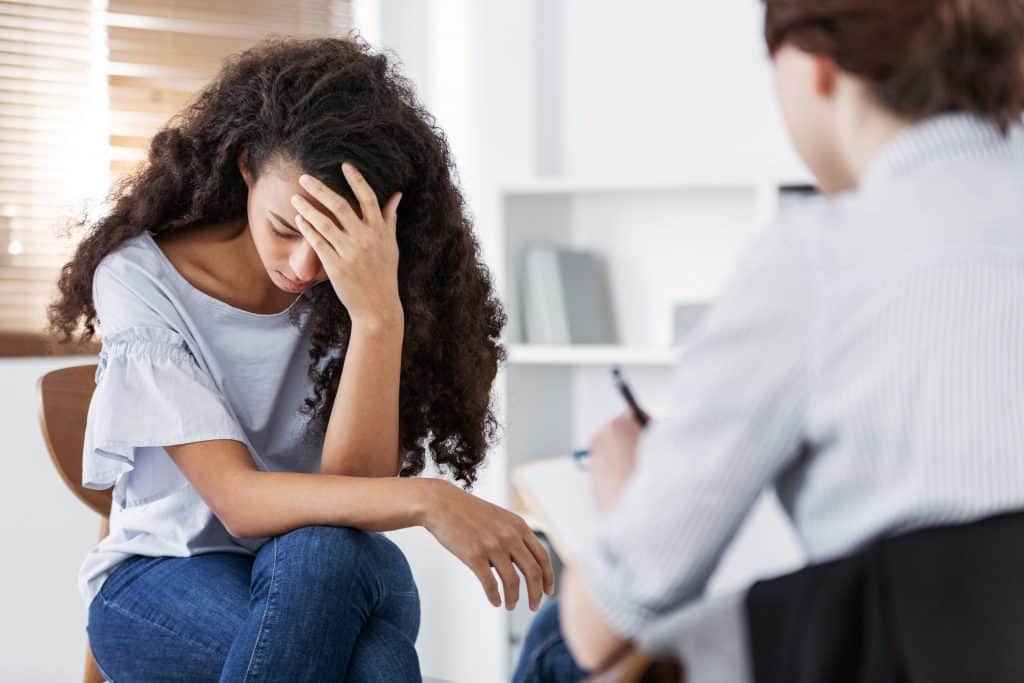 Because having a social anxiety disorder is so common, a lot of time and money has been spent in the mental health community on developing treatments for the issue.
Cognitive behavioral therapy (CBT) is often seen as the preferred treatment for social anxiety, but increasingly group therapy has been shown to help too.
We will now look at both of these treatments, helping you decide which route you would prefer to take.
Cognitive behavioral therapy (CBT)
After agreeing to work with your psychologist or counselor, you will first discuss with them the issues you face and how they affect your behavior. Working together, you will find positive ways to challenge these behaviors and negative feelings that come with social anxiety.
The work you do in CBT is a form of psychological education – after therapy, you will apply the lessons learned in the real world, and reflect on them. You won't always apply the methods you have learned perfectly, so you will consult with your therapist in order to improve your skills.
As with learning to drive a car, the idea behind CBT is to hone the psychological skills you've learned to the point that they don't need much conscious thought, helping your performance in social situations to improve.
One reason cognitive behavioral therapy is held in such high regard in dealing with social anxiety is that the results are often very rapid. You may see changes in your behavior occur after just a few sessions.
Group therapy
A lesser-known therapy for social anxiety, but still recognized as an effective technique for tackling the issues around it, is group therapy.
By interacting with others who also have social anxiety, you can practice forming social bonds and together learn how to tackle your common issue.
Some forms of group therapy involve physically gathering for an in-person meeting, with a counselor or counselors, or attending a lecture or educational event. Group therapy does not always involve physical gatherings though – it can also involve online chat rooms and video calls. As a result, group therapy can still be a very accessible way of getting help from the comfort of your own home.
Though there is a level of anonymity involved in group therapy, therapeutic relationships are formed between participants as well as between yourself and your therapist. If all goes well, participants end up helping each other, supported by the expertise of the mental health professional.
Conclusion
This is the end of our guide to social anxiety therapy.
Online social anxiety therapy through a platform such as BetterHelp can be cheaper and more accessible when compared to some forms of traditional therapy. On these platforms, the therapists' qualifications and licensing have all been checked, so your due diligence process is much easier when looking for a therapist. Plus, it's easy to schedule sessions and contact your therapist, typically through a specialized online portal.
On the other hand, a directory like the ADAA can allow you to get in-person therapy for your social anxiety. You may prefer to see a counselor face-to-face, especially if there are a large number of qualified professionals near to where you live.
Still unsure how best to find social anxiety therapy for your specific needs? Feel free to leave a comment below, and we will help out.