Pre-marriage counseling is a valuable resource for couples who are considering tying the knot.
This process involves meeting with a trained professional, often a therapist, to discuss various aspects of the relationship and prepare for the journey ahead.
By exploring topics such as communication, conflict resolution, family dynamics, and expectations, couples can enhance their understanding of themselves and their partners. Ultimately strengthening their bond and setting a solid foundation for their marriage.
Understanding Premarital Counseling
Premarital counseling is a type of therapy that helps couples prepare for marriage.
It enables partners to identify potential areas of conflict, develop communication and problem-solving skills, and set realistic expectations for their relationship.
Couples can enhance their chances of building a lasting and fulfilling partnership by addressing these issues before marriage.
Role of a Therapist
In premarital counseling, a therapist, often a licensed marriage and family therapist, plays a crucial role in guiding the couple through the process of exploring and learning about one another as well as healthy skills to implement into the future marriage.
The therapist also helps facilitate conversations and helps the couple explore their feelings, values and goals.
The therapist provides a safe and unbiased environment for couples to work through any concerns or conflicts they may have, encouraging open communication and fostering understanding between partners.
Types of Premarital Counseling
Several types of premarital counseling are available, catering to couples' diverse needs.
Some common types include:
| Religious-Based Counseling | Communication-Focused Counseling | Skill-Building Programs |
| --- | --- | --- |
| Many religious organizations require or encourage couples to participate in premarital counseling before getting married within their faith. | In this approach, therapists emphasize improving communication skills, exploring expectations, and identifying potential problems. | Some counseling programs aim to teach couples specific relationship skills such as financial management, parenting techniques, or stress coping strategies. |
| These programs often focus on strengthening the couple's spiritual connection and aligning their values with those of their religion. | Couples learn how to actively listen, express their feelings, and resolve conflicts in a respectful and healthy manner. | These programs often include practical exercises and role-playing scenarios to help couples practice their newly acquired skills. |
Online vs. In-Person Services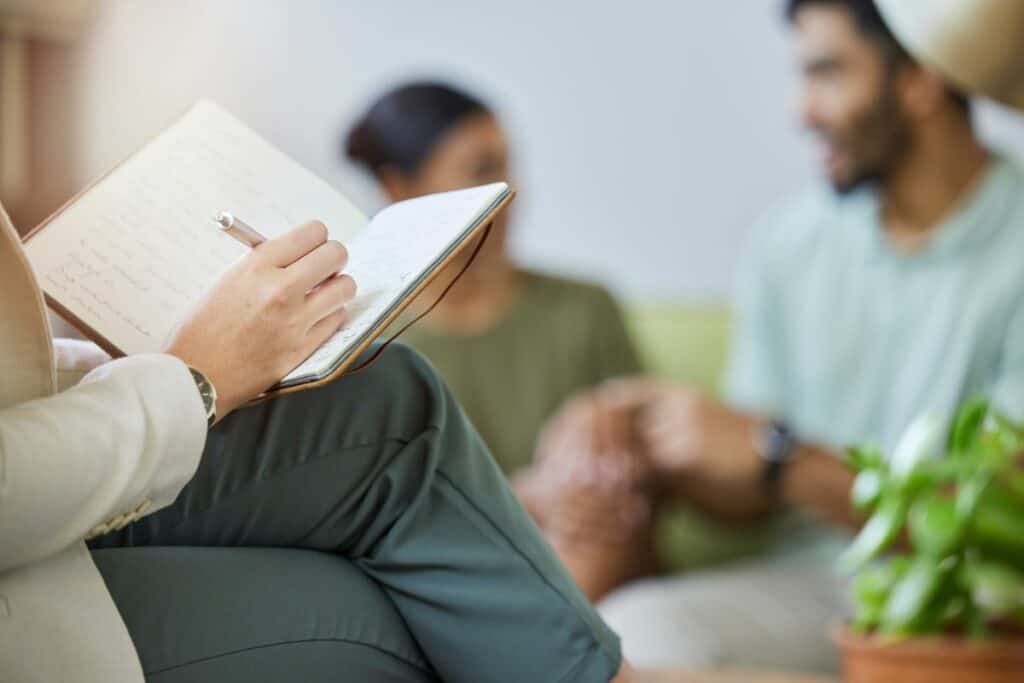 With the advent of technology, online couple counseling options like ReGain have emerged as alternatives to traditional in-person sessions.
This allows couples to access therapy from the comfort of their homes, often at a lower cost and with greater flexibility in scheduling.
In-Person Counseling
Online Counseling
The traditional face-to-face format involves attending sessions with a therapist in their office.
Couples can engage in video and/or telephone therapy sessions with a therapist.

Pre-licensed therapists can also provide premarital counseling under the supervision of a licensed therapist.

Note that text based therapy is not recommended and may be considered unethical.
This allows for more personalized, in-depth discussions and can be especially helpful when dealing with complex or sensitive issues.
Online counseling can be a suitable option for those with busy schedules, long-distance relationships, or those who prefer the anonymity provided by virtual sessions.
Both online and in-person premarital counseling services share common goals, such as strengthening the couple's bond, enhancing communication skills, and preparing them for potential challenges.
Ultimately, choosing the right format depends on the couple's individual needs, preferences, and circumstances.
Tailored for individuals and couples navigating relationship or marital issues – ReGain is your online relationship therapy solution. Starting at $60/week, you can schedule one weekly live session and message your therapist anytime. Start your path to healthier connections with ReGain – fill out their online assessment form.
Note: We collaborate with top-tier mental health companies and receive compensation for marketing efforts on behalf of ReGain.
Benefits of Premarital Counseling
Premarital counseling offers numerous benefits to couples who are looking forward to starting their married life.
Relationship Enhancement
One of the primary advantages is enhancing the couple's relationship by focusing on their strengths and concerns before getting married.
By participating in premarital counseling sessions, couples can develop a better understanding of the expectations they have from each other and their roles in the relationship.
Premarital counseling also helps in nurturing bonding and promoting relationship satisfaction.
Conflict Management
Another significant benefit of premarital counseling is conflict management.
Disagreements and conflicts are inevitable in relationships, and effective conflict resolution is essential for a long-lasting and successful marriage.
Through premarital counseling, couples can learn important communication skills and problem-solving techniques, which play a vital role in addressing and resolving conflicts in a healthy manner.
This helps couples overcome differences and ensures a harmonious relationship.
Building a Strong Foundation
Premarital counseling plays a crucial role in establishing a strong foundation for the couple's future.
As couples discuss and work on crucial aspects, such as finances, religious beliefs, and family planning, they can establish a solid groundwork for their long-term commitment.
This helps in creating a stable and satisfying marriage, which is better equipped to withstand challenges and grow stronger over time.
Topics Covered in Premarital Counseling
The journey to a successful and lasting marriage requires more than just affection; it demands understanding, communication, and preparation.
Premarital counseling emerges as a crucial step on this path, offering couples a structured platform to explore essential topics and build a strong foundation for a thriving partnership.
Financial Planning
One of the essential topics in premarital counseling is financial planning.
Couples must discuss their financial situations, including income, debt, and savings. They should also address budgeting, future financial goals, and spending habits.
Developing a solid financial plan can help alleviate potential stressors and conflicts that may arise in a marriage.
Communication Skills
Strong communication skills are crucial for any successful relationship.
In premarital counseling, couples learn how to communicate their thoughts, feelings, and concerns effectively.
They also learn the art of active listening and develop various techniques for conflict resolution and compromise.
Couples can build a stronger foundation for their marriage by addressing potential communication barriers.
Family and Future Planning
Premarital counseling often includes discussions about family and future planning.
Couples explore topics such as their desire for children, parenting styles, and how to handle situations involving extended family members.
Understanding each other's expectations of family life can significantly impact the success and happiness of a marriage.
Religious and Core Values
In premarital counseling, couples address their religious beliefs and core values.
This process involves discussing differences in religious backgrounds, determining the role of faith in their lives, and identifying shared values and principles.
By understanding and respecting each other's beliefs and values, couples can establish a harmonious foundation for a lifetime partnership.
Intimacy and Sex
Another essential topic in premarital counseling is intimacy and sex.
Couples explore their expectations, needs, and comfort levels in their physical relationship.
They discuss the importance of maintaining emotional connection and intimacy throughout their marriage.
By addressing these topics, couples can ensure a lasting and satisfying sexual and emotional connection in their partnership.
Choosing a Premarital Counselor
When considering premarital counseling, finding the right counselor is crucial for the success of your sessions.
There are several factors to keep in mind when choosing a therapist that aligns with your expectations and needs.
Credentials and Experience
First and foremost, seek a counselor with the appropriate credentials and experience.
Finding a licensed therapist, such as a marriage and family therapist specializing in premarital counseling is essential.
They should have a background in psychology or marriage therapy.
Additionally, look for professionals affiliated with reputable institutions, such as the Gottman Institute, which promotes the research-backed Gottman Method.
Insurance and Cost
Another factor to consider is insurance and cost.
Many counseling services accept insurance, which can significantly reduce out-of-pocket expenses.
However, it is essential to verify if your insurance covers premarital counseling.
If your insurance does not cover these services or if you do not have insurance, be sure to inquire about the counselor's fees and payment options.
Scheduling Flexibility
Couples often have busy schedules, making it crucial to find a counselor who offers flexible scheduling.
This may include availability during evenings or weekends and varying session lengths.
Discuss your time commitment expectations with the counselor to ensure they can accommodate your needs.
Therapeutic Approach
Lastly, it is important to align with a counselor who uses a therapeutic approach that resonates with both partners.
Many therapists utilize the Gottman Method, which focuses on building strong communication skills, conflict resolution, and maintaining a healthy, lasting relationship.
However, each therapist may have their own style and techniques, so discussing their approach during the initial consultation is crucial to determine if it aligns with your goals and expectations for premarital counseling.
Frequently Asked Questions
How long does premarital counseling usually last?
Premarital counseling sessions can vary in length depending on the couple's needs and the counselor's approach.
Generally, couples attend about 4-6 sessions, with each session lasting approximately an hour.
It is important to note that some couples may require more or fewer sessions depending on their unique circumstances, communication skills, and the specific concerns they wish to address.
What role does religion play in premarital counseling?
Religion can play a significant role in premarital counseling, depending on the couple's beliefs and the counselor's background.
For some couples, incorporating religious teachings and values into their sessions can add a valuable layer of understanding and guidance.
In other cases, couples may prefer to focus on other aspects of their relationship while leaving religious considerations separate.
It is important for couples to discuss their religious beliefs and preferences with their counselor to ensure a comfortable and constructive counseling experience.
Can premarital counseling help identify potential issues?
Yes, premarital counseling can be instrumental in identifying potential issues before they become major problems within the marriage.
Counselors work with couples to address topics such as communication, conflict resolution, finances, intimacy, family planning, and more.
By discussing these topics ahead of time, couples can gain a better understanding of each other's expectations and develop strategies to resolve potential conflicts before they arise.
Is there a difference between individual and couple sessions?
There can be differences between individual and couple sessions in premarital counseling.
Individual sessions may focus on addressing personal issues, concerns, or past experiences that could affect the relationship.
These sessions provide an opportunity for individuals to explore their own thoughts, feelings, and behaviors, which can ultimately benefit the couple's relationship.
Couple sessions, on the other hand, typically involve both partners working together with a counselor to address relationship dynamics, communication patterns, and shared goals.
While individual sessions can be beneficial, premarital counseling generally places a strong emphasis on collaboration and strengthening the bond between partners.