Trauma can come from a variety of different directions. You could be a soldier or in law enforcement, and be involved in a traumatic event. You could have had a family crisis, or experienced emotional abuse.
Whatever the experience you have had, online trauma therapy can help you move on and rebuild your life.
In this article, we'll look at the top three online trauma therapy services available right now. We will also look at trauma therapy more broadly, so you can explore what route to recovery is best for you.
Want to skip right to the suggestions for online trauma therapists? Here are our 3 recommended therapy solutions:
Best online trauma therapy services
So, where can you access online therapy to help with trauma/PTSD?
Below, we'll look at three online trauma therapy services that can help you alleviate PTSD symptoms and overcome anxiety.
Explore emotional well-being with BetterHelp – your partner in affordable online therapy. With 30,000+ licensed therapists and plans starting from only $60 per week, BetterHelp makes self-care accessible to all. Complete the questionnaire to match with the right therapist.
Find-a-therapist readers get 15% off their first month of BetterHelp membership.
Note: We collaborate with top-tier mental health companies and receive compensation for marketing efforts on behalf of BetterHelp.
BetterHelp is the world's largest e-counseling website, offering a wide range of therapies.
For those with PTSD symptoms, BetterHelp allows you to access three of the most widely used treatments for trauma and PTSD – Cognitive-Behavioral Therapy (CBT), psychodynamic therapy, and Eye Movement Desensitization and Reprocessing (EMDR).
Using BetterHelp, you can get treatment through online video counseling, phone calls, and live chat messaging as you require. Your therapist may also provide take-home exercises, to help you record your thoughts and feelings and better manage any anxiety you feel throughout the day.
BetterHelp has three subscription levels available, allowing you to access the type of online trauma therapy that best suits your needs. Depending on the communication channels you prefer, and how often you'd like to have one-on-one sessions, you can get a treatment package that's right for you.
There are two ways to begin using BetterHelp. The first is through its main entry point – you fill in an online form, answering a range of questions about yourself and your therapy needs. Once you've filled out the form, BetterHelp then matches you with the right online therapist. The second way is to choose your therapist directly via clicking the "Find a Therapist" link at the bottom of the home page, although you still have to fill out a questionnaire. After signing up, you can change your counselor at any time.
BetterHelp operates on a monthly subscription basis, and unlike other online therapy portals, it offers a discount if you cannot afford the full amount due to your financial position. For example, veterans and students can get a lower price in most cases, as well as those on lower incomes.
Discover transformative online therapy with Online-therapy.com. Through cognitive behavioral therapy (CBT), Online-therapy.com offer individual and couples support starting at $45/week. Engage in sessions via video, voice, or text for maximum flexibility. Fill out their online questionnaire to get started.
Online Therapy is Sweden-based online therapy service, licensed in the United States, and with therapists located around the world. It only provides Cognitive-Behavioral Therapy, and as such offers the least choice of treatment types of the three websites we've looked at in this guide.
As with the other two portals, all therapists are accredited by their state board and must have a high level of education in their field. They must not have had any disciplinary issues within the last ten years to work with online-therapy.com.
Like BetterHelp, you will have your counselor chosen for you after filling in your details on their website, and paying the first monthly fee. You can meet your counselor up to twice a week, by video or by text, according to your subscription level. As with Talkspace and BetterHelp, you can switch therapists at any time.
It's also possible to see your therapist at a time that works best for you, meaning you don't have to take time off work if you don't mind using a therapist in another timezone. And with the texting service, you are able to message your therapist at any time, as well as seeing them for your scheduled regular meetings.
As with Talkspace, there are unfortunately no discounts available for those with financial problems, but this online therapy platform is still very affordable.
Tailored to individuals, couples, teens, and offering psychiatry services, Talkspace plans kick off at a wallet-friendly $69 per week. What's more, many health insurances also cover their services, enhancing accessibility and affordability. Complete a questionnaire and get matched with the right therapist for you.
Find-a-therapist readers get $100-OFF with a code SPACE.
Talkspace is another online therapy platform that can help you to overcome traumatic events in your life.
Similar to BetterHelp, Talkspace operates on a subscription model, whereby you pay monthly for the exact support you need. The platform also offers Cognitive-Behavioral Therapy and psychodynamic therapy, both of which can be useful treatments for trauma/PTSD.
Unlike BetterHelp, Talkspace allows you to access a psychiatrist, so you can be prescribed medication to help you with the symptoms of trauma, such as depression and anxiety.
Another area where Talkspace differs from BetterHelp is how you sign up. With Talkspace, you go through an interview with a matching agent, and are then provided a list of suitable available therapists. At this point, you can choose a therapist according to your personal preference, having viewed each counselor's profile. Some find this more personal than BetterHelp, but it can take a bit more effort to get matched with a therapist with Talkspace.
This online counseling portal offers three levels of support, ranging from a text-only service, to a more holistic subscription with online video meetings. Whatever service you choose, you will have work to do every week, for example, meeting your counselor to discuss the background to your trauma and PTSD. Other weeks, you may work on techniques to gain strength and overcome your trauma.
Unfortunately, Talkspace doesn't offer a discount if you have financial limitations, and can be a bit more expensive than BetterHelp, depending on the services you choose.
Is online trauma therapy right for me?
Online therapy has been shown in medical research to be as good as face-to-face therapy in mild to moderate cases. It can help you avoid waiting lists, and allow you to get seen for the issues you need support with more quickly. This can be important where it comes to recovery after a traumatic event – the last thing you want is for your mental health to deteriorate over time.
Another advantage of online therapy is you can get help from the comfort of your own home. Such comfort and safety can make it easier to address issues that might be uncomfortable to talk about, because being able to open up is important if your therapy is to be successful.
Though online therapy isn't covered by health insurance, it is sometimes cheaper than in-person counseling. That said, online trauma therapy isn't going to be your best option if you have more severe problems – face-to-face sessions will be better if you are facing severe anxiety, depression, or other PTSD symptoms.
What causes post traumatic stress?
Trauma can happen to anyone. Natural disasters, accidents, and armed combat are what we normally associate as events that can cause post traumatic stress. However, you could also suffer it as a result of emotional abuse at home, work or at school.
Triggers can include:
Military or law enforcement experience, especially combat situations
Accidents
Domestic violence
Sexual or physical assault
Emotional abuse
Natural disasters
Childhood trauma or workplace trauma from bullying
Whatever the event or events that led to the experience of trauma, you will likely experience similar symptoms to others with PTSD, even if you might have experienced different types of trauma.
Symptoms of PTSD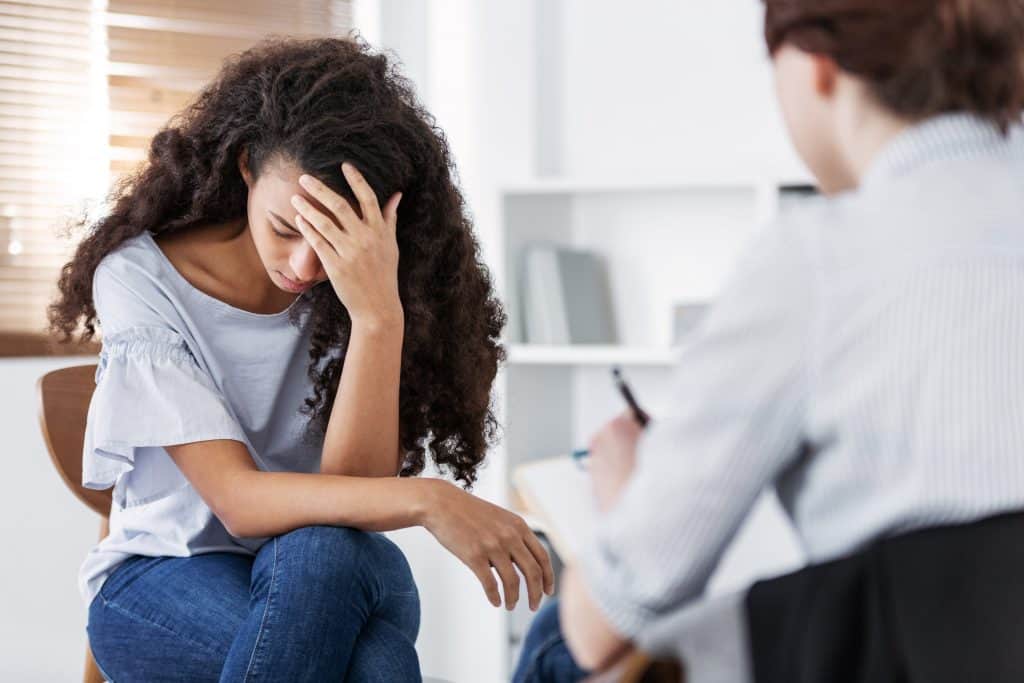 When suffering from PTSD, your brain undergoes physical changes and responds to the world differently. Classically, this can be the "fight, flight or freeze" reaction where you overreact to seemingly normal events that remind you of the situation(s) that caused your trauma.
Symptoms of PTSD can include:
Being unable to shake memories of the event
Flashbacks where you feel as if you are experiencing the event again
Sensations of intense anxiety and emotional distress in similar situations
Difficulty sleeping
Dreaming about the event
Relationship problems with friends and family
Lack of pleasure from the things you used to enjoy
Self-destructive or reckless behavior
Drug or alcohol misuse to blot out the feelings
Inability to experience positive emotions
Unlike other mental health problems, it is important to state that PTSD cannot be purely medicated by a psychiatrist. It requires seeing a counselor for therapy, training your mind to recover from the experiences that led to your behavior changing.
Medication can help with the symptoms, but to undergo post traumatic growth, you must tackle the root cause of your PTSD with the help of verbal therapy.
Types of treatment for trauma
There are four essential treatments available for trauma and PTSD. In this section, we will show you the treatments that your counselor may recommend to tackle your trauma symptoms.
Trauma Focused Cognitive Behavioral Therapy (TFCBT)
TFCBT is a course where you will explore what you experienced, and then learn how to manage the triggers of PTSD symptoms.
You will learn how to put together a "trauma narrative" where you re-think the way you respond to the things you face every day. For example, if you are over-sensitive to people criticizing you thanks to emotional abuse, then you will learn ways to move on from such overreaction for example. If you experience fear in an urban environment due to an experience in combat, you will learn to challenge the triggers, step by step.
From here, your counselor helps to educate you on the appropriate expression of feelings when a trigger event occurs. This ultimately leads to new patterns of thought when you experience similar events.
This form of online therapy won't always be easy, as you will have to describe your trauma to the professional and explore what exactly negative events happened. Discomfort in counseling is a common reason people quit, but this is a core part of your recovery – both facing the problem and learning how to get past it. This is why finding the right counselor is so important, especially when dealing with PTSD.
Psychodynamic therapy
Psychodynamic therapy is a process where you:
Remember the traumatic event or events
Discuss your symptoms
Visit your thoughts when you experience triggers
In discussing everything that runs through your mind in such events, the therapist shows you the defense mechanisms holding you back from dealing with the traumatic experience.
By locating the source of those defense mechanisms, you can gain insights into how to resolve these challenges. You will also explore your childhood relationships and experiences to see how such factors contributed to your current problems.
As with TFCBT, this type of therapy can be challenging in that you will have to face your demons head-on. Fortunately, psychodynamic therapy can be done online, which can be helpful if this is a more comfortable option for you.
Eye Movement Desensitization and Reprocessing (EMDR)
EMDR is a relatively new but still proven route to alleviating trauma symptoms. The core philosophy is that the mind always seeks to reach a healthier state, unless someone or something blocks its flow. The aim of EMDR is to remove the blockage.
This type of trauma therapy is quicker than psychodynamic therapy or TFCBT. The first half of the program involves stimulation such as eye movements, hand tapping, or sounds, while you talk about the trauma, current stresses, or a future you are asked to imagine.
In the second half of the program, the therapist tells you an aspect of the event to hold on to in the mind as you talk about it. At the same time, you are given audio or physical stimulation. You then gain insights into your power to survive, wherein the difficult memories transform into a vision of your own power.
Medication
It is widely held that you cannot medicate trauma itself, as it is a form of grief – instead, grief counseling or trauma therapy is a more effective way of getting help.
A psychiatrist can prescribe medication to treat symptoms such as anxiety, depression, and paranoia. However, they cannot offer treatment for your behavioral health, such as acting out in response to the triggers you experience. It's often a good idea to first seek out psychological treatments such as those we describe above, to address the root causes of your trauma.
What can you do for yourself?
As a first step, do not self-medicate with alcohol or drugs. Substance misuse is a common secondary issue to do with PTSD, because people feel that alcohol and drugs can blot the problem out. The difficulty is that this reduces the level of control you have, and can lead you to need treatment for addiction.
If you can, talk to others who have had the same or similar experiences as you. For example, there are many veterans and law enforcement social groups where you can interact with people just like you. For those who have been involved in a natural disaster or major accident, it might help to make links with others who have been involved in the same incident.
There are also groups for people who have been bullied for a variety of reasons, such as their sexuality, their gender, and not conforming with society's so-called norms in other ways. In reaching out to others who feel the same way, you can share your experiences and will often feel better understood. This can be a vital first step towards recovery.
How an online trauma therapist can help
Online trauma therapy can help most mild to moderate cases of PTSD. The techniques we describe above are helpful for people who have trauma that is affecting their behavioral health or emotions. Online counseling can improve self-esteem where you have been subjected to emotional abuse or bullying as well.
For more severe issues, you may need an in-person therapist, psychologist, or psychiatrist. In this case, your family doctor may be able to refer you to an appropriate local mental health service.
Some symptoms such as violence or self-harm need to be stopped as soon as possible. Where there is an urgent problem, call 911 or go to an emergency room to get help. You can also contact the National Suicide Prevention Hotline on 1-800-273-8255.
Conclusion
If your trauma stops you from enjoying life, causes behavioral problems or feelings of acute distress, online therapy can enable you to resolve these issues. Over several sessions, you can face your PTSD and begin to move on.
Online trauma therapy providers like BetterHelp and Talkspace offer you the therapy you need to deal with your flashbacks, bad dreams and triggers that cause mood swings in your daily life. Relatively low priced and easy to access in comparison to face-to-face counseling, these services can provide you with treatment to lead a happier, more fulfilled, and more comfortable life.