Advancements in technology and the growth of telemedicine have facilitated the development of online counseling as a reliable and effective means of therapy.
Online platforms connect clients with professional counselors who possess the necessary expertise to help couples navigate the complexities of marriage and maintain healthy, loving relationships.
Online marriage counseling has emerged as a viable alternative to traditional face-to-face therapy, allowing couples to address and resolve relationship issues in today's increasingly digital world.
Understanding Online Marriage Counseling
Online marriage counseling provides an alternative platform for couples seeking professional guidance in addressing their relationship issues.
This format has grown in popularity due in part to its accessible and flexible nature, allowing couples to engage in therapy sessions remotely.
A key aspect of online marriage counseling is the convenience it offers, as sessions can be scheduled and attended without the need for traveling to a therapist's office.
This allows couples to engage in therapy from the comfort of their own homes while still benefiting from the expertise of a qualified professional.
Relationship Issues
Relationship issues that can be addressed in online counseling include communication difficulties, conflicts involving time spent together, and marital satisfaction concerns.
Similar to traditional face-to-face therapy, online marriage counseling aims to help couples gain a deeper understanding of their relationship, identify areas of improvement, and develop strategies for overcoming conflicts.
Stepped-Care Model
Many online marriage counseling services employ a stepped-care model, which combines technology with therapy to offer couples a range of treatment options.
This approach includes the use of self-help tools, online programs, and support from therapists as needed.
In some cases, online counseling might serve as a precursor to in-person therapy, providing crucial insights and groundwork before a couple engages in face-to-face sessions.
Therapeutic Alliance
One aspect that some professionals point out regarding online therapy is the challenge of missing some non-verbal cues, such as providing a box of tissues for an emotional partner.
However, couples participating in online sessions can still experience a strong therapeutic alliance with their therapist, as they can communicate effectively through other means, such as video calls.
Convenience and Flexibility of Online Counseling
Online marriage counseling offers several advantages over traditional face-to-face sessions, with convenience and flexibility being among the top benefits.
Accessibility & Convenience
Couples can attend sessions from the comfort of their own homes, eliminating the need to travel or take time off work.
This accessibility can be especially beneficial for individuals with limited mobility or those living in remote areas, removing geographical barriers to care.
Flexibility
In addition to the convenience of attending sessions from home, online counseling enables couples to schedule appointments at times that work best for their lifestyle.
The increased flexibility afforded by remote counseling allows couples to better manage their individual and shared schedules, reducing the stress associated with coordinating multiple obligations.
Moreover, online counseling can provide access to a wider range of professionals, granting couples the ability to choose a therapist who best meets their needs and preferences.
The increased choice in therapists may lead to a more satisfying therapeutic experience and improved outcomes.
Communication Options
As communication technology advances, online counseling platforms continue to evolve, offering various mediums for sessions such as video calls, phone calls, or text-based chat.
These diverse options allow couples to select the method that best aligns with their communication preferences and comfort levels.
Furthermore, digital tools are integrated within many online platforms, allowing therapists to easily share resources and worksheets.
Pros & Cons of Online Marriage Counseling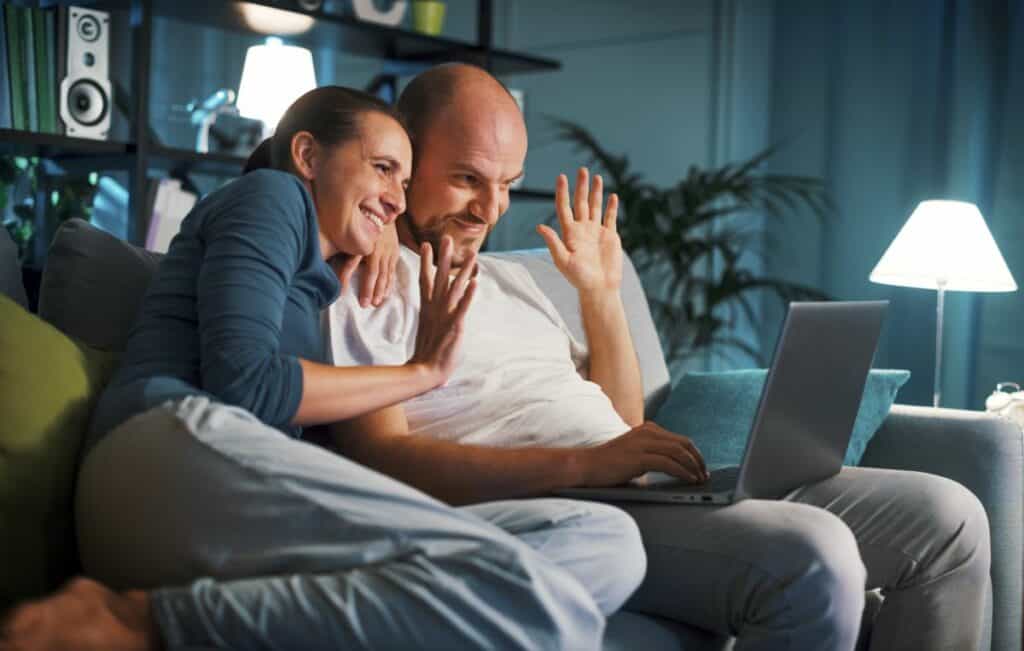 In recent years, online couples counseling and marriage therapy services have gained popularity due to advancements in technology and the increased need for remote accessibility.
Many couples are now considering these online alternatives to traditional, in-person therapy to improve their relationships.
Online marriage counseling, like traditional in-person counseling, has its own set of advantages and disadvantages.
Here are some pros and cons of online marriage counseling:
| Pros | Cons |
| --- | --- |
| Offers increased scheduling flexibility and a more comfortable environment, as couples can participate from their own homes. | Online sessions may lack some of the non-verbal cues and body language that in-person therapy provides. |
| Online therapy is often more affordable than in-person sessions, as it eliminates commuting and overhead costs for the therapist. | Couples facing severe issues, such as domestic violence, may require a more intensive and hands-on approach that can be better addressed in-person. |
| It can reach couples who may not otherwise have access to qualified therapists. | Technical problems like poor internet connections or software glitches can disrupt sessions, potentially causing frustration and interruptions. |
Online Platforms for Marriage Counseling
In recent years, various online platforms have emerged to provide couples with the opportunity to seek marriage counseling from the comfort of their own homes.
These digital services make it easier for couples to access therapy and work on their relationships.
This section covers three well-known online counseling platforms: ReGain, Online-Therapy.com, and TalkSpace.
ReGain is a specialized platform focused on providing relationship and marriage counseling services.
It connects couples with licensed therapists who are experienced in assisting with various relationship issues, ranging from communication problems to infidelity.
The platform allows for both individual and joint counseling sessions, offering flexibility to users.
ReGain is often compared with other online therapy platforms due to its focus on relationships.
Here you can read our ReGain review.
Tailored for individuals and couples navigating relationship or marital issues – ReGain is your online relationship therapy solution. Starting at $60/week, you can schedule one weekly live session and message your therapist anytime. Start your path to healthier connections with ReGain – fill out their online assessment form.
Note: We collaborate with top-tier mental health companies and receive compensation for marketing efforts on behalf of ReGain.
Online-Therapy.com offers a comprehensive approach to therapy, which not only includes online sessions with licensed therapists but also a suite of additional resources.
Their services cover a wide range of topics, including marriage and relationship counseling.
The platform incorporates multimedia elements like worksheets, videos, and journals to provide a more interactive experience for clients.
Although Online-Therapy.com caters to various therapy needs, it shares similarities with other online therapy companies in how it delivers its services remotely.
Here you can read our Online-Therapy.com review.
Discover transformative online therapy with Online-therapy.com. Through cognitive behavioral therapy (CBT), Online-therapy.com offers individual and couples support starting at $45/week. Engage in sessions via video, voice, or text for maximum flexibility. Fill out their online questionnaire to get started.
Talkspace is a well-known online therapy platform that provides counseling services for a variety of issues, including relationship and marriage counseling.
Users are matched with a licensed therapist based on their needs and preferences.
Talkspace offers diverse communication options, including text, audio, video, and live video sessions.
Here you can read our TalkSpace review.
Tailored to individuals, couples, teens, and offering psychiatry services, Talkspace plans kick off at a wallet-friendly $69 per week. What's more, many health insurances also cover their services, enhancing accessibility and affordability. Complete a questionnaire and get matched with the right therapist for you.
Find-a-therapist readers get $100-OFF with a code SPACE.
Frequently Asked Questions
What is the average cost of online marriage counseling?
The average cost of online marriage counseling varies depending on the specific platform and the therapists' level of experience.
Some platforms offer monthly subscription plans, while others charge on a per-session basis.
Location can also play a factor in pricing, as therapists from different regions may have different rates.
How effective is online marriage counseling?
Online marriage counseling can be just as effective as in-person sessions for many couples.
While the effectiveness of online counseling depends on factors like the quality of the platform, the therapists' expertise, and the couple's commitment to the process, many individuals report improved communication and relationship satisfaction after engaging in online therapy.
Are there affordable online couples therapy options?
Yes, there are affordable online couples therapy options available.
Some platforms offer sliding scale fees or reduced rates based on income, while others offer package deals with multiple sessions at a discounted price.
Be sure to research different platforms and therapists to find a suitable option for your budget.
What are the differences between online and in-person marriage counseling?
Online marriage counseling offers several advantages over in-person sessions, including the convenience of participating from your own home and scheduling flexibility.
However, online therapy may lack some of the personal touch and non-verbal cues that in-person counseling provides.
Additionally, it may not be suitable for couples dealing with severe relationship problems or those requiring intensive therapy.
What are some key features of the best online marriage counseling platforms?
The best online marriage counseling platforms offer a variety of features to enhance the user experience, including easy access to licensed therapists, secure and private sessions, and a user-friendly interface.
Additionally, they should provide multiple communication options, such as video calls, instant messaging, and phone calls, to accommodate different couples' preferences.
Researching and comparing different platforms is essential to find the one that best fits your needs and preferences.