In this ever-evolving landscape of mental health services, online group therapy presents a growing opportunity for individuals seeking a supportive community and resources to achieve their well-being goals in a digital age.
It serves as a viable alternative to traditional face-to-face group therapy sessions, allowing individuals from different geographic locations and backgrounds to come together in a virtual space, fostering connection and collaboration.
Understanding Online Group Therapy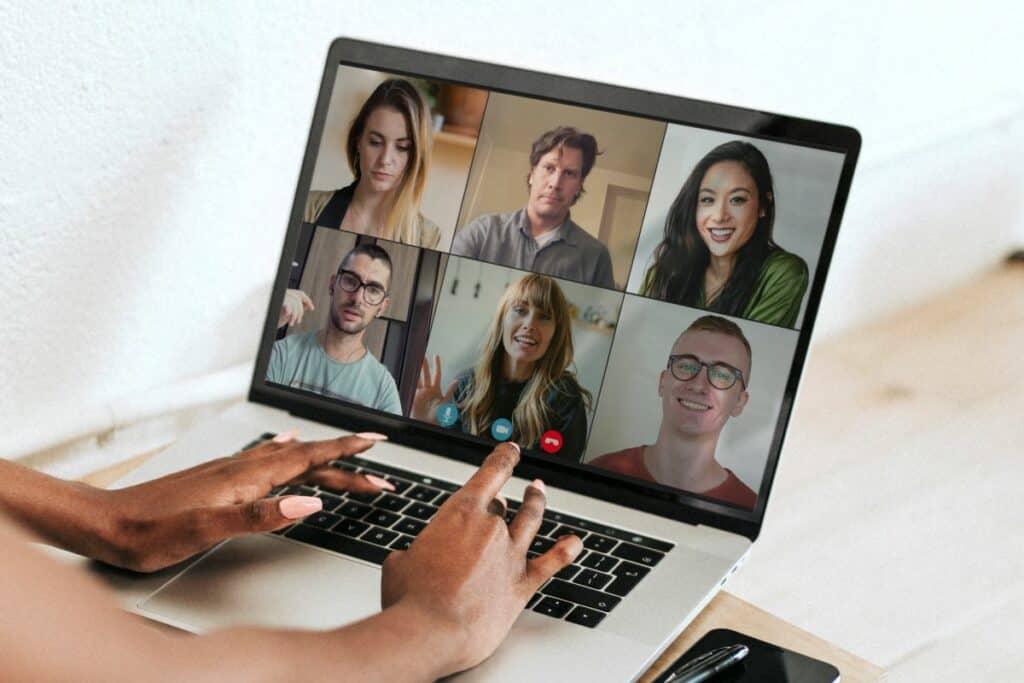 Online group therapy is a mode of mental health treatment where a licensed mental health professional facilitates therapeutic sessions for a group of individuals via the Internet.
These sessions usually take place on secure video conferencing platforms, ensuring privacy and confidentiality for all participants.
Online group therapy offers the same benefits as traditional face-to-face group therapy but with the added convenience of accessing sessions from the comfort of one's own home.
Participants can share their experiences, thoughts, and feelings in these sessions with each other and the therapist.
The therapist's role is to guide the group in a way that fosters a supportive and non-judgmental environment.
Participants can develop a sense of belonging and benefit from the collective wisdom of the group.
Effectiveness of Online Group Therapy
Online group therapy can be effective in treating various mental health issues, such as anxiety, depression, and addiction.
The effectiveness of online group therapy can be attributed to factors such as:
| Factor | Description |
| --- | --- |
| Accessibility | Online sessions make therapy available to individuals who may not have access to mental health services in their area or who face other barriers, such as physical disabilities or lack of transportation. |
| Anonymity | The online format can provide a level of anonymity that may encourage participants to share more openly and honestly than they would in a face-to-face setting. |
| Flexibility | Participants can attend sessions from home or work, reducing the time and financial burdens associated with attending in-person sessions. |
| Peer Support | Group members can learn from each other's experiences and provide insights and support that the therapist alone may not be able to offer. |
It is important to note that online group therapy may not be suitable for everyone. Its effectiveness varies depending on the individual's needs and the specific issue being addressed.
In some cases, pursuing individual therapy or a combination of individual and group therapy may be more appropriate.
Consulting with a mental health professional can help determine the best course of action for each person.
Benefits of Online Group Therapy
By offering accessibility, convenience, privacy, and potential cost savings, online group therapy can be a valuable resource for those seeking mental health support.
Choosing a secure platform and verifying insurance coverage or payment options is crucial to ensure the most effective and efficient therapy experience.
Accessibility and Convenience
One significant advantage of online group therapy is its accessibility.
This mode of therapy allows individuals who may have difficulty traveling to conventional therapy sessions due to mobility issues, distance, or time constraints to receive the support they need.
Additionally, online therapy can be accessed through a variety of devices, such as computers, smartphones, and tablets, making it even more convenient.
Participants can attend sessions from the comfort of their own homes, reducing stress and increasing ease of engagement.
Privacy and Comfort
Online group therapy also addresses privacy concerns by providing a secure setting for individuals to share their thoughts and feelings.
Many online group therapy sessions utilize secure platforms to ensure confidentiality.
This level of privacy may encourage more people to participate, as they feel comfortable and safe discussing their issues in a virtual environment.
Costs and Insurance Coverage
In many cases, online group therapy can be more cost-effective than traditional, in-person therapy due to reduced overhead costs for therapists. This can lead to lower fees for clients.
Additionally, some insurance providers may cover online therapy, and flexible spending accounts (FSAs) or health savings accounts (HSAs) can often be used to pay for these services.
It is essential to consult with your insurance provider and research the specific online therapy program to determine coverage and pricing options.
Types of Online Group Therapy
Online group therapy offers a variety of support options tailored to the needs of different individuals.
Participants can find solace, learn coping strategies, and benefit from the shared experiences of others.
This section explores several types of online group therapy, focusing on specific groups of people and their unique challenges.
Depression and Anxiety Support Groups
Depression and anxiety support groups provide a safe and supportive environment for individuals experiencing emotional distress.
These groups often focus on common symptoms and challenges, such as dealing with negative thoughts, managing stress, and developing coping mechanisms.
Participants can share their experiences and learn from others who have faced similar difficulties.
Internet-supported interventions play a vital role in offering accessible therapy options for those suffering from depression and anxiety.
LGBTQIA+ Support Groups
LGBTQIA+ support groups offer a welcoming space for individuals who identify as lesbian, gay, bisexual, transgender, queer, intersex, asexual, and beyond.
These groups focus on topics such as identity exploration, self-esteem, relationships, and coping strategies for dealing with discrimination and prejudice.
Such online spaces provide essential peer support for LGBTQIA+ individuals, allowing them to connect with others who understand their unique experiences.
Parenting Support Groups
Parenting support groups aim to assist parents in navigating the challenges and joys of raising children.
These groups often cover topics like communication, discipline, developmental milestones, and fostering positive family relationships.
Participants can exchange parenting tips, strategies, and personal anecdotes in these online forums, creating a supportive virtual community for parents.
Grief and Trauma Support Groups
Grief and trauma support groups help individuals grappling with loss, trauma, or tragedy.
These groups provide comfort and understanding through shared experiences while offering valuable coping mechanisms for processing grief and traumatic events.
Whether dealing with sudden loss, unexpected life changes, or the lingering effects of past traumas, participants can find solace and strength in connecting with others facing similar challenges.
Eating Disorders Support Groups
Eating disorders support groups offer a safe space for individuals struggling with issues such as anorexia, bulimia, binge eating, and other related conditions.
These groups focus on promoting body positivity, self-acceptance, and healthy coping skills.
Participants can discuss their challenges with self-image and disordered eating habits while learning from others who have overcome or are managing these issues themselves.
Substance Use Disorder Support Groups
Substance Use Disorder support groups address the challenges associated with drug and alcohol addiction.
These groups often provide resources, coping strategies, and peer support to help individuals in their recovery journey.
Participants can share their experiences with addiction, detoxification, and maintaining sobriety in a non-judgmental and supportive online environment.
Platforms for Online Group Therapy
The ongoing digital transformation and the increasing need for mental health support have led to the development of various platforms for online group therapy.
These platforms provide flexible, accessible, and affordable options for people seeking mental health support.
This section will discuss some of the well-known platforms offering online group therapy services.
Grouport is a platform that offers online group psychotherapy sessions.
The platform enables mental health professionals to deliver group therapy sessions via video calls or live video sessions.
This ensures that participants receive the necessary support and care, even if they are not physically present.
Circles is an online group therapy platform that focuses on providing support to people dealing with anxiety and depression.
The platform uses video conferencing to facilitate group sessions, ensuring user satisfaction and comfort.
Monument is an online platform that connects individuals struggling with alcohol addiction to therapy, peer support, and medication management.
They offer live video therapy sessions with licensed professionals, where individuals can discuss their challenges, learn coping mechanisms, and work through triggers in a confidential and supportive environment.
Challenges and Limitations of Online Group Therapy
Online group therapy, as a form of remote mental health support, has gained prominence in recent years.
However, like any innovative approach, it comes with its own set of challenges and limitations.
These challenges range from issues related to internet connectivity, privacy, and the digital divide.
Digital Divide
The digital divide is one of the significant challenges that online group therapy faces. This refers to the gap between individuals with access to digital technology and those without access.
It can limit the reach and accessibility of online therapy for people without access to the internet or inadequate technical skills.
As a result, some participants may not benefit from the advantages of online therapy.
Connection Issues
Connectivity problems can also pose challenges to online group therapy. Poor or unstable internet connection can lead to audio and video disruptions, affecting the quality of therapy sessions.
Delayed communication can negatively impact the group dynamics, as participants may struggle to express their thoughts and feelings effectively.
Additionally, technological glitches may cause participants to feel frustrated and detract from the therapeutic experience.
Privacy and Security Concerns
Online group therapy has raised privacy and security concerns, as sensitive information is shared during sessions.
Participants must feel safe and assured that their personal data and confidentiality are protected.
Online platforms can be vulnerable to hacking or data breaches, which may lead to unauthorized access to personal information.
Therapists and clients must ensure that they use secure platforms and adhere to proper online safety protocols to mitigate these risks and maintain trust in the therapeutic environment.
Frequently Asked Questions
What is the process for joining an online therapy group?
Joining an online therapy group typically involves completing an intake form, which may include personal information, a brief description of the issues you'd like to work on, and your availability.
Upon receiving and reviewing your intake form, the group facilitator will contact you with the next steps, such as selecting an appropriate therapy group for your needs, verifying payment information, and providing you with access to the online platform where the sessions will take place.
How does online group therapy differ from in-person sessions?
Online group therapy sessions are conducted through video conferencing platforms, allowing participants to join from anywhere with a stable internet connection.
This provides greater accessibility compared to in-person sessions, as individuals can attend therapy without traveling or relocating.
While online group therapy may initially feel less personal than in-person sessions, the practice of online group psychotherapy has been found to be effective when it comes to addressing mental health issues and fostering a sense of community among participants.
Can free group therapy interventions be found online?
While many online group therapy sessions require payment, there are some free group therapy interventions available, especially during times of crisis.
These free resources may include support groups and online forums, as well as live webinars or workshops on mental health topics.
It's important to carefully evaluate the credibility of the organization or professional offering free services, as the quality of these resources may vary.
What are the age range and subjects covered in online group therapy sessions?
Online group therapy sessions cater to a wide variety of age ranges, from children and adolescents to adults and seniors.
The subject matter covered in these sessions is equally diverse, addressing various mental health issues, relationship challenges, and life transitions.
Some examples of topics that may be addressed in online therapy groups include anxiety, depression, grief and loss, stress management, parenting, addiction, or trauma recovery.
Researching and finding a therapy group that aligns with your specific needs and preferences is essential.