Dialectical Behavior Therapy (DBT) is a type of cognitive-behavioral therapy that has been proven effective in treating various mental health disorders, such as borderline personality disorder, depression, and anxiety.
With the advancements in technology and increased demand for accessible mental health services, online DBT has emerged as a convenient option for those seeking therapy.
Online DBT therapy offers the same core components as traditional, in-person therapy and is typically delivered through video conferencing, phone calls, or web-based platforms.
This mode of therapy allows individuals to receive support from certified mental health professionals, regardless of their geographical location or personal schedules.
Understanding Dialectical Behavior Therapy (DBT)
Developed by psychologist Marsha Linehan in the 1980s, Dialectical Behavior Therapy (DBT) focuses on teaching individuals new skills to manage painful emotions and reduce relationship conflicts.
By emphasizing mindfulness, emotional regulation, distress tolerance, and interpersonal effectiveness, DBT aims to help individuals lead a more stable and fulfilling life.
Benefits of Dialectical Behavior Therapy (DBT)
Dialectical behavior therapy (DBT) is a form of psychotherapy specifically designed for individuals suffering from emotional dysregulation and other related mental health issues.
DBT has demonstrated its effectiveness in reducing self-destructive behaviors, improving interpersonal relationships, and enhancing emotional regulation.
One of the main concepts in DBT is the balance between acceptance and change, which helps individuals to manage their emotions effectively and improve their overall mental health.
Significance of Therapists in Dialectical Behavior Therapy (DBT)
The role of therapists in DBT is crucial, as they help individuals understand and implement the DBT techniques and concepts.
These therapists receive specialized training in DBT to deliver the therapy effectively.
The relationship between the therapist and the patient is essential, as a strong bond contributes to the success of therapy.
Therapists provide guidance and support, helping patients navigate through their emotional challenges using DBT strategies.
Role of Emotions in Dialectical Behavior Therapy (DBT)
Emotions play a vital role in DBT, as the therapy aims to minimize the negative impact of intense emotions on an individual's life.
Emotional dysregulation, which is the inability to manage and respond to emotional experiences in a healthy way, is a common issue among people who benefit from DBT.
By understanding their emotions and implementing DBT techniques, patients can learn to regulate their emotions effectively, resulting in a more balanced and fulfilling life.
Dialectical Behavior Therapy (DBT) Techniques
DBT incorporates various techniques and skills that can be categorized into four main areas:
| Area | Description |
| --- | --- |
| Mindfulness | This skill helps individuals to focus on the present moment, fully experiencing their thoughts, feelings, and sensations without judgment. |
| Distress Tolerance | These skills are focused on helping individuals cope with and tolerate intense emotions, such as stress or frustration, without resorting to impulsive or harmful behaviors. |
| Emotion Regulation | This component of DBT enables patients to understand and manage their emotions better, improving overall emotional well-being. |
| Interpersonal Effectiveness | These skills teach patients how to effectively communicate and maintain healthy relationships with others while asserting their needs and protecting their self-esteem. |
Regularly practicing and applying DBT techniques can improve their mental health, enhance their emotional regulation, and ultimately lead to a more balanced and fulfilling life.
Online DBT vs. Traditional DBT
Online DBT (Dialectical Behavior Therapy) is becoming an increasingly popular alternative to traditional, face-to-face DBT treatment.
This therapy mode allows individuals to acquire DBT skills through virtual platforms, allowing for greater accessibility and flexibility.
However, it's essential to compare the two forms of therapy to understand their potential benefits and limitations.
Online DBT
| Pros | Cons |
| --- | --- |
| Online DBT makes therapy more accessible to individuals who may have limited access to in-person treatment due to geographic, mobility, or scheduling constraints. | Online therapy may not provide the same level of in-person connection, making it potentially challenging to establish a strong therapeutic alliance. |
| It offers convenience and flexibility, allowing individuals to participate in therapy from the comfort of their homes or any location with internet access. | Technical problems like poor internet connectivity or difficulties with video conferencing software can disrupt sessions and affect the therapeutic process. |
| Online DBT programs can be cost-effective compared to in-person therapy, as they often have lower overhead costs. | Ensuring privacy and confidentiality during online sessions can be a concern, as individuals may not have control over their environment. |
Traditional DBT
| Pros | Cons |
| --- | --- |
| Traditional DBT offers face-to-face interaction with a therapist, which can foster a stronger therapeutic alliance and more immediate support. | Some individuals may have difficulty accessing traditional DBT due to geographical limitations or scheduling conflicts. |
| Therapists can provide real-time feedback and support during in-person sessions, which may take more work to achieve online. | In-person therapy typically comes with higher costs, including therapist fees and travel expenses. |
| Traditional DBT often includes group therapy sessions, which allow individuals to practice interpersonal skills in a social setting. | Traditional DBT often follows a fixed schedule, which may not accommodate everyone's needs or preferences. |
Despite the limitations, online DBT has shown potential, indicating that it can be an effective alternative to traditional DBT.
As technology advances and virtual platforms continue to improve, the gap between online and in-person DBT may likely diminish.
Ultimately, the choice between online and traditional DBT should be based on individual needs, preferences, and circumstances.
DBT for Various Mental Health Conditions
Dialectical Behavior Therapy (DBT) is a well-known and effective treatment technique for individuals struggling with various mental health conditions.
Originally developed to treat Borderline Personality Disorder (BPD), it has been adapted and applied to various other mental health disorders as well, such as anxiety, depression, bipolar disorder, eating disorders, and self-harm.
DBT aims to provide individuals with tools to regulate emotions, improve interpersonal relationships, enhance distress tolerance, and develop mindfulness skills.
Online DBT therapy allows clients to conveniently access resources and interventions from the comfort of their homes, which may alleviate challenges related to time and location constraints.
Mental Health Condition
Description
Anxiety
For individuals experiencing anxiety, DBT can help by teaching mindfulness and grounding techniques.

These methods enable clients to stay present, manage their anxiety symptoms, and avoid becoming overwhelmed by their emotions.
Depression
DBT helps individuals to overcome negative thinking patterns, improve self-esteem, and develop effective communication skills.

By addressing the cognitive, emotional, and environmental factors that contribute to depression, DBT can be a valuable addition to an individual's treatment plan.
Borderline Personality Disorder (BPD) and Bipolar Disorder
DBT aids in fostering emotional regulation skills, distress tolerance strategies, and improving interpersonal functioning.

These crucial skills help these individuals navigate through the challenges of fluctuating emotions and cope better with the symptoms of their diagnoses.
Eating Disorder
The therapy focuses on managing intense emotions, which could be contributing to disordered eating habits.

Furthermore, by learning healthy coping strategies and establishing a balanced approach to emotions, individuals are less prone to engage in harmful eating behaviors.
Self-harm Behaviors and Suicidal Ideation
It encourages a nonjudgmental approach to coping mechanisms, providing individuals with alternatives to self-harm and helping them develop a deeper understanding and compassion towards their emotions.
DBT Courses and Programs
Dialectical Behavior Therapy (DBT) is a popular and effective treatment method for individuals struggling with emotional regulation, self-harm, and other mental health concerns.
With the advent of technology, DBT courses and programs have become more accessible as online platforms offer a convenient and flexible way to receive therapy.
Online DBT therapy is an increasingly popular alternative to traditional, in-person treatment, and for many people, it provides an effective means of learning and practicing DBT skills.
This section will discuss some key aspects of online DBT courses and programs.
Interactive Learning Materials
Online DBT courses typically consist of a series of interactive modules, live or pre-recorded sessions, and self-guided learning materials.
Participants enrolled in these courses engage in learning core DBT concepts, such as mindfulness, emotion regulation, distress tolerance, and interpersonal effectiveness.
Skills Group Meetings
An essential component of online DBT therapy is the skills group.
These groups, facilitated by trained DBT therapists, provide a supportive environment for participants to learn and practice essential DBT skills.
The group format enables peer interaction, shared experiences, and increased accountability while learning and practicing these skills.
Online DBT groups meet regularly, usually through video conferencing platforms, to discuss and apply the skills learned in the program.
Additional Support Resources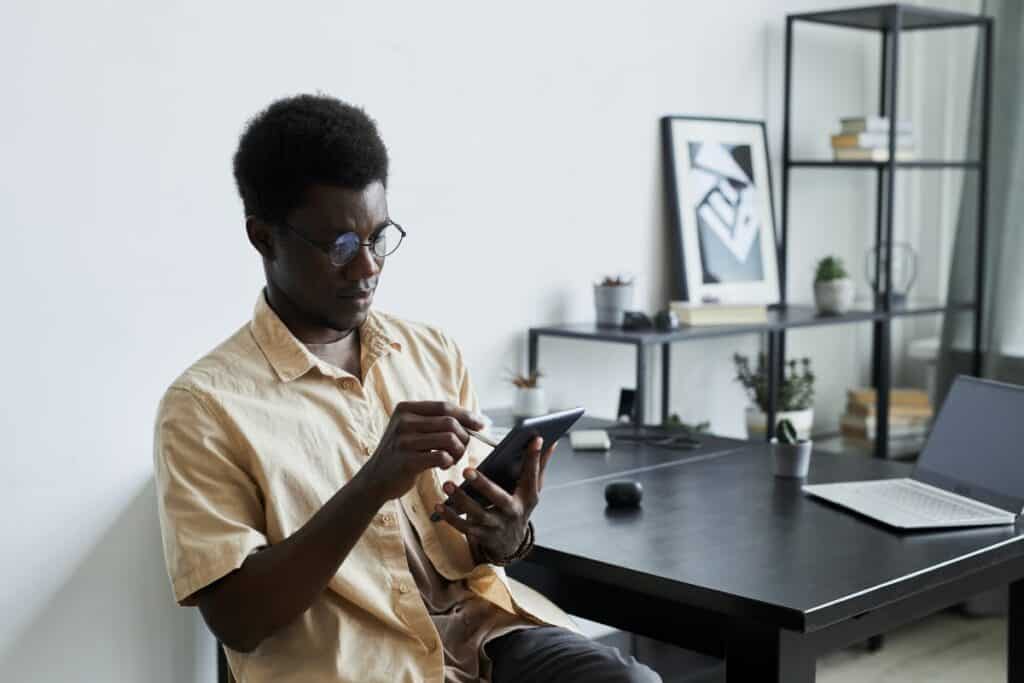 In addition to online DBT groups, some DBT programs offer individual therapy, coaching sessions, and other supplementary resources such as mobile apps and educational materials.
These components help participants receive comprehensive support tailored to their unique needs, making DBT treatment more effective and long-lasting.
Frequently Asked Questions
What are the best online platforms for DBT therapy?
There are several platforms that offer online DBT therapy services.
Some popular options include BetterHelp, Talkspace, and Online-Therapy.com.
These platforms provide access to licensed therapists trained in DBT treatment and offer various communication options, such as video sessions, messaging, and phone calls.
Explore emotional well-being with BetterHelp – your partner in affordable online therapy. With 30,000+ licensed therapists and plans starting from only $60 per week, BetterHelp makes self-care accessible to all. Complete the questionnaire to match with the right therapist.
Find-a-therapist readers get 15% off their first month of BetterHelp membership.
Note: We collaborate with top-tier mental health companies and receive compensation for marketing efforts on behalf of BetterHelp.
Are there any virtual DBT therapy groups to join?
Yes, there are virtual DBT therapy groups that you can join.
Some therapists and mental health organizations offer online group sessions for individuals seeking DBT treatment.
You can search for virtual DBT therapy groups in your area or contact local mental health centers for recommendations.
How effective is online DBT therapy compared to in-person sessions?
Online DBT therapy can be effective, and research has shown positive results for patients receiving online DBT treatment.
Factors like accessibility, convenience, and comfort may contribute to the effectiveness of online therapy.
However, individual preferences and needs should be considered when deciding whether online or in-person therapy is the right choice.
Keep in mind that the effectiveness of any therapy approach depends on the therapist's expertise, the treatment adherence, and the client's commitment to the process.
What should I look for when choosing an online DBT therapist?
When choosing an online DBT therapist, consider the following factors:
Credentials and certifications
Experience in treating your specific concerns
Their approach to DBT therapy
Ensuring that the therapist is licensed and trained in providing DBT treatment is crucial.
You can also look for reviews and testimonials from previous clients to gauge their satisfaction and experiences with the therapist.
Lastly, consider the communication methods and scheduling flexibility provided by the therapist to ensure compatibility with your schedule and preferences.