Online therapy has become an increasingly popular option for those seeking mental health support, particularly in the realm of LGBT issues.
As access to traditional therapy remains limited for certain individuals, technology has facilitated the growth of remote mental health services, providing much-needed care to underrepresented populations.
Short Summary
In recent years, a growing number of online counseling services have been developed specifically to cater to the mental health needs of the LGBTQ+ community.
Mental health professionals working in this field are equipped to address the specific needs of the LGBTQ+ community, with a strong focus on affirmative and inclusive care.
Embracing online therapy can serve as an essential step towards fostering a more inclusive mental health care landscape for everyone, especially within the LGBTQ+ community.
Understanding LGBTQ+ Online Therapy
LGBTQ+ online therapy addresses the unique mental health needs of the lesbian, gay, bisexual, transgender, queer, intersex, and asexual communities.
This therapeutic approach provides a safe and understanding environment for individuals struggling with issues related to their sexual identity, gender orientation, and other aspects of their lives as members of the LGBTQ+ community.
Affirming Space
LGBTQ+ online therapists are trained to offer guidance and support to individuals dealing with the complexities of their identity and orientation, as well as other challenges unique to the LGBTQ+ community.
These professionals are knowledgeable about the issues faced by LGBTQ+ individuals, such as coming out, relationship struggles, family acceptance, and societal pressures.
They also understand the importance of an affirming and inclusive approach to ensure clients feel validated and understood during therapy sessions.
Benefits of Online Therapy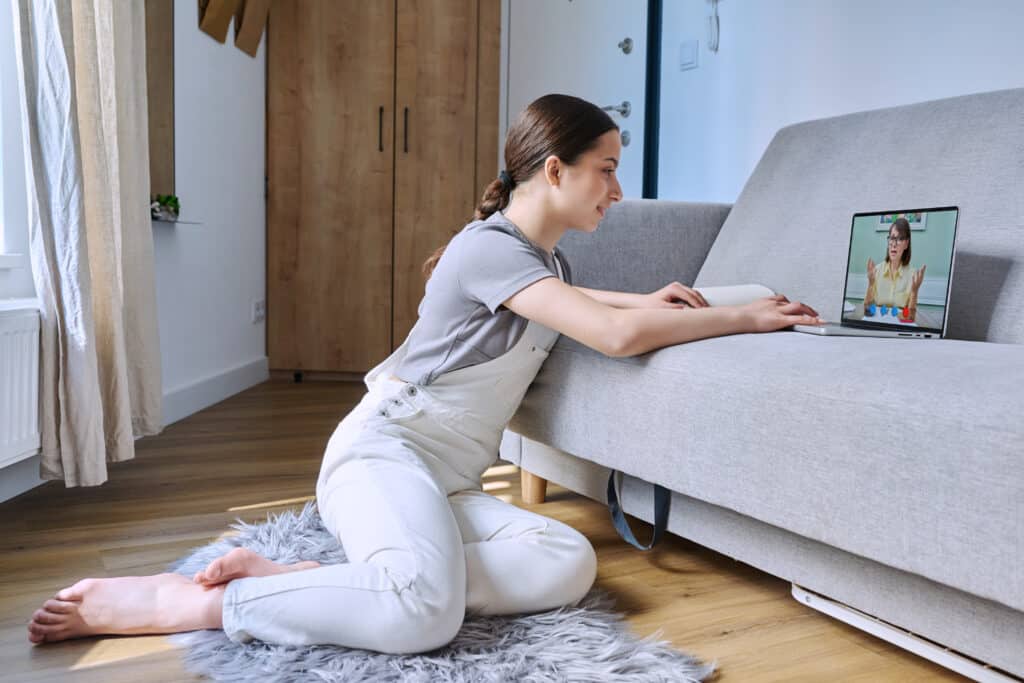 Online therapy has emerged as a valuable resource for the LGBTQ+ community, making mental health services accessible and convenient for diverse individuals.
There are several benefits to using online therapy, and understanding them can help individuals make informed decisions about their mental health care.
Communication Methods
One significant advantage of online therapy is the availability of different mediums for communication. Clients can choose between live video sessions, phone calls, text messaging, or even audio-only sessions based on their preferences and needs.
These multiple options make therapy sessions more adaptable and comfortable for clients who may have unique communication requirements.
Convenience And Flexibility
Another significant benefit is the convenience that online therapy provides. Telehealth services allow clients to access mental health care anywhere, anytime.
This flexibility is especially advantageous for working individuals or those with busy schedules, as they no longer need to visit a therapist's office physically.
This also enables clients from rural or remote areas to access quality mental health care that may have been previously unavailable to them.
Affordability
Affordability is another prominent advantage of online therapy. Many online therapy platforms offer various pricing options, including sliding scale fees and lower rates for asynchronous therapy services.
This makes mental health care more accessible for individuals who may have financial constraints.
Privacy and Confidentiality
In terms of privacy, online therapy can be a more comfortable option for members of the LGBTQ+ community.
Clients may feel safer discussing their experiences, emotions, and concerns in the security of their own homes.
This can help create a more open and honest therapeutic relationship, as clients are more likely to share personal information without fearing judgment or discrimination.
Furthermore, the use of telehealth services can help clients find a therapist who is specialized in working with the LGBTQ+ community.
This can be particularly important for individuals who may not have access to in-person therapists who are knowledgeable and sensitive to their unique experiences and needs.
The Unique Challenges Addressed
LGBTQ+ individuals often encounter unique challenges that can increase anxiety, depression, and stress.
Online therapy is an essential resource that can address some of these specific issues, providing support and guidance to those struggling with mental health.
Discrimination
One significant challenge faced by LGBTQ+ individuals is discrimination, which can be experienced in various aspects of life, such as employment, housing, or healthcare.
This discrimination can increase feelings of isolation and hopelessness, exacerbating mental health issues.
Online therapy offers a safe and confidential space for LGBTQ+ individuals to discuss and work through these experiences with a qualified professional.
Stigma and Prejudice
Stigma and prejudice can also have a detrimental impact on the mental health of LGBT individuals.
Internalized homophobia and transphobia can lead to self-doubt, diminished self-esteem, and an increased risk of mental health problems.
Online therapy can help individuals confront these feelings and develop strategies to combat negative self-perceptions.
Trauma And Violence
Exposure to trauma and violence is another challenge that disproportionately affects the LGBTQ+ community.
Experiences of physical or emotional abuse, as well as hate crimes, can contribute to both acute and long-term mental health issues.
Online therapy can provide support for processing these traumatic experiences and help individuals develop coping mechanisms to manage their emotions.
Rejection
Coming out and navigating complex family dynamics can also be a source of stress for LGBTQ+ individuals.
The rejection or lack of acceptance from family members can lead to loneliness and anxiety.
Online therapy can provide a supportive environment for individuals to explore their emotions and navigate these relationships.
Choosing A Therapist
Finding a licensed LGBTQ+ therapist involves researching, verifying credentials, and assessing if their experience and approaches align with your needs.
Taking the time to find the right therapist will help enhance your therapy experience and optimize your mental health support.
Licensed Therapist
When selecting a therapist, verifying their credentials and ensuring they are licensed is essential. Look for information on their website or inquire about their licensing status during an initial consultation.
A licensed therapist will have completed the necessary education and training to provide support and guidance.
How to Find a Licensed Therapist
To find a licensed therapist, begin by considering reputable online directories and resources.
Many platforms specialize in connecting people with therapists who have experience serving LGBTQ+ clients.
Another option is to ask for recommendations from friends or local LGBTQ+ organizations.
They may have firsthand experience and can guide you toward therapists who have a good reputation within the community.
Effective Types of Online Therapies
Different online therapies, including individual, couples, and family therapy, form a vital cornerstone of the mental health field, providing targeted support and healing for LGBTQ+ individuals, relationships, and families.
Each therapeutic approach is uniquely designed to address specific challenges and foster growth in distinct contexts, tailoring interventions to meet clients' diverse needs.
Couples Therapy
Online couples therapy can significantly benefit LGBTQ+ individuals dealing with a wide range of relationship issues, such as communication, trust, and intimacy.
This type of counseling offers a convenient and accessible platform for couples to address concerns related to gender identity or coming out.
Virtual sessions can provide a safe and non-judgmental environment, allowing couples to gain insight and guidance from trained professionals specializing in LGBTQ+-focused relationship counseling.
Family Therapy
LGBTQ+ individuals and their families can benefit from online family therapy addressing topics like acceptance, identity issues, and parenting.
Therapists specializing in LGBTQ+ counseling can guide parents in navigating their child's gender identity or supporting their child through the coming out process.
Online family therapy can help create healthy communication and understanding among family members, ultimately fostering a nurturing and supportive home environment.
Individual Counseling
Online individual counseling effectively addresses various mental health concerns, including ADHD, substance abuse, OCD, and eating disorder treatment.
Online therapy can also provide focused support for individuals coping with mental health challenges associated with their LGBTQ+ identity.
Moreover, platforms like Pride Counseling offer a variety of competent therapists with experience working with the LGBTQ+ community, making it easier for clients to find the best-suited specialist.
Prominent Online Therapy Platforms
In recent times, prominent online therapy platforms have emerged to cater specifically to the mental health needs of the LGBTQ+ community.
These platforms have become safe and inclusive spaces where individuals can connect with licensed therapists knowledgeable about the challenges and strengths inherent in LGBTQ+ identities.
Pride Counseling is an online therapy platform specifically designed to cater to the needs of the LGBTQ+ community.
This platform offers professional counseling services from licensed therapists with specialized experience working with LGBTQ+ individuals.
Pride Counseling provides a safe and supportive environment for individuals to discuss various issues, ranging from emotional problems to identity concerns.
Clients can message their therapist at any time, and schedule live sessions when it's convenient for them. Live sessions are scheduled once a week and done via live chat, phone, or video call.
Read our Pride Counseling review here.
Pride Counseling stands as a dedicated platform with therapists specializing in LGBTQIA+ affirming support. Each therapist has a minimum of 3 years and 1,000 hours of experience, ensuring high-quality care. With an affordable flat fee for one weekly live session and the flexibility to message your therapist at any time, Pride Counseling makes support accessible, starting at $60/week. Fill out the online questionnaire to match with your therapist.
The Gay Therapy Center is an online counseling service that focuses on providing LGBTQ+ individuals with resources and support to lead fulfilling and authentic lives.
With a team of experienced and compassionate therapists, the center offers individual, couples, and group therapy sessions for various mental health concerns, including anxiety, depression, and relationship issues.
The Gay Therapy Center also offers a range of free resources, such as informative articles and self-help tools, to support their clients' mental health and well-being.
Final Thoughts
The use of online therapy for LGBTQ+ individuals has become more widespread in recent years, thanks to advances in technology and increased awareness of mental health issues specific to this community.
Online therapy offers various benefits for LGBTQ+ individuals, such as providing access to specialized professionals with knowledge and experience in addressing the distinct concerns of this diverse community.
Additionally, online therapy platforms enable individuals who may be hesitant to seek help in a traditional setting due to stigma or geographical limitations to obtain confidential and accessible support.
Frequently Asked Questions
What are the top platforms for LGBT online therapy?
Multiple platforms cater to the needs of the LGBTQ+ community, providing support and online therapy services.
Some popular examples include Pride Counseling and Gay Therapy Center.
These platforms connect you with licensed therapists who specialize in issues related to sexual orientation, gender identity, and mental health.
Are there any free resources for online gender therapy?
Yes, there are free resources available for those seeking online gender therapy.
Some organizations and support groups offer free services, such as Trans Lifeline, which provides emotional support to transgender individuals.
Is online LGBT therapy effective?
Online therapy has been shown to be an effective method for addressing mental health concerns, including those specific to the LGBTQ+ community.
Online counseling is a viable option for many individuals.
While it may not be suitable for every person or condition, it can be particularly beneficial for those who may find it challenging to access in-person therapy due to geographical or social constraints.