Everyone experiences loss at one point or another, and even though it's a natural part of life, grief can cause tremendous stress and impair your ability to function. If you've lost a loved one, you might feel the need to talk to someone to help process the intense emotions you're feeling.
In this article, we've looked at two platforms that can connect you with a grief counselor, online or in person. We've also looked at how grief therapy works, as well as the most common techniques used in grief counseling.
Want to skip right to the suggestions for grief counseling? Here are our 2 recommended therapy solutions:
Grief counseling near me
Below, we've looked at two services you can use to connect with a counselor who is experienced at supporting people through their grieving process.
Explore emotional well-being with BetterHelp – your partner in affordable online therapy. With 30,000+ licensed therapists and plans starting from only $60 per week, BetterHelp makes self-care accessible to all. Complete the questionnaire to match with the right therapist.
Find-a-therapist readers get 15% off their first month of BetterHelp membership.
Note: We collaborate with top-tier mental health companies and receive compensation for marketing efforts on behalf of BetterHelp.
BetterHelp is an online therapy platform that provides services to those in need of counseling, including grief counseling.
Counselors on this platform are licensed professionals, with a minimum of three years and 1000 hours of experience in their respective fields. And many of these mental health professionals have extensive experience in helping people who are struggling with grief.
The qualified grief counselors on BetterHelp provide support and understanding to anyone dealing with loss, grief, and its accompanying emotions. They also offer techniques you can use to cope with the situation you're going through, helping you to function on a day-to-day basis.
Signing up to BetterHelp is straightforward and intuitive. Upon visiting their website, you will be asked to complete a questionnaire, providing details about your specific issue. BetterHelp uses this information to match you with the right counselor.
You'll have the chance to explain the type of grief you're going through, and how it's affecting you. You can also specify the type of counselor you're looking for (such as their gender) if you'd like.
BetterHelp will then match you with a counselor who has helped similar people deal with similar types of bereavements. You can change to a different counselor for any reason at any point in the future.
With a BetterHelp subscription, you will get one weekly therapy session, which you typically schedule in over a video call, but you can get counseling over live chat as well, if you'd prefer.
You also get access to a text messaging system, which you can use to talk to your therapist during the day, whenever you're feeling overwhelmed. This allows you to raise any thoughts, feelings or difficulties immediately, rather than waiting for the next scheduled session.
One of the downsides of BetterHelp is that they do not offer art therapy or group therapy, which are effective therapeutic methods sometimes used in grief counseling. Instead, counselors might use techniques such as Cognitive-Behavioral Therapy, which is also highly effective at helping with grief.
Grief.com is an online directory that helps you search for a grief counselor near you. This site is run by David Kessler, an expert on grief and loss, and the best-selling author of multiple books that closely examine the process of grieving.
Upon visiting the website, you will find a list of licensed counselors, all of whom specialize in grief counseling and grief therapy. This directory has an extensive list of therapists, including counselors outside of the US.
By selecting your country and your state, province, or county, you can find professionals near you who provide grief counseling. This platform lists the therapists' contact information, address, and credentials. such as their qualifications and licensing.
You can also read about the services that each therapist offers, and decide whether they're a good fit before you contact them, which makes the process of finding a therapist easier.
Grief.com suggests that you call the therapist you want to talk to, ask them about their therapy style, and discuss the fees beforehand. However, you can also message some of the therapists, at least those who have an email address or contact form on their website.
This site is free to use for both clients and therapists who want to register. The one issue is, you'll need to spend a bit of time searching for the right bereavement counselor. You can't get matched with a therapist automatically, like you can on BetterHelp.
Online vs face-to-face grief counseling
When choosing between online and face-to-face therapy, there are many different factors to take into account.
One of the biggest benefits of online counseling is its practicality and convenience. This type of counseling allows you to attend therapy from the comfort of your own home.
Losing a loved one is not only devastating emotionally and psychologically, but also demanding on a practical level. The time immediately after the loss can be hectic, especially when including funeral arrangements and all other tasks that need to be handled to give your loved one a proper goodbye.
If you have lost a family member, the roles within the family and the dynamics of the family might change. For example, if you've lost your partner, you might find yourself with too many additional tasks to handle while you're still going through the process of grieving.
Online therapy can come in handy if you're feeling like you have no time for counseling.  Furthermore, if you've lost a family member, you might not want to burden those around you. Online therapy is discrete, and you can talk to a therapist outside of business hours, if you'd prefer to do so.
Also, for some people, you might find it easier to open up with a therapist over the internet. However, this varies from person to person – you may also feel more comfortable speaking with a grief counselor face-to-face.
You may also find that attending in-person counseling is more straightforward, in that there are no technical complexities involved, such as having a good internet connection. This is especially true if you live somewhere that has a large number of good-quality counselors available nearby, meaning you don't need to travel far to find a qualified grief counselor.
Also, some types of therapies, such as art therapy, which is particularly useful in grief counseling, cannot be conducted online.
How does grief counseling help?
Grief counseling is a type of counseling that deals with feelings of grief, utilizes strategies to better cope and accept the loss of a loved one, and helps you adapt to life without your friend or family member.
Loss is a natural part of life, and all the accompanying emotions, albeit sometimes confusing and difficult to understand, are completely natural and necessary.
Even though people around us want to help in these situations, they don't always know the right thing to say, or they might even be affected by the same loss, making them unable to provide proper support because they're in the same situation.
In these instances, talking to a licensed professional with experience helping bereaved people can be of great help.
If you're experiencing physical or behavioral symptoms of grief, such as loss of appetite, trouble sleeping, or even prolonged physical pain, it might be worth looking into grief therapy. In the case of physical symptoms, you should seek help from your doctor, and they'll refer you to someone who can provide in-person support.
Even though there aren't that many differences between regular grief counseling and grief therapy, grief therapy deals with more pervasive symptoms of bereavement, especially those that hinder you from functioning in your everyday life.
Types of grief therapy
Below, we've looked at different types of grief therapies available to people who are experiencing prolonged and intense grief.
Complicated grief therapy
In the normal process of grieving, grief and all accompanying emotions subside over time, acceptance slowly occurs, and people eventually adapt to their new lives, without the person they're lost.
Complicated grief, or complicated bereavement disorder, can occur in people whose grief doesn't fade over time, and instead negatively affects their everyday lives.
In order to diagnose complicated grief, the grief and accompanying emotions have to be just as strong as in the beginning, and the loss had to have happened at least six months ago.
Some of the symptoms of complicated grief are:
Intrusive thoughts about the deceased person
Obsessive thinking about the loss
Inability to accept that the loss occurred
Feeling a loss of purpose
Suicidal thoughts
Avoiding reminders of the loss
Some behavioral and physical symptoms might occur too, such as insomnia, loss of appetite, headaches, and a weakened immune system.
If you suspect you might be experiencing complicated grief, it would be best to look for a complicated grief therapist, or seek help from your doctor, especially if suffering from physical symptoms.
Traumatic grief therapy
Traumatic grief therapy is a special type of grief counseling that doesn't only help grieving people, but also helps with recovery from traumatic events.
Some people might have witnessed the death of their loved one, or the death happened so suddenly and unexpectedly that it qualifies as a traumatic event. In these cases, the grieving person has to deal with both trauma and grief.
Traumatic grief therapy is tailored to treat both your trauma response, and help with the grieving process.
The first step in traumatic grief therapy is stabilizing and processing the trauma. Only after the traumatic experience is resolved will your therapist begin to address the grief and loss.
Techniques used in grief counseling
There are a number of different psychotherapeutic techniques commonly used in grief counseling.
Acceptance and Commitment Therapy (ACT)
Acceptance and Commitment Therapy is a form of psychotherapy that helps you to accept negative feelings in order to commit to healthier, more constructive activities.
This therapeutic approach teaches you to embrace your feelings when they're useful, and put them aside when they're not.
When applied in grief counseling, this approach can help the grieving person to accept their emotions, no matter how difficult or confusing. It can also help you to accept the loss you've faced, and adjust to life without a loved one.
This approach can be especially useful when dealing with complicated or prolonged grief.
Cognitive-Behavioral Therapy (CBT)
Cognitive-Behavioral Therapy is one of the most effective therapeutic approaches in general, which can also be helpful when dealing with grief. The core principle of Cognitive-Behavioral Therapy is identifying negative thought patterns and learning how to change them.
Cognitive-behavioral therapists believe our thought patterns affect our behavior, which in return affects our thoughts, and captures us in a vicious cycle. CBT professionals help to address both thoughts and behaviors, work to change them, and establish healthier patterns in their place.
When dealing with grief, negative thought patterns can affect our behavior, which then stands in the way of healing, accepting, and moving on.
Art therapy
Art therapy is the type of therapy that relies on the idea that some emotions are too difficult to express with words. Instead, these thoughts come out in their truest form when expressed through creativity.
If you've lost a loved one, you might find it overwhelming to talk about the experience, or you might lack the right words to express your grief. In art therapy, you might draw, paint, or use other creative means to express your emotions, helping to promote emotional healing.
Group therapy
If you've lost a loved one, you might feel like people surrounding you don't understand you, or you might not want to burden them with the thoughts you're experiencing.
Group therapies are one of the best ways to meet people who are going through the same thing as you. They can offer understanding, support, and advice.
These therapy sessions are mediated by a licensed professional who knows which subjects to address, while allowing every participant enough time to talk freely about their thoughts and feelings.
Grief counseling certifications and licensing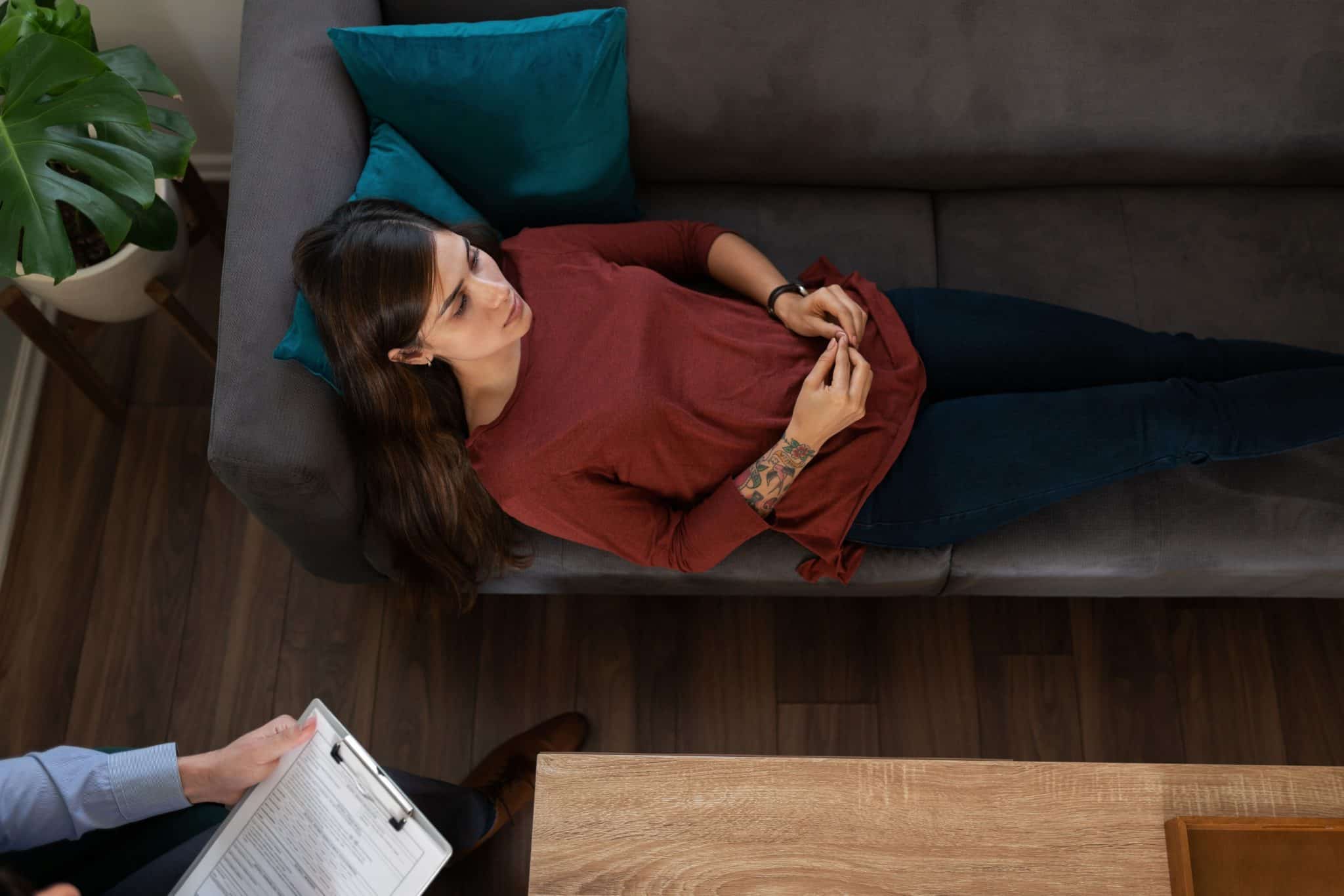 A qualified grief counselor has the necessary credentials to provide this type of therapy treatment. Some of these mental health professionals are certified in grief counseling specifically, while others offer a broader range of counseling services, including helping people to overcome grief.
All grief counselors must have a Master's degree in social sciences, psychology, nursing, or behavioral sciences, in most states. They must then become licensed in their state, having passed the required exams, and completed a given number of practical counseling hours, under supervision.
After obtaining the proper education, some professionals choose to finish additional training and pass competence exams to become a Certified Grief Counselor (CGC).
In order to keep their license, Certified Grief Counselors have to practice grief counseling, and must renew their qualifications every four years.
It's not strictly necessary to seek out a CGC to get help with overcoming bereavement. However, these types of counselors specialize specifically in helping grieving people and families, which can be quite helpful for those seeking this type of support.
Conclusion
The process of grieving can be stressful and demanding, especially if you feel like there's no one to talk to and no one who truly understands what you're going through. Finding the right counselor to help you deal with the grieving process is a crucial step towards moving on.
If you have any questions or you're still not sure how to find the right grief counselor, leave us a comment below and we'll get back to you.