Grief counseling for children is a specialized area of mental health support that focuses on helping young individuals cope with losing a loved one or significant life changes.
In many cases, children may struggle to process their feelings, making it challenging to navigate the various stages of grief effectively.
Therapists and counselors must tailor their approach to each child's age, emotional maturity, and individual circumstances. By doing so, they can help children make sense of their loss, develop healthy coping skills, and ultimately heal from their grief.
Short Summary
Understanding age-related grief reactions empowers adults to provide valuable support and guidance to children and adolescents in their healing journey.
Coping skills and strategies are vital in supporting children through grief counseling, utilizing books, rituals, interventions, family, and professionals for emotional growth and resilience.
Various professionals offer grief counseling to children in diverse settings, aiming to build resilience, facilitate adaptation to loss, and promote overall well-being.
Understanding Grief in Children
Grief is a natural and complex emotional response that children experience after the loss of a loved one. It often involves a wide range of emotions, such as sadness, anger, confusion, guilt, and even relief.
Children's understanding of death and grief changes with their age and cognitive development. Very young children may not comprehend the permanence of death and might expect the deceased to return after some time.
As they grow older, the permanence of death becomes more evident, but their understanding of the cause and implications may still be limited.
Providing grief support to a child is an ongoing process, as they may experience "regrief" phenomena, where they revisit their grief as they grow and their understanding of the loss evolves. Being consistently present and offering support throughout this journey ensures the child's emotional well-being.
Emotional Support
One essential aspect to consider in helping grieving children is the expression of emotions. It is crucial to create a safe and supportive environment for them to express their feelings openly.
Acknowledging the child's feelings validates their emotions, making it easier for them to navigate through the grieving process.
Grieving children might experience a range of mental health symptoms, such as depression, anxiety, and even trauma. It is essential to identify and address these symptoms to provide appropriate support.
Counseling or therapy sessions may be necessary to help children process their loss and develop adequate coping strategies.
Age-Appropriate Information
In addition to emotional support, grieving children need age-appropriate information to understand and process their loss fully. Adults should use simple and clear language to explain the situation and answer any questions the child might have.
Being honest and open about the loss helps the child make sense of the situation and reduces the likelihood of confusion.
Effects of Loss on Different Age Groups
The impact of loss on children varies depending on their age group. It is essential to understand how grief affects different age groups, such as toddlers, preschoolers, and teens, to provide appropriate support and guidance during their grieving process.
Toddlers and Preschoolers
Children may not fully understand the concept of death at this stage and may perceive it as temporary. They may experience separation anxiety, eating and sleeping habits changes, and regress to earlier behaviors, such as bedwetting or thumb sucking.
Maintaining routines and providing a safe, nurturing environment during this time is crucial. Encourage them to express their feelings through play and creative activities, as this can be a helpful coping mechanism for young children experiencing grief source.
Elementary School-Age Children
As children grow and develop, their understanding of death increases. They may become more curious about the details and ask questions to make sense of their loss.
At this age, children benefit from clear, age-appropriate explanations, and truthful answers to their questions. They may show signs of anger, sadness, guilt, or even fear of their own death.
Providing reassurance, comfort, and opportunities to talk openly about their feelings can help them process their grief.
Teens
Grieving adolescents may experience a wide range of emotions, such as anger, sadness, guilt, or even relief – particularly if the deceased has been suffering from a prolonged illness. They may struggle with their identity and feel isolated from their peers.
Teenagers may also engage in risk-taking behaviors or withdraw from family and friends as a coping mechanism.
A supportive and non-judgmental environment for them to express their emotions and seek help from trusted adults or counseling services can be beneficial.
Signs and Symptoms of Grief
Grief is a complex and multifaceted experience for children, as it is for adults. Recognizing the signs and symptoms is an essential step in providing support and counseling. Grief may manifest in numerous ways, including anger, guilt, sadness, irritability, and loneliness.
It is important to remember that every child may express grief differently, and the symptoms may vary depending on their age and stage of development.
Signs & Symptoms
Description
Anger
Common reaction to grief.
May be directed towards themselves, others, or even the situation that led to the loss.
Guilt
May arise from feelings of responsibility or regret for actions not taken before the loss occurred.
Sadness
Natural response to the emotional pain of losing someone.
Children may cry more, become withdrawn, or lose interest in previously enjoyable activities.
Nightmares
Can be an indication of a child's struggle to cope with the loss.
Irritability
May surface as the child grapples with their emotions, leading to mood swings and outbursts.
Loneliness
May arise from the absence of the loved one or the perceived distance from peers as they cope with their loss.
Regression
The act of reverting to younger behaviors can indicate the child's struggle with emotional pain.
Insomnia
Can be a sign of emotional distress, anxiety, or sadness, preventing the child from finding restful sleep.
Caregivers, counselors, and educators must be vigilant in identifying these signs and symptoms, ensuring that they provide appropriate care and support to help grieving children navigate their complex emotions.
Coping Skills and Strategies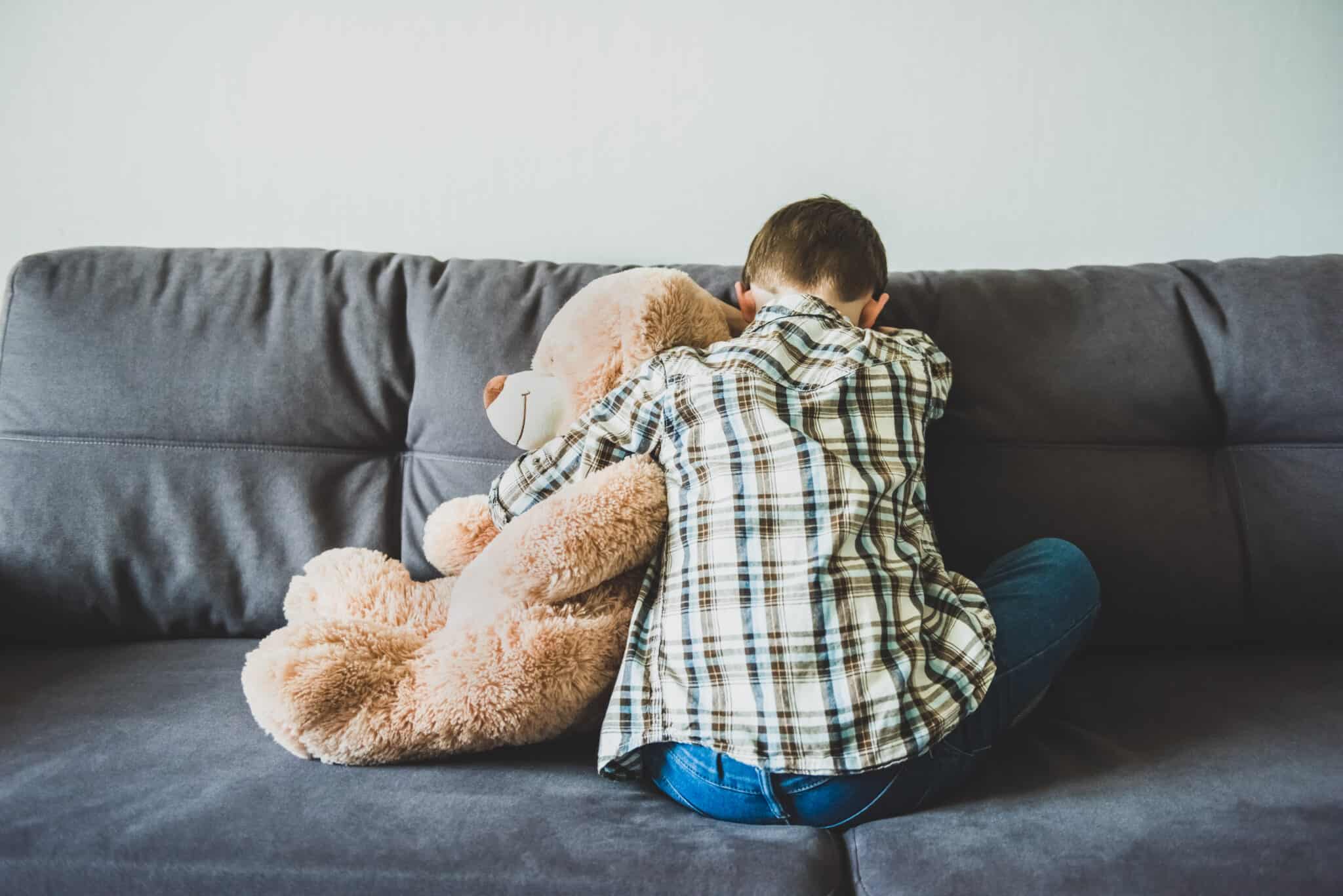 Grief counseling for children plays a vital role in helping them navigate through the complexities of loss. It requires developing and utilizing effective coping skills and strategies to ensure the child's well-being.
Coping skills can vary according to the child's age, understanding of the situation, and the support they receive in expressing and managing their emotions. Several methods can be employed to aid this process.
Books
Books can be a valuable tool in helping kids cope with grief by providing comfort, understanding, and a safe space to explore their emotions. Through relatable characters and stories, children can find solace, validation, and insights to navigate the complexities of their grief journey.
Rituals
Rituals also serve as essential tools for children in coping with grief. Participation in a funeral or other commemorative events can give them a sense of closure and an opportunity to say goodbye.
For younger children, saying goodbye to a beloved pet or a favorite toy can be a gentle way to introduce them to the concept of loss. Maintaining open communication with the child and encouraging them to express their thoughts and feelings is crucial.
Guidance and Support
The guidance and support of family, teachers, and mental health professionals are indispensable in helping children navigate their grief. Providing a safe space for children to share their emotions and experiences is essential.
To further enhance grief coping skills, service providers may consider implementing trauma interventions specifically designed for children, such as coping skills and trauma narrative processing. This approach involves the combination of traditional coping strategies with expressive activities to allow children to process their emotions and experiences.
Grief Therapy for Children
Grieving children often struggle to understand and express their feelings. A well-trained professional, such as a grief counselor, can play a crucial role in helping a child process their grief and navigate the complexities of loss.
Skilled professionals can employ various counseling techniques and use available resources to support grieving children and their families.
Child Grief Counseling Techniques
One effective approach for helping grieving children is through tailor-made counseling techniques. These techniques can include art therapy, play therapy, and narrative therapy.
| Type of Therapy | Description |
| --- | --- |
| Art Therapy | Allows children to express their emotions visually, using art materials to communicate. |
| Play Therapy | Provides an opportunity for children to explore their feelings through play, helping them articulate their grief in a non-threatening environment. |
| Narrative Therapy | Helps children create a story about their loss, enabling them to better understand the event and their emotions. |
To support children further, resources such as books, online forums, and support groups can provide additional guidance for coping with grief.
Bereavement support for children details the importance of education and counseling for grieving children and the value of comprehensive intervention programs in schools.
Helping Children with Anticipatory Grief
Anticipatory grief occurs when an individual experiences grief before losing a loved one. This type of grief can be particularly challenging for children to process on their own.
Professional help, such as grief counseling, can offer assistance in coping with the complex emotions associated with anticipatory grief, providing the necessary resources and support for the child and their parents.
By incorporating these techniques and offering necessary support, children can better understand their emotions and begin the journey toward healing.
Child Grief Counseling Near Me
Grief counseling can be a critical support for children experiencing loss. It is essential to find appropriate services for grieving children to help them process their feelings and cope with the changes in their lives.
There are numerous options for child grief counseling, including specialized therapists, support groups, and online resources.
Specialized Therapists
Specialized therapists are trained to work with children and understand the unique aspects of child development and grief. Many therapists have experience working with different age groups and can tailor their approach to best support the needs of each child.
Support groups
Support groups offer an opportunity for children to connect with peers who have experienced similar losses. These safe spaces can provide comfort, understanding, and opportunities for shared healing.
Many organizations offer grief support groups tailored specifically for children, helping them to work through their emotions in an age-appropriate environment.
Online Resources
Online resources serve as another source of support that families can access from the comfort of their own homes. Websites such as Grief.com, webinars, and virtual support groups provide guidance and understanding for both grieving children and their caregivers.
By leveraging digital tools, children can connect with a broader support network without geographic limitations.
Final Thoughts
Grief counseling for children can be a valuable resource for helping them navigate the complex emotions they may experience during the bereavement process. A counselor should consider the child's age, developmental stage, and personal circumstances to design an appropriate treatment plan.
Additionally, the focus of grief counseling for children should be not solely on the loss itself but on their overall well-being and adjustment during this challenging time. For grief counseling to be effective, it is essential to create a supportive environment in which children can openly express their emotions and develop healthy coping mechanisms.
If done properly, grief counseling can provide children with valuable tools to help them process their loss and emerge from the grieving process with a greater sense of understanding and resilience.
Frequently Asked Questions
What are the main activities used in grief therapy for children?
Grief therapy for children often involves various creative and expressive activities, such as art, play, and storytelling. These activities help children process their feelings and emotions, as they may not have the vocabulary or emotional maturity to express themselves verbally.
How can a grieving child be supported?
Supporting a grieving child involves being patient, understanding, and empathetic. Listening to their questions and emotions is crucial, providing age-appropriate answers when possible.
Encourage children to express their feelings and allow them space and time to grieve in their way. It may be helpful to maintain a routine, offering a sense of consistency and stability during a difficult time.
If a child struggles with grief, seeking professional support from a grief counselor or therapist could be beneficial.
What are the stages of grief explained for kids?
The stages of grief can be simplified for children as follows:
Shock: Feeling numb or surprised by the news of the loss.
Sadness: Experiencing feelings of deep sorrow and crying.
Anger: Possibly becoming angry or blaming others for the loss.
Bargaining: Wondering if anything could have been done to prevent the loss.
Acceptance: Gradually coming to terms with the loss and feeling more at ease.
It's important to remember that not every child will experience these stages in a linear sequence. Some children might move back and forth between stages.
What are common tasks of grief for children?
In processing their grief, children might focus on the following tasks:
Accepting the reality of the loss: Understanding that the person is no longer physically present.
Experiencing the pain of grief: Allowing themselves to feel the emotions associated with the loss.
Adjusting to a new reality: Adapting to life without the deceased person and eventually finding a new sense of normalcy.
Rediscovering connections: Developing new relationships and interests while maintaining the memory of the deceased.
By addressing these tasks, children can work towards healing and moving forward healthily.