In the intricate tapestry of relationships, there exists a transformative force known as the Gottman Method Couples Therapy.
This pioneering approach, developed by renowned psychologists Dr. John Gottman and Dr. Julie Gottman, is built upon decades of research and clinical practice.
It offers couples a profound opportunity to unravel conflicts, rebuild trust, and rekindle the flames of love.
Understanding the Gottman Method
The Gottman Method is a research-based couples therapy approach that focuses on improving relationship quality and satisfaction.
Developed by Dr. John Gottman and his wife, Dr. Julie Gottman, this method has its foundation in decades of research on couples' interactions, communication patterns, and overall well-being.
In this therapy, couples work together to create a deeper understanding of each other's life dreams and aspirations.
This process involves exploring personal values, priorities, and long-term goals, fostering a sense of connection and mutual support between partners.
A core principle in the Gottman Method is developing and maintaining a strong, healthy relationship philosophy.
This involves cultivating a mindset of appreciation, respect, and commitment towards one another, which serves as a stable foundation for the relationship.
Shared Meaning
An important aspect of the Gottman Method is the focus on shared meaning.
Couples are encouraged to explore their individual and shared values, beliefs, and traditions and to co-create a shared vision for their relationship.
This process strengthens the emotional bond between partners and facilitates a strong sense of unity and purpose in the relationship.
The Gottman Method offers couples a comprehensive and evidence-based approach to improving their relationship, addressing various aspects crucial for long-term success and happiness.
Components of the Gottman Method
The Gottman Method, a highly regarded couples therapy approach, is a thorough and research-supported framework aimed at enhancing and fortifying relationships.
At its heart, this method recognizes that the health and longevity of a partnership depend on a deep understanding of the components that shape it.
The Sound Relationship House
One of the central components of the Gottman Method is the Sound Relationship House.
This theory provides a framework for understanding the essential elements of a healthy, lasting relationship.
The Sound Relationship House consists of seven levels or principles, each representing a crucial aspect of a successful and satisfying relationship:
Level
Description
Build Love Maps
This level emphasizes the importance of getting to know your partner on a deep and intimate level.

It involves continually updating your understanding of your partner's thoughts, feelings, and experiences.
Share Fondness and Admiration
In this level, couples are encouraged to express appreciation, affection, and admiration for each other regularly.

Cultivating positive feelings towards your partner is essential for a strong relationship.
Turn Toward Instead of Away
This principle centers on the idea that small bids for connection should be acknowledged and responded to in a positive way.

It involves being emotionally present and engaged with your partner.
The Positive Perspective
This level emphasizes maintaining a positive outlook on your partner's intentions and actions, even in challenging times.

It involves giving your partner the benefit of the doubt and assuming positive motives.
Manage Conflict
Conflict is a natural part of any relationship. This level focuses on developing effective conflict-resolution skills, including active listening, compromise, and problem-solving.
Make Life Dreams Come True
Partners are encouraged to support each other's individual goals and dreams. A successful relationship involves helping your partner achieve their aspirations.
Create Shared Meaning
In this final level, couples are encouraged to build a shared sense of purpose and meaning in their relationship.

This can involve creating traditions, rituals, and a shared vision for the future.
The Four Horsemen
The Gottman Method also addresses the Four Horsemen, which represent destructive communication patterns that can negatively affect a relationship.
The Four Horsemen are:
Criticism: Attacking one's partner by focusing on their flaws or character deficiencies rather than discussing specific problems or concerns.
Defensiveness: Responding to perceived criticism by counterattacking or playing the victim, which can escalate conflicts.
Contempt: Displaying a sense of superiority or disdain towards one's partner, eroding the emotional bond within the relationship.
Stonewalling: Withdrawing from conflicts or conversations leading to a lack of communication and unresolved issues.
Assessment in Gottman Method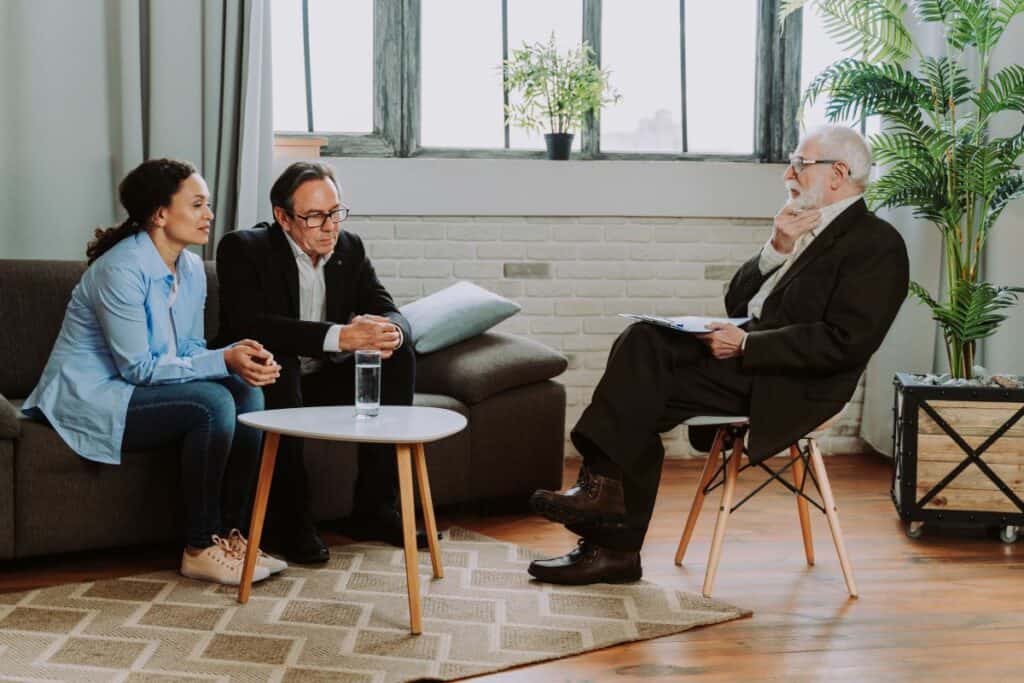 Assessment in the Gottman Method is the critical first step towards understanding the dynamics of a relationship, identifying areas that need improvement, and crafting effective interventions for couples in therapy.
Gottman Assessment Process
The Gottman Method Couples Therapy utilizes a comprehensive assessment process to thoroughly understand the strengths and weaknesses of a couple's relationship.
This process typically involves a combination of individual interviews and questionnaires that focus on various aspects, such as verbal communication, marital conflicts, and arguments.
The therapist can develop a tailored treatment plan to address the couple's specific needs by gathering this information.
During the initial assessment, couples will attend a conjoint session, followed by separate individual interviews with each partner.
Throughout the assessment process, the therapist gathers data on the couple's interaction patterns, emotional distance, and level of chronic conflict.
As part of the evaluation, couples might also discuss specific problems, such as sexual difficulties or infidelity, that may be contributing to their relationship issues.
Dealing with Relationship Problems
One crucial aspect of the Gottman Method is identifying perpetual problems within a relationship that may be affecting communication, trust, and satisfaction.
These problems can range from unresolved arguments to deeper emotional disconnects.
A key task for the therapist is to help the couple develop strategies for effectively managing these issues and fostering a healthier relationship dynamic.
By applying Gottman's principles to address relationship problems, couples can learn new ways to approach conflicts and communicate more effectively with each other.
This method encourages couples to improve their verbal communication skills and ultimately restore intimacy, leading to more satisfying and enriching relationships in the long term.
Interventions and Techniques
Gottman Method Couples Therapy is a research-based approach to help couples improve their relationships.
It emphasizes interventions and techniques targeting communication, intimacy, and connection, as well as addressing specific issues.
Communication and Conflict Management
This method uses several interventions to enhance communication and conflict management skills in couples.
One key intervention is turning towards each other when conflicts arise, as opposed to turning away.
Couples learn to listen actively, express empathy, and demonstrate understanding.
Moreover, the therapy helps couples recognize and manage the "Four Horsemen" of poor communication, which are criticism, defensiveness, contempt, and stonewalling.
Couples are taught healthy alternatives, such as using "I" statements and engaging in active listening.
Building Intimacy and Connection
One goal of Gottman Method Couples Therapy is promoting intimacy and connection.
To achieve this, couples are taught to build "love maps" in which they explore and understand each other's inner worlds, needs, and desires.
Turning towards each other, both emotionally and physically, is instrumental in fostering closeness and intimacy.
The method also encourages the practice of small acts of kindness, appreciation, and respect to maintain a strong emotional connection.
It emphasizes the importance of creating shared meaning by developing rituals, goals, and values that bind the couple together.
Addressing Specific Issues
Gottman Method Couples Therapy also addresses specific issues that might be affecting the relationship, such as money, parenting, addiction, and affairs.
The approach is flexible and can adapt to meet the unique needs of LGBTQ+ couples, relationships with trauma, or relationships with a person in recovery from alcoholism.
Frequently Asked Questions
What are the key principles of The Gottman Method Couples Therapy?
The Gottman Method Couples Therapy is based on Dr. John Gottman's research on relationships and involves:
Building a strong foundation of friendship.
Addressing perpetual problems.
Developing skills for managing conflicts.
The key principles underlying this approach are The Sound Relationship House theory, which focuses on nurturing empathy, understanding, and trust, and the Four Horsemen, which are harmful communication patterns that can erode a relationship.
How effective is this approach in improving relationships?
The Gottman Method has been found to be effective in improving relationships through various studies, including same-sex couples.
The efficacy of the method stems from its focus on concrete skills and behaviors that increase satisfaction, stability, and connection in relationships.
What are the main differences between The Gottman Method and EFT?
While both Gottman Method and Emotionally Focused Therapy (EFT) aim to improve relationships, they differ in their theoretical foundations and therapeutic techniques.
The Gottman Method is based on observational research and emphasizes skills to manage conflict and enhance connection.
In contrast, EFT is rooted in attachment theory and aims to reshape negative interaction patterns by fostering emotional bonding and creating a secure attachment between partners.
How many sessions are usually needed for noticeable results?
The number of sessions needed for noticeable results in Gottman Method Couples Therapy can vary depending on the couple's individual needs and progress.
However, most couples may experience improvements after an initial assessment phase, followed by 10-12 therapy sessions.
Couples must practice their skills outside the sessions to maintain and strengthen their progress.
Where can I find a certified Gottman therapist?
You can find a certified Gottman therapist through the Gottman Institute's directory, which allows you to search for therapists in your area who have completed Gottman Method training.
In addition, these therapists have demonstrated competency and a comprehensive understanding of the method, ensuring a higher quality therapeutic experience.