In recent years, there has been a growing awareness of the importance of mental health and well-being in all aspects of life. One area that has gained increased attention is the realm of couples therapy.
However, as acceptance and understanding of LGBTQ+ issues progress, therapists and clients alike have started to recognize the need for specialized approaches to couples therapy that address the unique experiences and relationship dynamics of gay couples.
Some key factors that differentiate gay couples therapy from traditional couples therapy include an increased focus on addressing issues related to homophobia, internalized shame, the complexities of coming out, and the need for therapists to be culturally competent and affirming of diverse sexual and gender identities.
Short Summary
The goal of gay couple therapy is to foster healthier relationships, improve communication, and promote personal growth for both partners.
By combining various therapeutic methods, therapists aim to provide effective, empathetic, and culturally sensitive support for gay couples, ensuring their relationships can evolve, grow, and thrive.
There are numerous options available for gay marriage counseling, both in-person and online.
Approaches to Gay Couples Therapy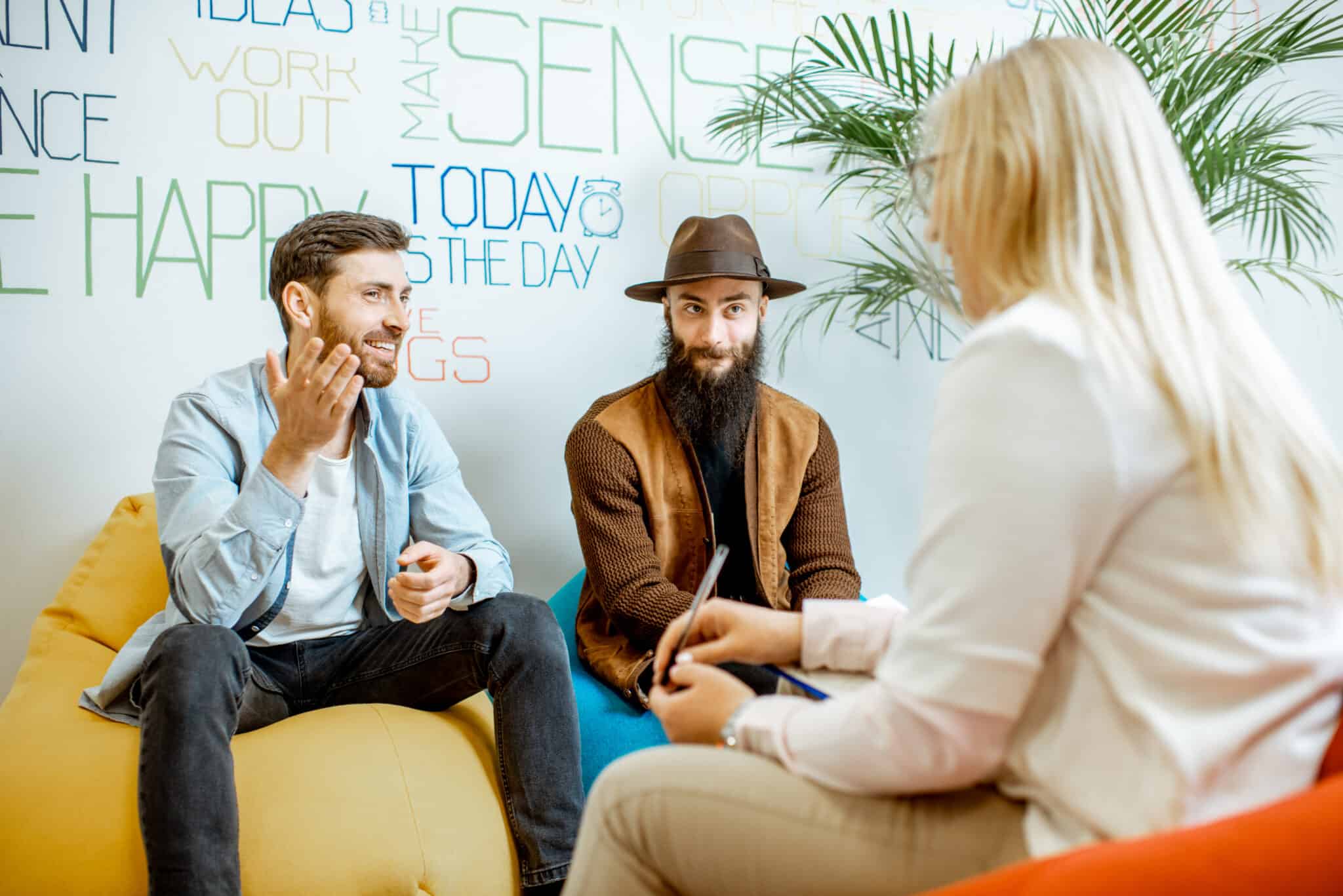 Various approaches are used to effectively address the unique needs and challenges faced by gay couples in therapy. Understanding that each couple is different is essential, and the most effective treatment methods may vary accordingly.
Some primary approaches for gay couples are sex therapy, Gottman Method Couples Therapy, Emotionally Focused Therapy (EFT), and Cognitive-Behavioral Therapy (CBT).
Sex Therapy
Sex Therapy is an essential component in addressing intimacy and sexual issues within any relationship, including those between members of the LGBTQ+ community. In gay couples therapy, therapists apply sex therapy techniques to help partners openly communicate their desires, boundaries, and concerns.
This approach enables therapists to create a safe and supportive environment for clients to explore and navigate their sexuality healthily.
Gottman Method Couples Therapy
Gottman Method Couples Therapy is a research-based approach that focuses on strengthening the connection between partners through improved communication and trust. The Gottman Method helps gay couples identify and address perpetual problems, establish shared meaning, and enhance their emotional connection.
By emphasizing the importance of understanding one another's needs and perspectives, this method can be beneficial for gay couples navigating unique challenges and societal pressures.
Emotionally Focused Therapy (EFT)
Emotionally Focused Therapy (EFT) is another valuable approach to gay couples therapy. EFT helps partners effectively understand and express their emotions, fostering a stronger emotional bond.
For gay couples, this method can provide support and guidance in addressing internalized homophobia, coming out, and dealing with discrimination, all of which can heavily influence a couple's emotional landscape.
Cognitive Behavioral Therapy (CBT)
Cognitive Behavioral Therapy (CBT) techniques can be highly beneficial for gay couples, as they can help individuals identify and challenge negative thought patterns that might affect their relationships.
CBT address issues such as low self-esteem, negative self-talk, and communication problems, which are common challenges faced by gay couples.
Common Challenges Faced by LGBTQ+ Couples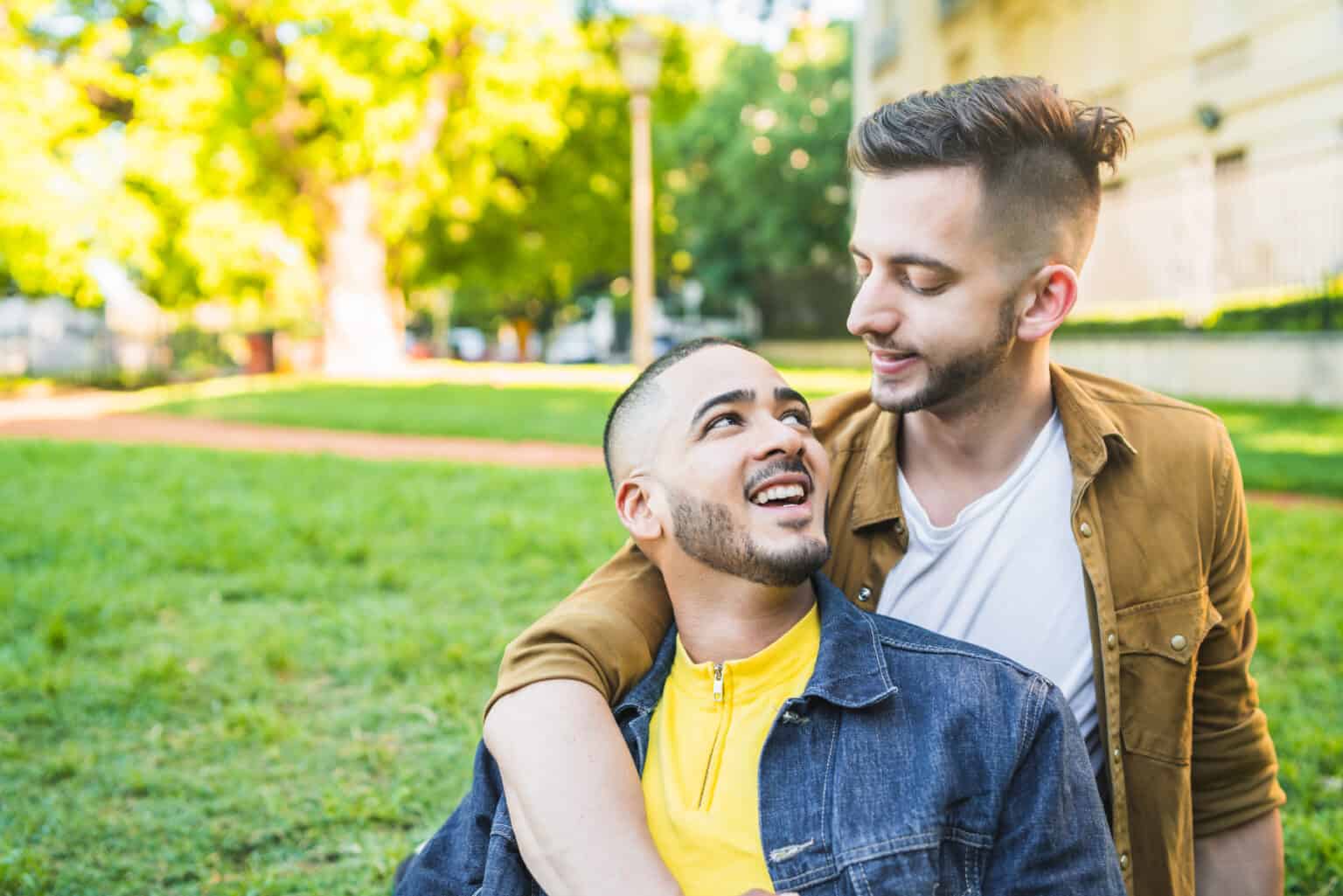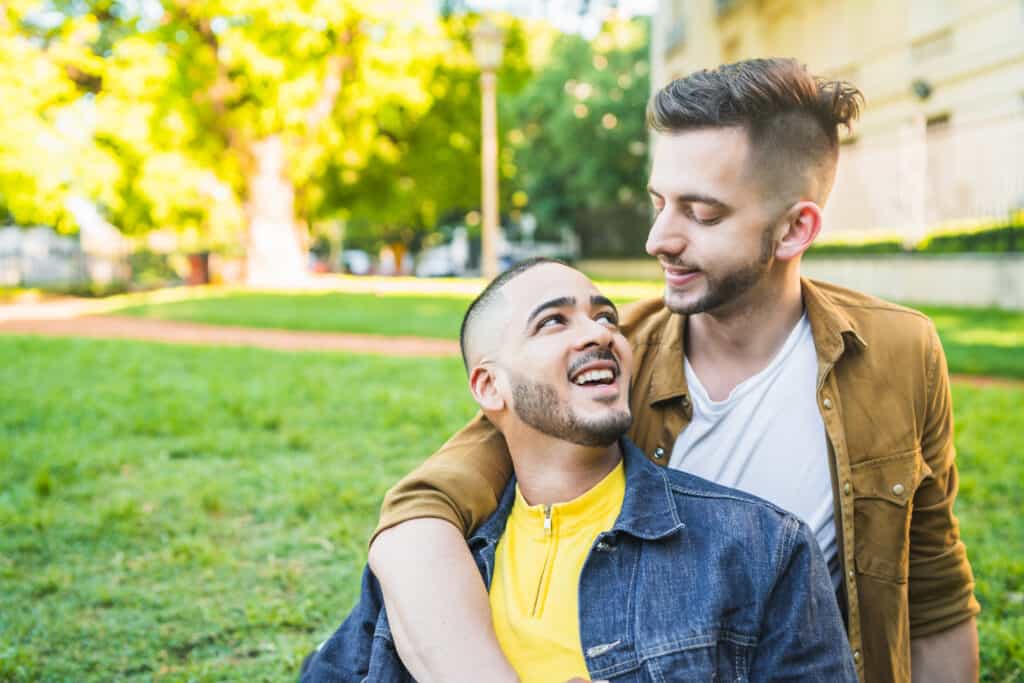 As we delve into the realm of gay couples therapy, it's essential to recognize the common challenges these couples face. Many relationship issues transcend sexual orientation, such as communication, trust, and intimacy.
However, gay couples contend with unique concerns from societal prejudices, discrimination, and minority stress, which may exacerbate traditional relationship hurdles.
Sex and Intimacy
Sex and intimacy can be fraught with anxiety for all couples, yet gay couples may face additional complications. Navigating one's sexual identity and preferences can lead to confusion or tension within the relationship.
Therapists must foster open communication, helping couples understand and embrace their unique expressions of love and sexuality.
Depression, anxiety, and mental health issues
Depression, anxiety, and mental health issues can affect anyone, but gay individuals may experience increased susceptibility due to a lifetime of discrimination, harassment, and stigma.
Therapists must address any mental health concerns and provide gay couples with the tools and support they need to maintain a healthy relationship in the face of adversity.
Communication
Communication lies at the heart of every relationship; however, it takes on heightened importance for gay couples.
Therapists must encourage open and honest conversations about trust, gender identity, sexual orientation, and personal boundaries. This helps facilitate greater understanding and empathy between partners, leading to a more harmonious relationship.
Conflict resolution
Conflict resolution is a topic commonly addressed in couples therapy. For gay couples, it's vital to recognize that some conflicts may stem from external pressures such as discrimination and coming out.
Therapists can help gay couples navigate these issues, teaching them effective strategies for managing and resolving conflicts empathetically and respectfully.
Minority Stress
It's important to address the unique challenges of minority stress for gay couples. This stress can strain relationships by exacerbating insecurities and perpetuating a sense of societal disapproval.
By validating their experiences and normalizing their relationships, therapists can empower gay couples to weather these challenges and build a supportive, nurturing partnership.
The Role of Therapists in Gay Couples Therapy
Therapists must be aware of their biases and assumptions about same-sex relationships and reflect on how these may impact their work with gay couples. This reflection allows them to be more open and attuned to the needs and experiences of their clients, providing more effective and compassionate therapeutic expertise.
The role of therapists in gay couples therapy includes:
Pursuing an extensive education and training in affirming therapy, social work, and other relevant disciplines
Adhering to the guidelines established by professional organizations, such as the American Psychological Association and the American Psychiatric Association
Being self-aware and challenging their assumptions about same-sex relationships
Providing a safe and supportive environment for clients to explore their relationships and work towards growth and healing
By embracing these responsibilities and upholding a high standard of professional practice, therapists can provide effective and compassionate therapy for gay couples.
Societal Factors Impacting Gay Couples
In exploring the societal factors impacting gay couples, it is essential to acknowledge the various challenges these couples face in different aspects of their lives.
Social Acceptance
One critical factor is social acceptance. While strides have been made toward LGBTQ+ acceptance and rights, many individuals and communities still hold discriminatory beliefs.
This lack of acceptance can lead to feelings of isolation and stress for gay couples, which may manifest in their relationships and warrant therapy.
Employment
Employment is another area where gay couples may experience difficulties. Discrimination in the workplace, such as bias during hiring processes and wage disparities, can create financial stress and diminish the couple's overall sense of stability.
Additionally, unsupportive work environments may contribute to job dissatisfaction and negatively impact mental health.
Stigma
Stigma plays a significant role in shaping the lives of gay couples. Internalized stigma may cause feelings of shame or guilt, which can pressure the relationship and contribute to a greater need for therapy.
Additionally, external stigma from friends, family, and the community can create social pressure that may lead the couple to hide their relationship or feel unsupported in their love.
Bullying and Discrimination
Bullying and discrimination can profoundly affect gay couples. Bullying experiences, whether in person or online, may lead to anxiety, depression, and PTSD. These mental health struggles can strain the couple's relationship and highlight the importance of therapy to address these traumas.
Legal Discrimination
Legal discrimination remains an obstacle for many gay couples. Although marriage equality has been achieved in numerous countries, there are still places where same-sex couples are denied the same rights and protections as heterosexual couples.
This inequality can create feelings of insecurity and anger, which may also impact the dynamics within the relationship.
Gay Marriage Counseling Options
In today's world, there are several options for gay couples seeking marriage counseling. Both in-person and online services are available, making it easier than ever to find the right type of support tailored to your specific needs and relationship.
Traditional In-Person Therapy
One option is traditional in-person therapy with a gay marriage counselor. Many therapists specialize in working with gay couples, addressing unique challenges that may arise in a same-sex relationship.
Finding a counselor who understands and can provide unbiased, nonjudgmental support for both individuals in the relationship is essential.
Online Counseling Services
Online counseling allows you and your partner to access therapy from the comfort of your home, providing a discrete and flexible option for those with busy schedules.
For added convenience, there are online counseling services specializing in couples therapy. For example, Regain is an online therapy platform that specializes in couples therapy and provides support to both heterosexual and LGBTQIA+ couples.
Tailored for individuals and couples navigating relationship or marital issues – ReGain is your online relationship therapy solution. Starting at $60/week, you can schedule one weekly live session and message your therapist anytime. Start your path to healthier connections with ReGain – fill out their online assessment form.
If you're seeking individual counseling that's tailored to provide support to the LGBTQ community Pride Counseling offers individual therapy from licensed therapists online.
Pride Counseling stands as a dedicated platform with therapists specializing in LGBTQIA+ affirming support. Each therapist has a minimum of 3 years and 1,000 hours of experience, ensuring high-quality care. With an affordable flat fee for one weekly live session and the flexibility to message your therapist at any time, Pride Counseling makes support accessible, starting at $60/week. Fill out the online questionnaire to match with your therapist.
Final Thoughts
Understanding the different types of gay couples seeking therapy is beneficial for addressing their unique challenges. Being aware of their configurations, preferences, and relationships can help guide therapy sessions in a way that helps to foster understanding, build empathy, and tailor treatment more effectively.
While providing therapy, therapists should focus on building trust, creating a safe environment, and fostering healthy communication between partners. By doing so, they can help couples achieve a more fulfilling and meaningful relationship.
When searching for a suitable counselor, whether for in-person or online sessions, it is crucial to look for those experienced in working with gay couples and understand the unique challenges that may come up in a same-sex relationship.