In the realm of trauma-focused therapies, Cognitive Processing Therapy (CPT) shines as a transformative approach that offers individuals a structured pathway to heal from the emotional wounds of trauma.
Rooted in cognitive-behavioral principles, CPT empowers individuals to confront and reframe distressing thoughts and emotions, ultimately leading to recovery and post-traumatic growth.
In this exploration of Cognitive Processing Therapy, we embark on a journey to understand its principles, techniques, and the profound impact it can have on trauma survivors.
Understanding Cognitive Processing Therapy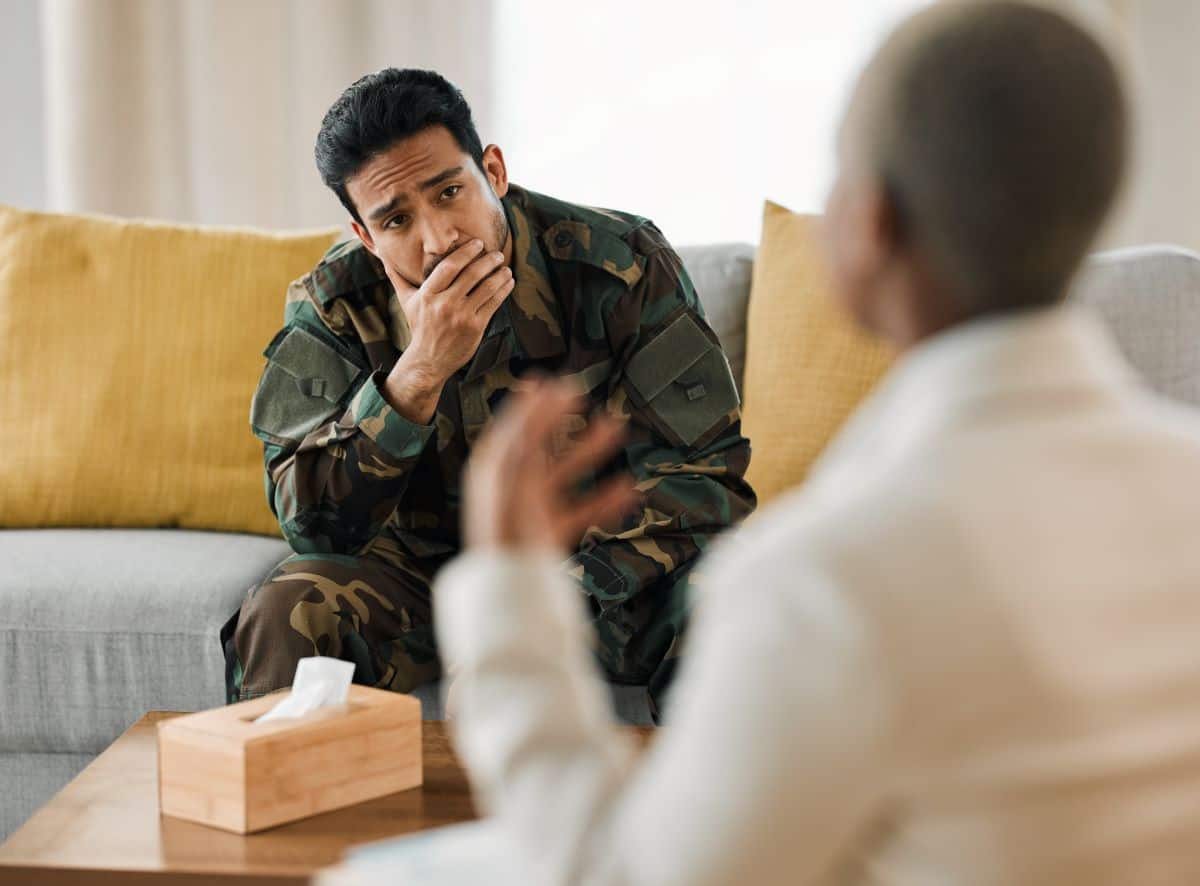 Cognitive Processing Therapy (CPT) is a type of psychotherapy designed to effectively treat post-traumatic stress disorder (PTSD) and related conditions.
This evidence-based treatment is grounded in the principles of cognitive behavioral therapy (CBT), a widely used approach for addressing various mental health issues.
CPT aims to help individuals understand and modify their dysfunctional thoughts and emotions following a traumatic event, ultimately reducing the severity of PTSD symptoms.
At the core of CPT is the concept of cognitive processing, which involves identifying and challenging irrational beliefs that might be related to the trauma.
Structured Sessions
During the course of treatment, clients participate in structured sessions with a trained therapist who guides them through a series of therapeutic activities.
These may include:
Psychoeducation: Educating clients about PTSD, its symptoms, and the ways in which thoughts, emotions, and behaviors are interconnected.
Cognitive restructuring: Helping clients identify, challenge, and modify unhelpful thoughts and beliefs contributing to PTSD symptoms.
Exposure therapy: Encouraging clients to confront and process their traumatic experiences in a safe and supportive therapeutic environment.
Cognitive Processing Therapy typically consists of 12 sessions, but the duration and structure may be adjusted depending on the individual's needs.
One of the key differences between CPT and other cognitive-behavioral treatments is its focus on the role of cognitions in the development and maintenance of PTSD symptoms.
By targeting these cognitions directly, CPT helps clients recognize and change maladaptive thinking patterns perpetuating their distress.
The Effectiveness of CPT
Cognitive Processing Therapy (CPT) has emerged as an effective and evidence-based treatment for individuals suffering from PTSD symptoms.
This therapeutic approach aims to help patients process and understand their traumatic experiences by addressing stuck points or unhelpful thought patterns that may impede recovery.
In addition to reducing PTSD symptoms, CPT has been shown to help alleviate depression and anxiety often associated with traumatic events, further bolstering its utility as a therapeutic approach.
The U.S. Department of Veterans Affairs has implemented CPT in various settings, enabling the therapy to reach a diverse range of individuals, including veterans and sexual assault survivors.
The evidence supports the efficacy and effectiveness of Cognitive Processing Therapy for treating individuals with PTSD symptoms.
Its widespread implementation across various settings, adaptability to group formats, and positive impact on both PTSD symptoms and related mental health issues make it a valuable therapeutic tool for clinicians and PTSD sufferers alike.
The Role of Emotions in CPT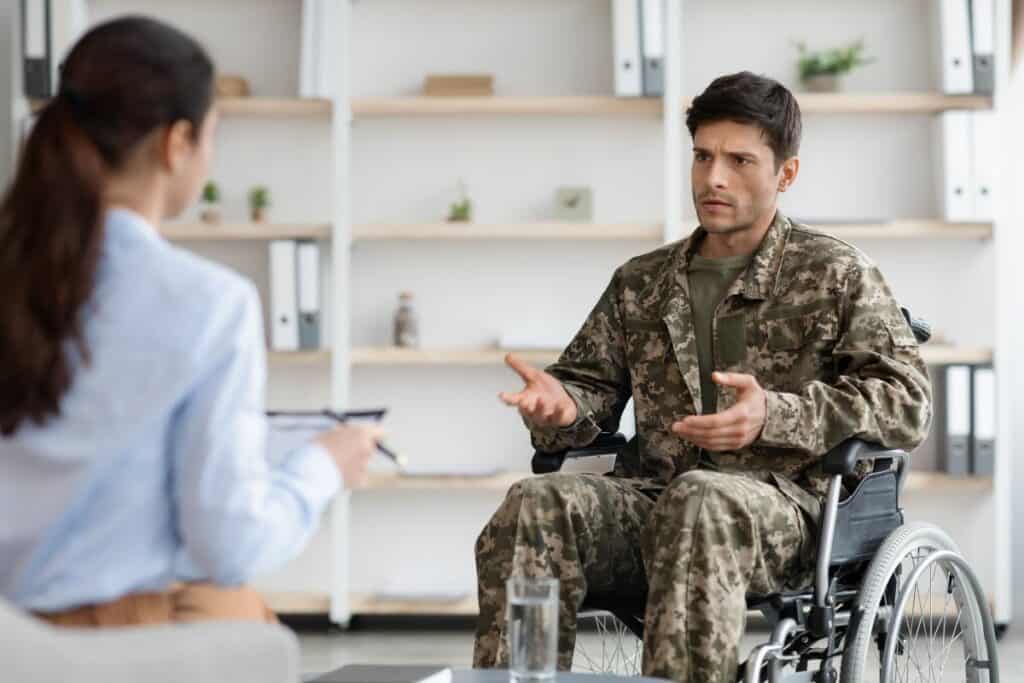 Cognitive Processing Therapy (CPT) is a well-established therapeutic approach for addressing the emotional and psychological consequences of traumatic experiences, such as sexual assault victims and military-related PTSD (post-traumatic stress disorder).
An essential aspect of this therapy focuses on the role of emotions in developing and treating trauma symptoms.
Emotions and Thoughts
Emotions such as fear, guilt, shame, sadness, and rage are commonly experienced by trauma survivors.
These emotions can often be linked to negative thoughts and beliefs about oneself, others, and the world.
Cognitive processing therapy addresses these feelings by helping individuals identify and challenge their distressing thoughts and beliefs, allowing them to restructure and process their emotional experiences in a healthier way.
The foundation of CPT lies in cognitive theory, which emphasizes the connection between thoughts, emotions, and behaviors.
When trauma-related negative thoughts persist, they can lead to emotional distress, feelings of powerlessness, and intrusive thoughts.
In this therapy, emotions play a crucial role in understanding the impact of trauma on an individual's mental well-being and daily functioning.
Challenging Emotional Reactions
CPT also works on enhancing safety, trust, power, and esteem, the crucial building blocks of a trauma survivor's emotional recovery.
Clients learn to view themselves and the world from a more balanced and less negative perspective by addressing and challenging their emotional reactions and thoughts.
The therapy assists clients in establishing a renewed sense of control and self-worth as they navigate their healing journey.
Throughout the treatment process, clinicians using CPT help clients explore their emotional reactions and beliefs about the traumatic event.
Understanding how specific emotions might contribute to trauma symptoms is key to facilitating effective therapy.
Components of CPT
Cognitive Processing Therapy (CPT) is a form of trauma-focused psychotherapy specifically designed to target the cognitive aspects of post-traumatic stress disorder (PTSD) in individuals who have experienced a traumatic event.
It involves various components, such as exposure therapy, Socratic questioning, worksheets, and homework assignments, to help clients process their trauma and change the negative thinking patterns associated with it.
Exposure Therapy
One essential component of CPT is exposure therapy.
This technique requires clients to confront and explore their traumatic memories in a safe environment, allowing them to understand the event better and reduce their emotional distress.
Exposure therapy is typically conducted in an individual format, with therapists guiding clients through the process during individual therapy sessions.
Worksheets and Homework Assignments
Throughout the course of CPT, which typically lasts for 12 sessions over 3 months, clients also engage in regular homework assignments and complete worksheets.
These tasks promote active participation in therapy and help clients learn and practice the skills necessary for processing their thoughts and emotions related to their trauma.
Worksheets are often used to track progress and provide a structured approach to identifying and challenging negative thoughts and beliefs.
Socratic Questioning
Another key component in CPT is the use of Socratic questioning, a technique that encourages clients to think critically about their beliefs and assumptions related to the traumatic event.
Therapists use this method to facilitate discussions and promote self-discovery, ultimately helping clients recognize and change their unfavorable thinking patterns.
Socratic questioning is crucial in guiding clients to shift their perspectives and adopt a more balanced, evidence-based understanding of their experiences.
Group Therapy
Although CPT is primarily delivered in an individual format, group therapy can also be beneficial in some cases.
This setting allows clients to receive support and feedback from peers who have experienced similar traumas.
Additionally, group therapy can help reduce feelings of isolation, allowing individuals to develop connections and learn from the experiences of others.
CPT and Veterans
Cognitive Processing Therapy (CPT) is an evidence-based treatment specifically designed to help veterans and military personnel suffering from post-traumatic stress disorder (PTSD) and other related mental health issues.
The therapy focuses on exploring and modifying negative thought patterns that stem from traumatic events.
Through the process, individuals gradually develop better understanding, control, and coping mechanisms for their PTSD symptoms.
Suicidal Ideation
One of the most critical areas of concern for the well-being of veterans is the prevalence of suicidal ideation.
PTSD can impair the individual's quality of life and hinder their ability to handle daily stressors.
CPT has shown promise in reducing suicidal thoughts by addressing cognitive distortions and the negative impact of traumatic experiences on their self-concept.
Dementia
A common comorbidity that can accompany PTSD is dementia in older veterans.
While there is no direct study linking CPT to treating dementia, addressing PTSD symptoms through CPT may contribute to a veteran's overall mental health and alleviate secondary cognitive impairment caused by PTSD.
Mania and Psychosis
In addition to PTSD, veterans may also experience symptoms of mania and psychosis.
While CPT is primarily focused on treating PTSD, its approach to modifying maladaptive thought patterns can indirectly help manage the cognitive and emotional challenges related to these conditions.
Further research is needed to determine the effectiveness of CPT in treating mania and psychosis directly.
Impact of CPT on Intimacy and Relationships
Cognitive Processing Therapy (CPT) is an evidence-based approach that has been proven effective in addressing the emotional and psychological consequences of trauma, particularly for survivors of sexual violence.
The therapy focuses on helping individuals process and reframe their thoughts, beliefs, and feelings surrounding traumatic events and can significantly impact their intimate relationships and overall quality of life.
Self-Esteem
One area where CPT has shown positive effects is improving self-esteem among survivors of sexual abuse.
By addressing cognitive distortions and self-blame, CPT can empower survivors to develop healthier emotional responses to past events and foster a more positive self-image.
This improvement in self-esteem can, in turn, facilitate better communication and trust within intimate relationships.
Emotional Regulation and Adjustment
Furthermore, CPT has been found to be effective in enhancing the emotional regulation and adjustment of survivors in various aspects of their lives, including interpersonal relationships.
Through the process of identifying and modifying maladaptive thoughts and belief systems, CPT can lead to better management of emotions, fostering healthier interactions within social networks, including intimate partners and family members.
Sexual Functioning
In addition to its impact on self-esteem and adjustment, CPT has also been shown to improve the sexual functioning of female trauma survivors.
Sexual dysfunction is a common consequence of traumatic experiences and can negatively impact intimate relationships.
Research has found that sexual functioning can improve following the completion of CPT, leading to enhanced intimacy and the potential for stronger connections within intimate relationships.
Application and Practice of CPT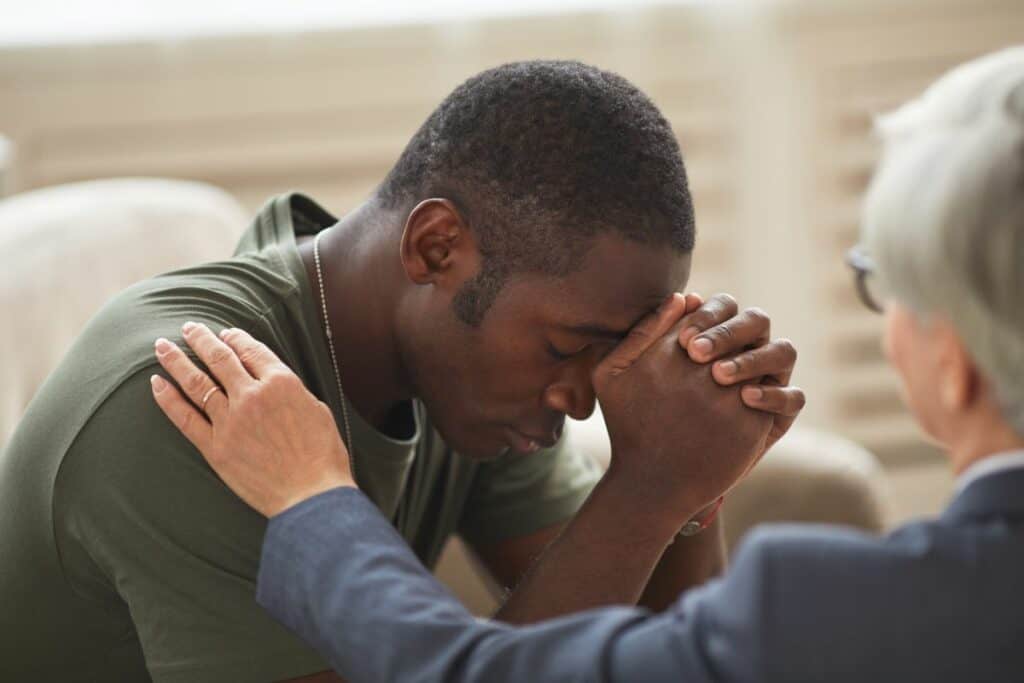 Cognitive Processing Therapy (CPT) is an evidence-based treatment method for Post-Traumatic Stress Disorder (PTSD) and other mental health conditions.
Education
In the field of education, mental health professionals must undergo specialized training, such as the courses offered by the American Psychological Association (APA) or the PTSD 101 program, to properly understand and apply CPT techniques in their practice.
Continuing education plays a vital role in ensuring that healthcare providers remain up-to-date with the latest developments in CPT and can effectively apply them to their clinical practice.
By participating in ongoing trainings, workshops, and conferences, clinicians can stay informed about new research findings and advances in the field, ultimately leading to better outcomes for the patients they serve.
Safe Therapeutic Environment
A crucial aspect of CPT is providing a therapeutic environment that ensures a safe and comfortable space for patients during the course of treatment.
In this setting, healthcare providers can effectively apply CPT methods, such as Socratic questioning and assimilation techniques, to help patients process their trauma.
The VA/DOD Clinical Practice Guideline recommends CPT as a first-line treatment for PTSD, further highlighting its efficacy and importance in clinical practice.
Therapy Sessions
The CPT treatment process typically involves a series of individual or group therapy sessions, where patients learn to identify and challenge unhelpful thoughts or beliefs related to their traumatic experiences.
By doing so, they can develop a more balanced and accurate understanding of the event, ultimately reducing the symptoms and impact of PTSD.
With advancements in technology, telehealth options are also becoming increasingly available for implementing CPT.
This allows patients to participate in therapy from the comfort of their own homes while still benefiting from the guidance of a trained healthcare provider.
Such flexibility not only enhances accessibility for patients but also enables providers to reach a broader population in need of treatment.
Final Thoughts
Cognitive processing therapy (CPT) has been found to be effective in treating post-traumatic stress disorder (PTSD) and improving the quality of life for many individuals.
Research on this therapy has demonstrated positive outcomes, including the reduction of PTSD symptoms and associated problems, such as trauma-related guilt.
However, treatment dropout rates remain a concern, with studies reporting a significant proportion of patients discontinuing CPT before completing the treatment.
This highlights the necessity for ongoing research to identify factors that contribute to dropout rates and explore interventions that could improve treatment adherence and overall effectiveness.
The ongoing improvement of CPT will ultimately help to ensure more effective and accessible treatment options for those affected by PTSD.
Frequently Asked Questions
What are the key steps involved in Cognitive Processing Therapy?
Cognitive Processing Therapy (CPT) is an evidence-based therapy used for treating post-traumatic stress disorder (PTSD) and other trauma-related mental health conditions.
It typically involves 12 weekly sessions, focusing on evaluating and modifying distorted trauma-related thoughts.
The main steps involved in CPT include:
Psychoeducation.
Identification of automatic thoughts.
Cognitive restructuring (challenging and modifying unhelpful thoughts).
Processing traumatic experiences.
Practicing new skills.
Reflecting on changes in beliefs and emotions.
How does CPT differ from CBT in treating PTSD?
While both Cognitive Processing Therapy (CPT) and Cognitive Behavioral Therapy (CBT) share a foundation in cognitive theory, there are differences in their approaches to treating PTSD.
CPT specifically targets the way individuals process traumatic experiences, with a strong focus on cognitive restructuring and challenging trauma-related thoughts.
In contrast, CBT for PTSD may also include elements like exposure therapy, relaxation training, and stress inoculation, not necessarily present in CPT.
What are some examples of CPT techniques?
Some common CPT techniques include the use of thought logs or worksheets to track automatic thoughts, challenging unhelpful thoughts through questions called Socratic dialogue, and writing impact statements to explore the effect of trauma on one's beliefs and emotions.
Additionally, practicing new thoughts and behaviors to promote healing and the use of mindfulness techniques can also support the CPT process.
Are there any specific themes addressed in Cognitive Processing Therapy for PTSD?
Cognitive Processing Therapy for PTSD usually focuses on five key themes, often referred to as "stuck points," related to the trauma:
Safety: Addressing feelings of ongoing vulnerability and mistrust.
Trust: Evaluating beliefs about trust in oneself and others.
Power and control: Exploring issues around helplessness and empowerment.
Esteem: Challenging negative self-image and beliefs about self-worth.
Intimacy: Addressing emotional closeness, trust, and boundaries in relationships.
These themes are addressed and processed throughout the course of CPT to help individuals overcome trauma-related thoughts and beliefs.