Eating disorders are complex and often have deep-rooted psychological origins.
Among the various treatment approaches available, cognitive behavioral therapy (CBT) has gained recognition as an effective method for addressing these conditions.
CBT focuses on identifying and modifying the patterns of thoughts and behaviors that contribute to the development and maintenance of eating disorders, empowering individuals to establish healthier habits and coping mechanisms.
Understanding Eating Disorders
Eating disorders are complex mental health conditions that involve disturbed eating behaviors and negative thoughts about one's body and food.
They can affect people of all ages, genders, and cultural backgrounds. The most common types of eating disorders include anorexia nervosa, bulimia nervosa, and binge eating disorder.
Anorexia Nervosa
Anorexia nervosa is characterized by an intense fear of gaining weight, leading to self-imposed starvation and an extreme drive for weight loss.
Individuals with anorexia often have a distorted body image, perceiving themselves as overweight even when they are severely underweight.
This disorder can have severe medical consequences, such as electrolyte imbalances, heart problems, and even death due to malnutrition.
Bulimia Nervosa
Bulimia nervosa involves cycles of binge eating, followed by purging behaviors to compensate for the perceived overeating.
Purging can include self-induced vomiting, excessive exercise, or the misuse of laxatives, diuretics, or other medications.
Bulimia can also lead to serious health issues, such as electrolyte imbalances, gastrointestinal problems, and damage to the teeth and throat due to frequent vomiting.
Binge Eating Disorder
Binge eating disorder is characterized by frequent episodes of consuming large amounts of food in a short period, often accompanied by feelings of lack of control, guilt, and shame.
Unlike bulimia nervosa, individuals with binge eating disorder do not engage in compensatory purging behaviors and often struggle with obesity.
This can lead to an increased risk of physical health issues, such as heart disease and type 2 diabetes.
Therapy for Eating Disorders
Cognitive behavioral therapy (CBT) has been found to be an effective treatment for eating disorders.
Through CBT, individuals can learn to recognize and change negative thought patterns, improve emotional regulation, and develop healthier eating behaviors.
This treatment approach helps individuals gain a better understanding of their disorder, which can lead to a more successful recovery process.
In addition to CBT, other therapies, such as family-based treatment and group therapy, can also be beneficial in the treatment of eating disorders.
Early intervention and a comprehensive approach to treatment are essential for improving outcomes and decreasing the risk of serious medical complications.
Cognitive Behavioral Therapy Overview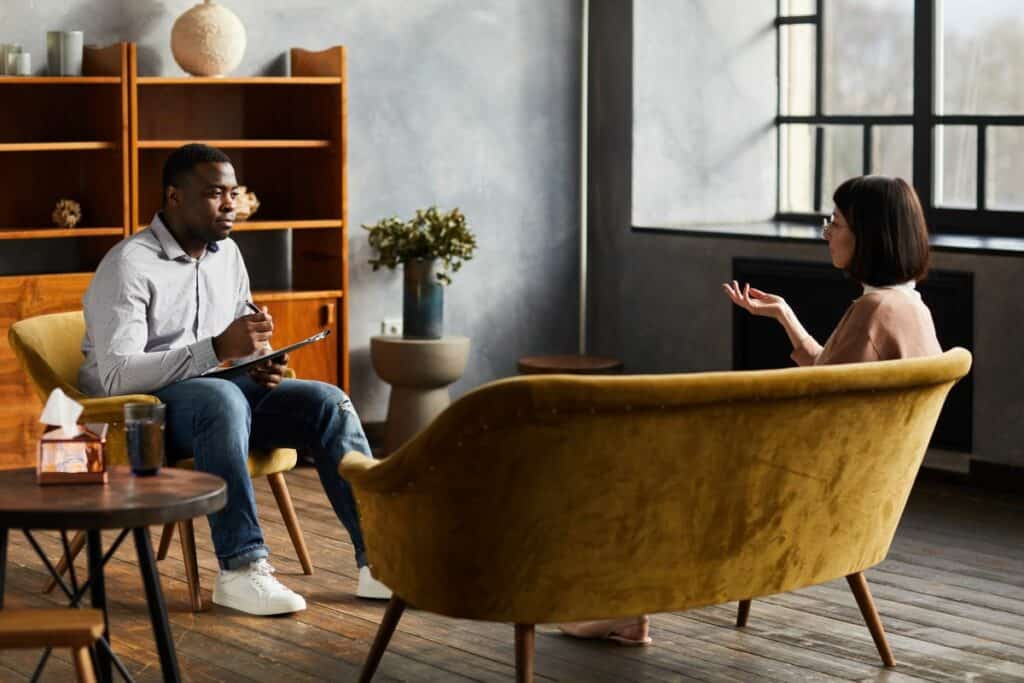 Cognitive Behavioral Therapy (CBT) is a widely used and evidence-based approach in the treatment of various psychological problems, including eating disorders.
It combines elements from cognitive therapy, which addresses thoughts and beliefs, and behavior therapy, which focuses on changing maladaptive behavior patterns.
In the context of eating disorders, CBT aims to help patients identify and modify the thoughts, beliefs, and behaviors that may contribute to their disordered eating habits.
By teaching individuals to recognize and change these patterns, CBT helps to improve their confidence in managing their eating behaviors and gradually achieve a healthier relationship with food.
Cognitive Distortions
One key component of CBT for eating disorders is addressing the cognitive distortions and negative thought patterns often associated with these conditions.
For example, individuals with eating disorders may have unrealistic beliefs about their body image, such as thinking they are overweight when they are at a healthy weight.
CBT therapists work with patients to challenge and modify such beliefs, helping them develop a more objective and balanced view of themselves and their bodies.
Behavioral Change
Another important aspect of CBT in treating eating disorders is focusing on behavioral change.
Therapists guide patients in setting realistic and achievable goals related to their eating habits, weight, and exercise routines.
This may involve learning healthier ways to cope with stress and manage emotions, improving communication skills, and practicing better self-care.
Through consistent practice and application of CBT techniques, patients can regain control over their eating behaviors and increase their overall confidence in their ability to maintain a healthy lifestyle.
While the process can be challenging, many individuals with eating disorders find that CBT provides them with the necessary tools to understand and overcome their condition, leading to a lasting improvement in their mental and physical well-being.
CBT-E: A Transdiagnostic Approach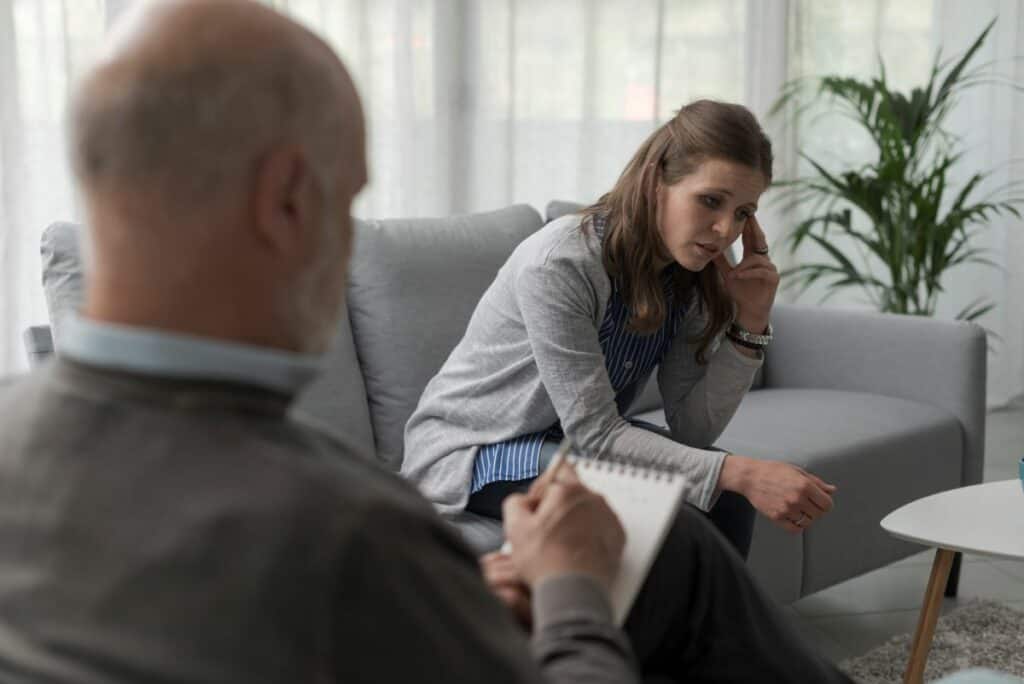 Enhanced Cognitive Behavioral Therapy (CBT-E) is a transdiagnostic approach that has been developed to treat a wide range of eating disorders.
This method aims to address common underlying psychopathologies that are present across various forms of disordered eating rather than targeting specific diagnostic categories.
CBT-E focuses on modifying maladaptive thoughts and behaviors associated with eating disorders, such as negative self-evaluation, perfectionism, and overvalued beliefs about weight and shape.
Flexibility
One of the key strengths of CBT-E is its ability to be adapted for individuals with different types and severities of eating disorders.
This flexibility allows therapists to tailor the treatment to the needs of each patient, while still targeting core psychological mechanisms that contribute to the development and maintenance of disordered eating.
CBT-E is often delivered in individual therapy sessions but can also be adapted for a group setting.
Group-based CBT-E can be effective in reducing eating disorder symptoms in a transdiagnostic sample of individuals suffering from various forms of disordered eating.
This suggests that the transdiagnostic approach of CBT-E is suitable for both one-on-one and group therapy contexts.
Treating Eating Disorders with CBT
Cognitive Behavioral Therapy (CBT) is a well-established psychological treatment for various mental health disorders, including eating disorders.
CBT addresses the thoughts and behaviors contributing to and maintaining disordered eating habits, ultimately aiming to create lasting positive changes in the individual's relationship with food and their body.
Enhanced CBT (CBT-E), a more specialized form of CBT, has shown significant improvements in treating the specific and associated psychopathology of various eating disorders.
Level of Care
Typically, CBT is offered as an outpatient treatment, with patients continuing their daily routines while attending regular therapy sessions.
In some cases, more intensive levels of care, such as day patient or inpatient treatment, may be necessary depending on the severity of the eating disorder and the individual's unique needs.
A comprehensive assessment of the patient's physical, mental, and emotional health is crucial in determining the appropriate level of care.
Recognize, Challenge, and Modify
A key component of CBT in treating eating disorders involves identifying dysfunctional thought patterns and behaviors that contribute to disordered eating habits.
Working with a therapist, the individual learns to recognize, challenge, and modify these maladaptive thoughts while gradually adopting healthier eating behaviors.
This process includes specific CBT techniques, such as goal setting, self-monitoring, and problem-solving, which are tailored to the person's needs and specific eating disorder diagnosis.
Medication
In addition to therapy, medications may be prescribed in conjunction with CBT to address co-occurring mental health issues or medical complications resulting from the eating disorder.
Antidepressants and anti-anxiety medications are commonly used to alleviate symptoms and optimize treatment outcomes.
It is important to note that medications alone are generally not considered a sufficient treatment for eating disorders but can be a helpful adjunct to CBT and other psychological interventions.
Challenges in CBT for Eating Disorders
Cognitive Behavioral Therapy (CBT) has been recognized as an effective treatment for various eating disorders, such as bulimia nervosa and binge-eating disorder.
However, there are some challenges that therapists and patients may encounter while utilizing CBT for eating disorders.
Risk of Relapse
One significant challenge in CBT for eating disorders is the risk of relapse.
Patients may experience setbacks during their recovery, and these relapses can undermine the progress made in therapy.
Therapists must ensure that their patients develop appropriate coping strategies and remain engaged in the treatment process to minimize the likelihood of relapse.
Purging Behaviors
Another challenge associated with CBT for eating disorders is addressing purging behaviors.
Purging can be a particularly difficult issue to overcome as it involves unlearning deeply ingrained harmful habits.
These behaviors may include self-induced vomiting, misuse of laxatives, and excessive exercise.
Therapists must be vigilant in helping patients identify and challenge the thoughts fueling their purging behaviors.
Tailoring treatment to address additional problems, such as mood intolerance, may be necessary in some cases.
Limited Access to Specialized Care and Long Waiting Times
Limited access to specialized care and long waiting times can pose challenges for patients in need of CBT for eating disorders.
Shortening waiting times could potentially enhance outcomes for patients by allowing them to receive timely and appropriate treatment.
Efforts to increase the availability of trained CBT clinicians may help overcome this barrier and improve patient access to care.
Despite these challenges, CBT remains a leading treatment option for eating disorders, demonstrating efficacy in reducing disordered eating behaviors and improving psychological well-being.
By being aware of potential challenges and addressing them effectively, therapists and patients can work together to achieve lasting recovery.
Frequently Asked Questions
What are the primary components of CBT for eating disorders?
Cognitive Behavioral Therapy (CBT) for eating disorders primarily consists of addressing dysfunctional thoughts, emotions, and behaviors related to food, body image, and self-worth.
The therapy is structured and goal-oriented, focusing on identifying and modifying negative thinking patterns and maladaptive behaviors.
Strategies may include self-monitoring, psychoeducation, exposure and response prevention, and relapse prevention planning.
How is CBT utilized in treating bulimia nervosa?
In treating bulimia nervosa, CBT involves helping individuals recognize and challenge their binge-purge cycle and distorted body image beliefs.
This is achieved through self-monitoring of eating behaviors, establishing regular eating patterns, and developing healthy coping mechanisms in response to emotional triggers.
Additionally, CBT addresses the core beliefs that perpetuate the disorder.
What is the role of thought patterns in CBT for eating disorders?
CBT for eating disorders targets thought patterns by helping individuals identify and modify negative, distorted, or irrational beliefs that contribute to disordered eating behaviors.
For example, dysfunctional thoughts about self-worth or body image can lead to restrictive eating or bingeing.
Individuals can develop healthier cognitive patterns that promote recovery by recognizing and challenging these thoughts.
Why is the psychoeducational aspect important in CBT for eating disorders?
The psychoeducational aspect of CBT for eating disorders is crucial as it provides individuals with accurate information about their condition, its causes, and maintaining factors.
Understanding the nature of the disorder and the rationale behind treatment interventions can promote an individual's motivation, engagement, and sense of control, all of which are vital for successful recovery.
What are the long-term effects of CBT on eating disorder recovery?
CBT has been shown to have lasting, positive effects on eating disorder recovery.
Treatment aims to equip individuals with the skills and strategies needed to maintain improvements beyond therapy, such as coping with emotional triggers, challenging distorted thinking patterns, and preventing relapse.
While recovery may look different for each person, many individuals experience a significant reduction in symptoms and improved quality of life following CBT.
How to find a CBT therapist specializing in eating disorders?
Finding a Cognitive Behavioral Therapy (CBT) therapist who specializes in eating disorders involves several steps:
Check with Your Insurance: If you have health insurance, start by checking your provider's website or calling them to get a list of in-network mental health professionals. This can help narrow down your options and make therapy more affordable.
Ask for Referrals: Talk to your primary care physician or psychiatrist. They often have a network of mental health professionals they can recommend. Friends, family members, or support groups for eating disorders can also provide referrals.
Online Directories: Use online therapist directories like Find-a-Therapist or Psychology Today. These directories often allow you to filter therapists by location and specialty.