Body dysmorphia is an obsessive-compulsive disorder characterized by excessive thoughts about a specific part of the body, or a physical defect, usually minor or imagined, which causes extreme anxiety.
This disorder can cause great distress and become more severe over time if left untreated.
In this article, we've looked at how to find a body dysmorphic disorder therapist, in-person and online, explained what body dysmorphic disorder is, and looked at which types of therapies are most effective in its treatment.
Want to skip right to the suggestions for body dysmorphia therapists? Here are our 2 recommended therapy solutions:
Body dysmorphia therapists near me
Here are two of the best places to find a body dysmorphic disorder therapist, near you or online.
Explore emotional well-being with BetterHelp – your partner in affordable online therapy. With 30,000+ licensed therapists and plans starting from only $60 per week, BetterHelp makes self-care accessible to all. Complete the questionnaire to match with the right therapist.
Find-a-therapist readers get 15% off their first month of BetterHelp membership.
Note: We collaborate with top-tier mental health companies and receive compensation for marketing efforts on behalf of BetterHelp.
BetterHelp is an online platform that connects you with qualified mental health professionals. All of the therapists on this platform are licensed, experienced professionals who specialize in providing different types of treatments, including body dysmorphia therapy.
The signup process for BetterHelp is quite straightforward. Upon visiting the website, you will be asked about the issues you're facing, and what you're looking for in a therapist.
During this intake process, you can explain your symptoms and the issues you're dealing with, as well as your therapist preferences, for example, if you'd like to work with a therapist of a certain background, religion, gender, or ethnicity. This questionnaire helps BetterHelp find the best therapist for you.
Once matched with a therapist, a BetterHelp subscription includes a weekly therapy session lasting 30 to 45 minutes that can be done over the phone, using live chat, or via a video call.
There is also a messaging system, where you can exchange thoughts and feelings with your therapist in between sessions. This can be very helpful in allowing you to document and get your therapist's thoughts on things that occur during the week, without having to wait until the next scheduled counseling session to discuss what's happened.
It's important to note, although a BetterHelp subscription is very reasonably priced, and there are discounts available for certain socioeconomic groups, their services are unlikely to be covered by your insurance plan.
This website serves as an online therapist directory and psychoeducation platform for the treatment of body dysmorphic disorder, as well as other obsessive-compulsive disorders.
Upon visiting this website, you will find a section specifically reserved for body dysmorphic disorders. There, you can find useful resources, such as general psychoeducation on what body dysmorphic disorder is, how it's diagnosed and treated, as well as how it differs from obsessive-compulsive disorder and other anxiety disorders.
There's also a "Find Help" button, where you can enter your location, and how far you're willing to travel to see a therapist. You can choose whether you're looking for a therapist, a clinic or program, or support groups, and you can also specify whether you're looking for therapy for adults, adolescents, or children.
There are other options that can narrow your search like the gender, race, and ethnicity of your preferred therapist, and the type of treatment they offer, such as Cognitive-Behavioral Therapy, or exposure and response prevention therapy.
You can also choose which payment type you prefer, such as whether you're looking for therapy covered by your health insurance, or a therapist who offers sliding-scale pricing.
Once you choose your preferences, you will see a list of therapists best suitable for your needs, their address and contact information, and their biography. If it's a clinic, you will see the names of specialists working there as well as their credentials.
However, the issue with this website is there aren't a huge number of body dysmorphia therapists available, especially in smaller towns and cities. It might be hard to find a therapist within a reasonable distance, depending on where you live.
Types of body dysmorphia therapists
In this part of the article, we've looked at different credentials and qualifications you should look for when searching for a body dysmorphic disorder therapist.
Psychiatrists and psychologists 
Psychiatrists are mental health professionals with medical degrees. Just like psychologists, they can offer diagnosis and treatment, but unlike psychologists, they can also prescribe medication. Considering pharmacotherapy is oftentimes used to lessen the symptoms of body dysmorphic disorder, it can sometimes be useful to see a psychiatrist, especially if your condition is serious.
However, it's important to note, both psychiatrists and psychologists have to obtain a certification to offer specific body dysmorphic disorder treatment, such as Cognitive-Behavioral Therapy. It's always useful to check the therapist's credentials before undergoing treatment.
Licensed Professional Counselors (LPCs)
These professionals are trained to treat people suffering from different kinds of mental health disorders, and usually have a master's degree in counseling.
They can also be trained to treat specific disorders, such as body dysmorphic disorders. In this case, the therapist needs to have completed specific training pertaining to this disorder, such as that offered by the IOCDF.
Licensed marriage and family therapists (LMFTs)
If a licensed marriage and family therapist obtains the right training and certifications for treating body dysmorphic disorder, they can greatly help with the family dynamics involved in this condition.
Severe cases of body dysmorphic disorder need a strong familial bond and support to get through the difficult process of beginning treatment. Licensed marriage and family therapists can educate family members on how to behave, what to expect and how to help you through the process of getting treatment.
Even though offering cognitive-behavioral or exposure and response prevention therapies require additional training, licensed therapists who haven't been trained on these specific types of therapies can still offer talk therapy and support.
Can body dysmorphia be cured?
Just like other obsessive-compulsive disorders, body dysmorphic disorder is chronic. However, its symptoms can be brought to a minimum with therapy and discipline.
The symptoms will most likely reappear during stressful periods, but there's no reason they should continue to impair your quality of life. For example, in Cognitive-Behavioral Therapy or exposure and response prevention therapy, you can learn strategies that will help keep the condition under control.
If you feel like the condition is slipping out of hand, the best thing would be to contact your therapist again and get more support as soon as possible.
What is body dysmorphic disorder?
Body dysmorphic disorder (BDD), sometimes simply called body dysmorphia, is a mental health disorder categorized under obsessive-compulsive disorders in DSM-5 – the publication that classifies mental health conditions recognized in the United States.
BDD is characterized by extreme anxiety over a perceived, usually minor or even imagined, physical defect. The person usually has a distorted view of the flaw, meaning that they perceive it as more extreme than it is in reality.
The person suffering from BDD becomes so preoccupied with the perceived defect that it affects their social and work life, and damages their overall functioning. The person then tries to correct the defect by indulging in compulsive behaviors, such as excessive plastic surgery.
Some of the symptoms of body dysmorphic disorder are:
The inability to stop thinking about physical flaws
Extreme anxiety when thinking about your body
Emotional distress or harmful behavior
Alienating yourself from other people out of fear that they will see your flaw
Ritualistic behaviors aimed at covering or hiding the flaws
Repeated plastic surgery
It is important to note that no one likes everything about their bodies – we all look at ourselves and sometimes see flaws. The difference between normal thoughts about appearance and body dysmorphic disorder lies in the intensity and intrusiveness of those thoughts.
People suffering from body dysmorphic disorder cannot stop thinking about their perceived physical defect – the levels of anxiety they are experiencing disable normal functioning, and the disorder slowly takes over all parts of their life.
Types of body dysmorphic disorder therapies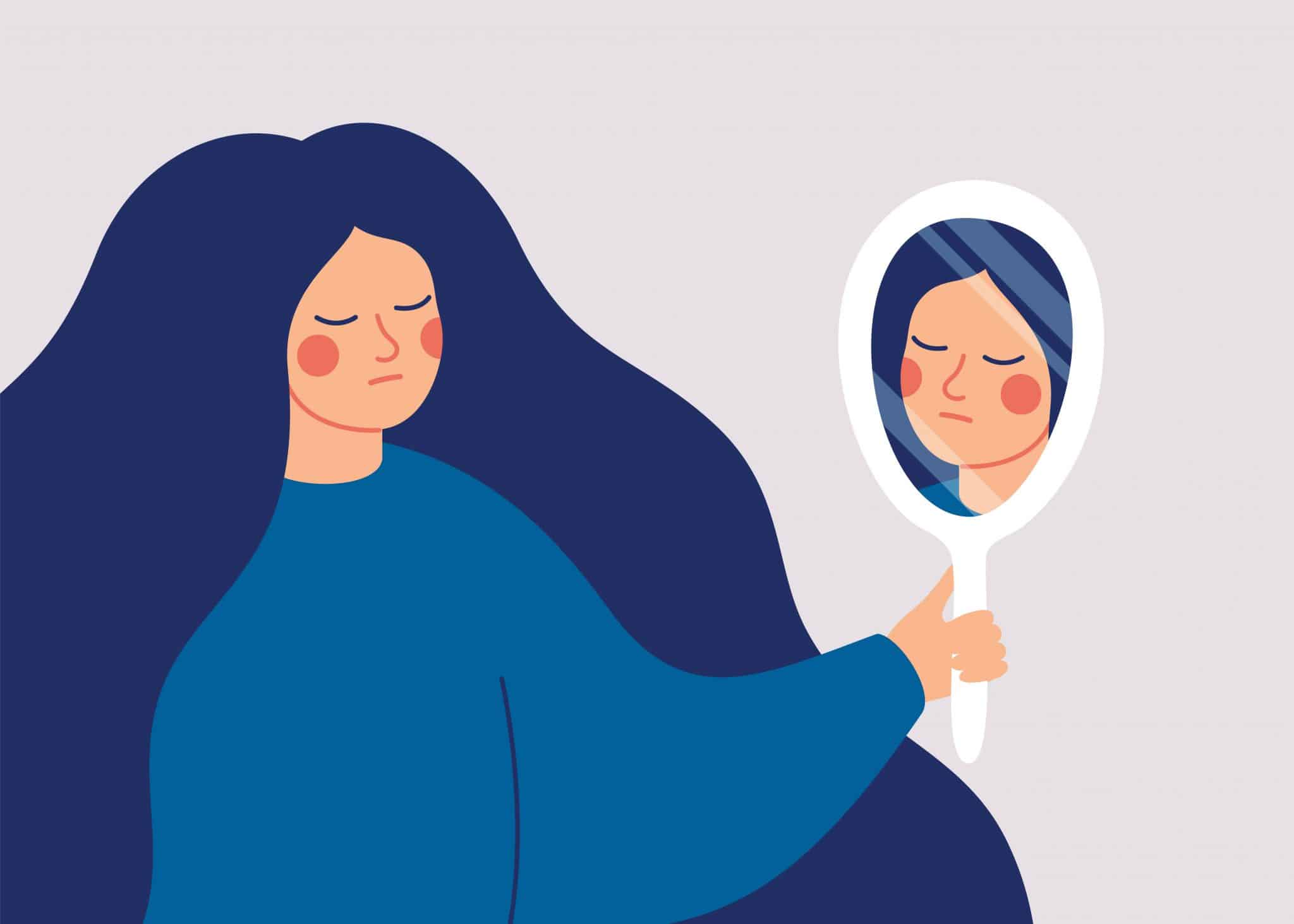 In this part of the article, we've looked at different types of therapies used to treat body dysmorphic disorder.
Cognitive-Behavioral Therapy (CBT)
Cognitive-Behavioral Therapy has been proven as one of the most effective therapeutic approaches when treating different types of obsessive-compulsive disorders, including body dysmorphic disorder.
Body dysmorphic disorder is rooted in negative thought patterns which distort the person's perception of themselves. Some of these cognitive distortions include:
Intrusive thoughts – a person suffering from body dysmorphic disorder can think about their appearance or perceived physical flaws for hours. These thoughts are defined as intrusive because they emerge on their own and the person has no control over them.
Referential thinking – this type of thinking involves a false belief that other people notice the person's flaw and focus solely on it. For example, "everyone is staring at my huge nose" is referential thinking.
"All or nothing" thinking – thinking in extremes. For example, "my huge nose is making me look absolutely disgusting".
Mind-reading – this is a type of thinking where you assume someone else's thoughts. For example, "my girlfriend thinks my nose is huge and doesn't want to be with me anymore".
Cognitive-Behavioral Therapy aims to change these negative thought patterns and replace them with healthier, more realistic ones.
At the beginning of CBT treatment, your therapist will first assess your symptoms and the severity of the disorder. During these initial phases, you can expect to answer some questions about the disorder and other aspects of your life.
Then, the therapist will offer psychoeducation about the disorder. You will learn about the nature of BDD, what causes it, and its prevalence and outcomes.
The therapist will then use different techniques, such as cognitive restructuring, exposure therapy, and ritual prevention to establish healthier thought patterns, prevent intrusive thoughts, and treat your compulsions.
Exposure and Response Prevention (ERP)
The goal of exposure and response prevention therapy is to stop the obsessive thoughts associated with body dysmorphic disorder, prevent compulsions, and ultimately lower the patient's anxiety.
In exposure and response prevention therapy, your therapist will encourage you to let obsessive thoughts occur without reacting to them, or "putting them right" with compulsions.
For example, a person suffering from BDD might think they have too much acne and might use extensive amounts of makeup to hide it. In this case, the obsession is the thoughts about these imperfections, which can cause extreme anxiety. Putting on makeup and covering the imperfections is a compulsion, which serves to lower anxiety.
Exposure and response prevention therapy will work on lowering the patient's anxiety gradually, starting from easier-to-treat behaviors, and working up towards addressing more difficult ones.
Pharmacotherapy
Even though there is no pharmaceutical cure for body dysmorphic disorders, pharmacotherapy can sometimes be prescribed to treat co-occurring or comorbid disorders, like eating disorders or major depression.
Pharmacotherapy can also be prescribed to treat symptoms of body dysmorphic disorder, such as anxiety, depression, or insomnia. In this case, the most common antidepressant prescribed is selective serotonin reuptake inhibitor (SSRI).
If you think you might need pharmaceutical medication, you should contact your doctor or your psychiatrist so they can assess your condition. If they find that medication could be helpful for you, they can suggest specific drugs and prescribe them to you.
Conclusion
When left untreated, body dysmorphic disorder can cause extreme distress and anxiety, become more severe over time, and severely damage your quality of life. There are many treatment options for body dysmorphic disorder, including face-to-face or online therapy.
If you're still not sure how to find the right body dysmorphic disorder therapist, leave us a comment below and we'll get back to you.